These virus-ridden times are grim, however there is a silver lining to this particular cloud as we can spend hours hammering our gaming systems. While it is true that Sony PS4 and Microsoft Xbox One aren't bad, it is also true that a proper gaming PC will kick them all round the park. In this video Leo shows you the step-by-step so really you've got no excuse and should get building!
Watch the video via our VIMEO Channel (Below) or over on YouTube at 2160p HERE
We set a price limit of £1500 on our gaming PC, however that is only a guide to show you our approach to parts selection. Our goal is to game at 1440p and above, with frame rates hitting at least 60fps. We spent a large part of our budget on the graphics card but took care to back it up with a decent CPU, plenty of fast memory and a 1TB M.2 SSD to give us sufficient fast storage. Here's the list of parts in our PC:
Once the PC was built we ran Cinebench R15 and Time Spy to check the performance matched our expectations and then ran a handful of stress tests to give the thermals the once-over. After that we were all set to check out gaming performance in Far Cry 5 and Shadow of the Tomb Raider.
We were very pleased to see average 1440p frame rates were consistently around the 100fps mark and there were no lurches or stutters. The AMD Ryzen 5 3600X may be a relatively junior CPU but its six cores truly deliver the goods when you are gaming. The key metric is to avoid frame rates dropping as low as 60fps, as that would be completely unacceptable. We were slightly surprised to see that lowering the resolution to 1080p made only the slightest difference to frame rates, such that 1440p was the obvious sweet spot.
Closing Thoughts
There is a good chance that our video taught you nothing new about building a PC. Indeed, if you are tech-savvy we hope that would be the case although we can all do with a refresher once in a while.
Our main hope is that we have taken a burden off your shoulders and the next time a friend or relative asks how they can improve their gaming system you can simply send them a link to this page.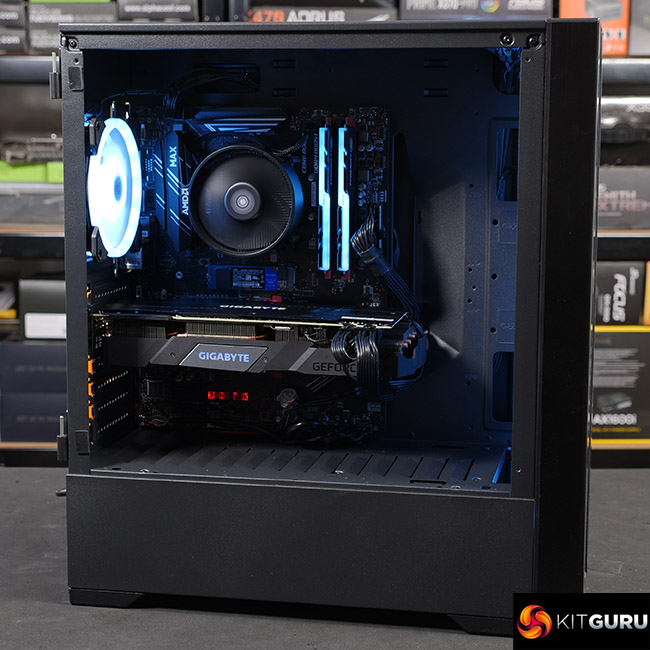 If you decide to build your own gaming PC it will be clear you can swap around the CPU, motherboard, memory, storage and power supply, depending on your needs and priorities. The biggest single difference you can make to the look and feel of your PC will be the choice of case (we've reviewed LOADS) while the most obvious way to save money is to trim back on the graphics – see HERE.
The main point to hammer home about our £1500 build is that we are confident it has plenty of life remaining. If you make no changes it should play games competently for some years to come, and if you make a judicious upgrade or two there is no reason why it won't deliver at least five years of duty.
Discuss on our Facebook page HERE.
KitGuru says: If you want to play games at 1440p and above with all the eye candy enabled, the only solution is a proper gaming PC.