There are no prizes for deducing the new DinoPC Bulldog BD3 gaming PC is built in a Corsair Bulldog chassis. We first saw this Mini-ITX case at its launch during Computex 2015 so the hardware has been a long while coming. The chassis supports a Mini-ITX motherboard and uses a compact Corsair H5 SF Hydro Series Cooler that we reviewed some while back. The Asus Z170i Pro Gaming is populated with an overclocked 4.4GHz Intel Core-i7 6700K with 16GB Corsair Vengeance DDR4-3200MHz RAM and a 512GB Samsung SM961 M.2 PCIe SSD. Power is supplied by a tiny Corsair SF600 which is a modular Gold rated SFX unit that won KitGuru's Must Have award.
A good chunk of the available space inside Bulldog is devoted to the star of the show which is an Asus GeForce GTX 1080 ROG Strix Advanced Gaming 8GB graphics card, This gaming monster sports a base speed of 1,671MHz and boost of 1,810MHz which is about 100MHz overclocked from stock speeds. The graphics card defines Bulldog BD3 as it justifies using a relatively large case for a tiny Mini-ITX motherboard. Added to that, the cost of the graphics card is a shade under £700 which is about one third the total cost of this gaming PC. The main point, however, is that GTX 1080 is ideally suited for gaming at 4K.
DinoPC Bulldog BD3 Specifications:
Corsair Bulldog case
Intel Core i7-6700K @ 4.6GHz OC
16GB Corsair Vengeance LPX DDR4-3000MHz RAM
Asus Z170i Pro Gaming motherboard
Asus GeForce GTX 1080 ROG Strix Advanced Gaming 8GB graphics card
512GB Samsung SM961 M.2 PCIe SSD
2TB Toshiba hard drive
2x USB 3.1 ports, 6x USB 3.0 ports
802.11ac Wi-Fi, BT 4.0
Corsair SF600 SFX Gold power supply
Windows 10 Home
5yr Bronze warranty
Price for review system: £2,119 (inc. VAT).
Bulldog BD3 looks like one of those small form factor PCs that you might lay down flat or stand on one end however this is not the case. The sides of the chassis are angled and perforated to form part of the cooling system and the four feet are firmly fixed in place. This system is very much intended to sit under your big, bold 4K TV as the focal point of the living room.
The fact you could unplug the thing and take it to a LAN party strikes us as a bonus rather than a key selling point.
There is a flip down cover on the front panel that we forgot to show in the video. Behind the cover you will find headset jacks, two USB 3.0 ports and a tiny reset button. There is no HDMI pass through so VR aficionados might be slightly disappointed.
Testing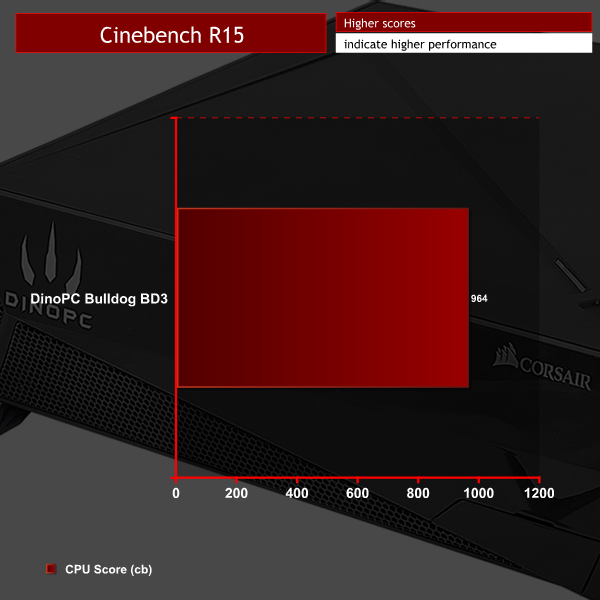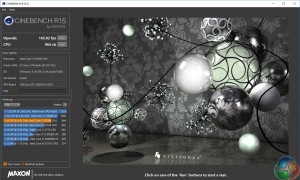 Cinebench performance is impressive at just under 1000 points.
Testing – 3DMark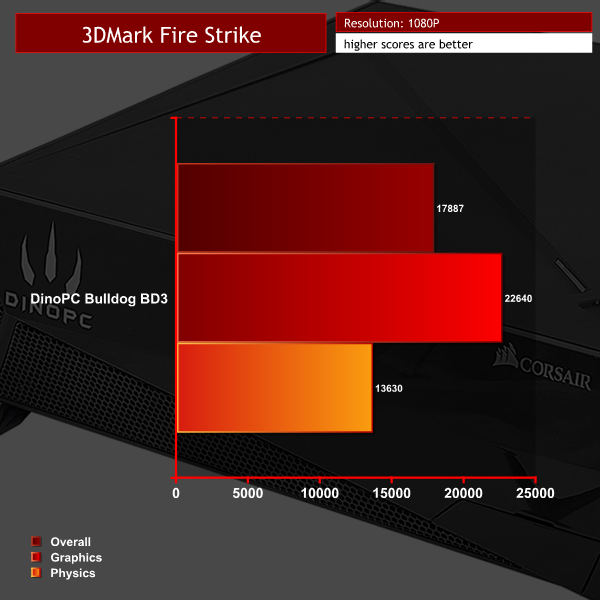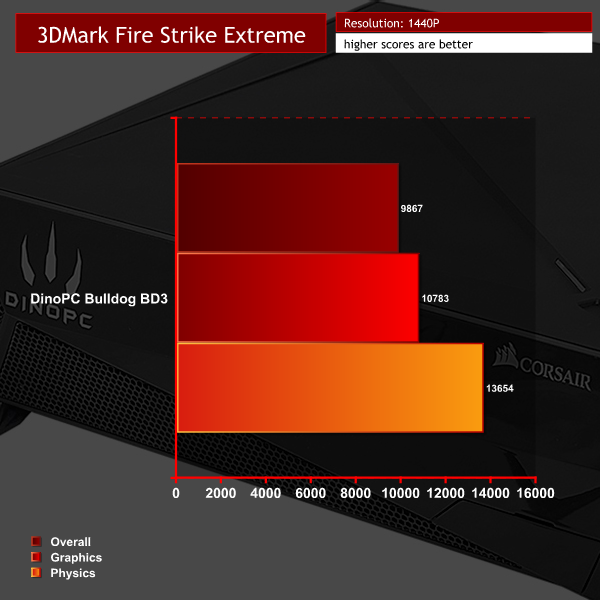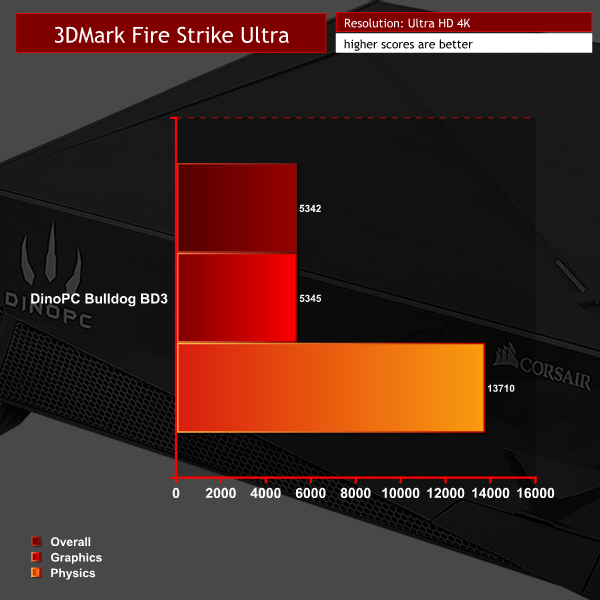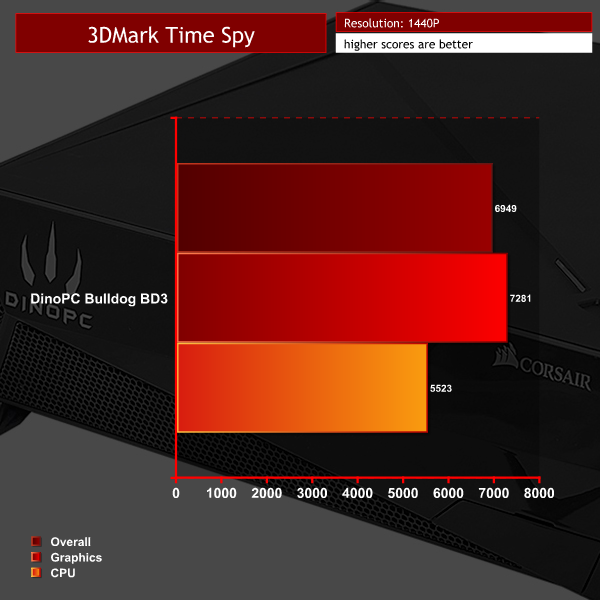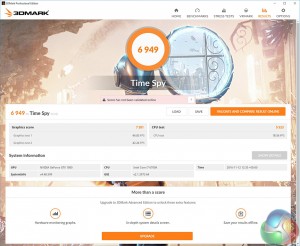 The 3DMark tests show positive performance.
Testing – Games
We tested Bulldog BD3 with our usual array of games at 4K rather than 1080p or 1440p.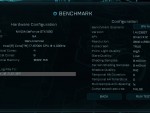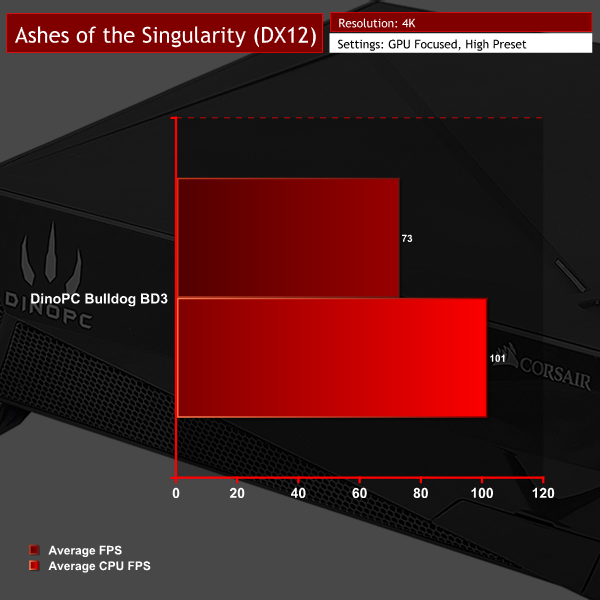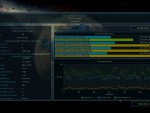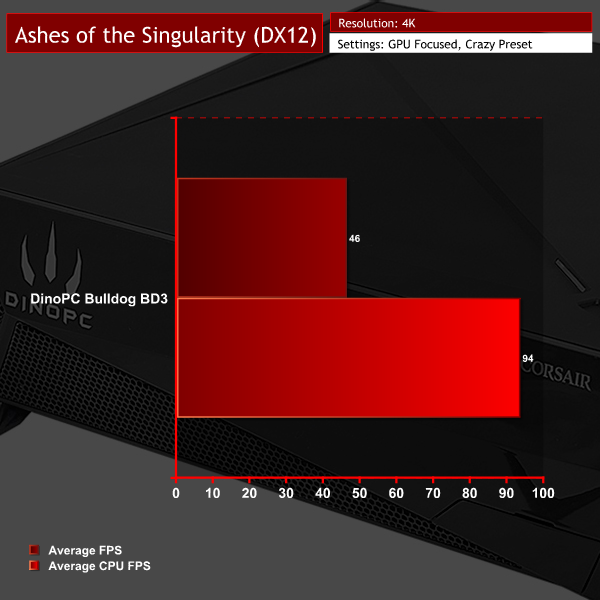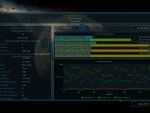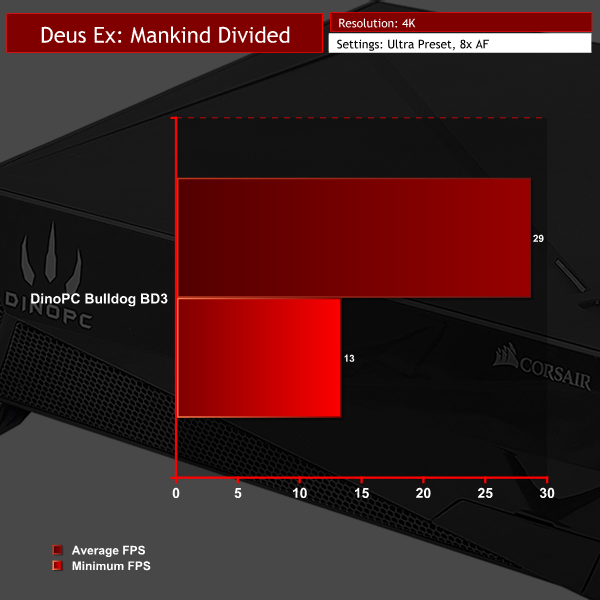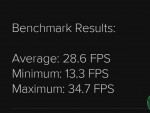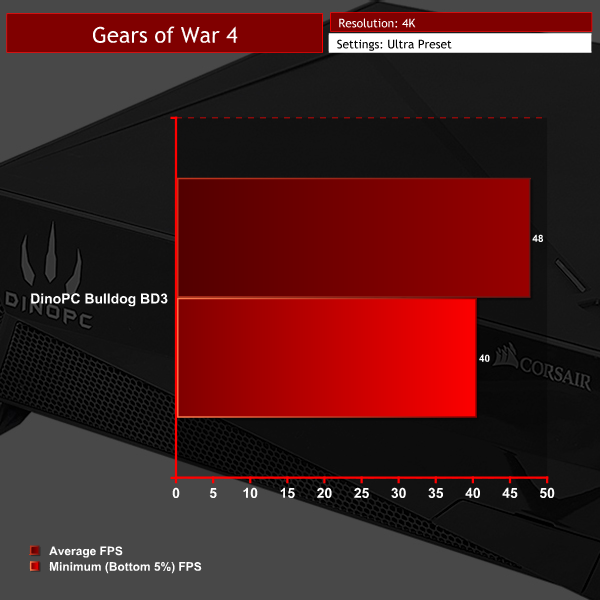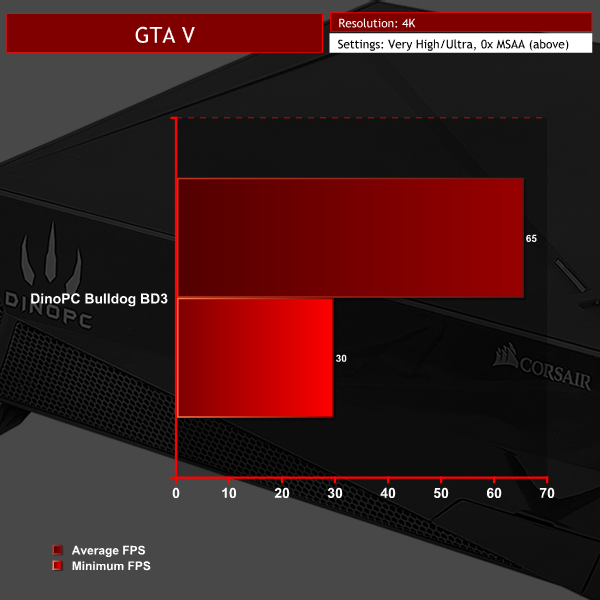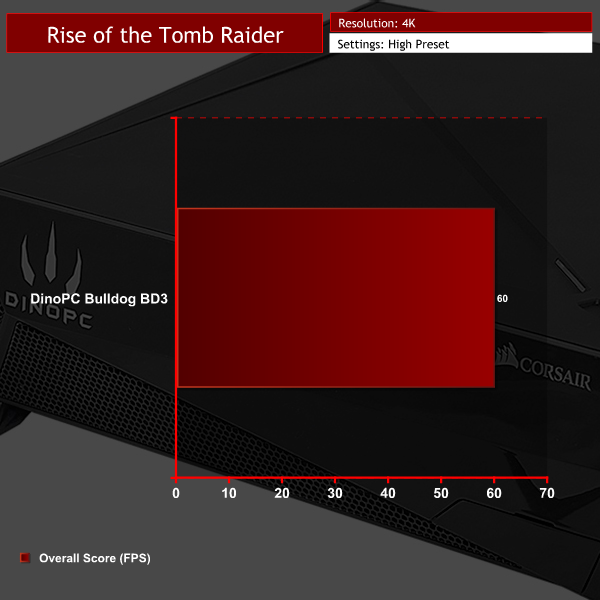 In the main, the DinoPC system powered along although there were one or two places where it would have helped if we had reduced image settings.
For example Deus Ex on Ultra settings ran at an average of 29fps which isn't quite fast enough for a smooth gaming experience. We see in Ashes of the Singularity that Crazy settings give an average speed of 46fps while High Quality runs at 73fps. GTX 1080 is a mighty GPU but there are times when you need to moderate your settings to get a decent frame rate at 4K.
Overall the result were impressive, the picture looked great and as a gaming experience the combination of Core i7-6700K and GTX 1080 is an absolute winner.
Power Consumption
DinoPC Bulldog BD3 draws 80-100W on Windows desktop and 265-280W in 3D Mark.
Cooling Performance.
Ambient = 18°C.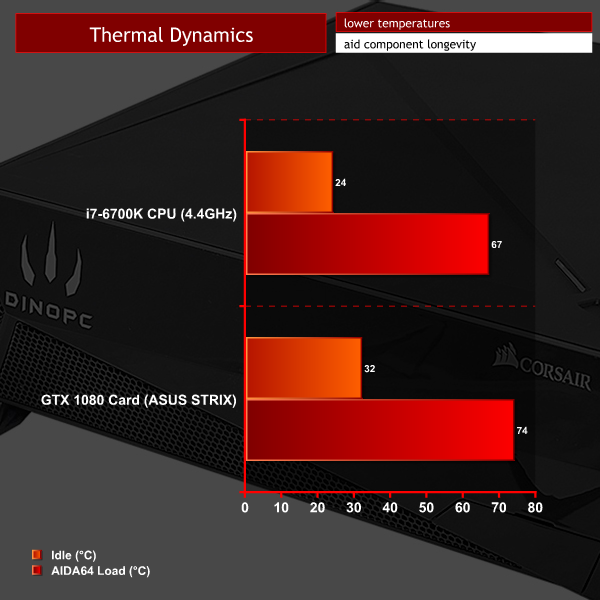 The Corsair H5 SF Hydro cooler has to work hard with the overclocked Core i7-6700K however it does a decent job for such a small cooler, delivering a maximum CPU temperature of 67 degrees. The Asus graphics card delivered a similar temperature of 74 degrees which was exactly what we expected.
Acoustics performance.
The downside to Bulldog DB3 is noise which appears to come from the CPU cooler. The power supply and graphics card are both quiet yet there was a constant noise emitted from the Bulldog that became slightly intrusive when we were playing games. This would be irrelevant if you were wearing headphones or had the speakers turned up. Nonetheless we are happier when a living room PC is as quiet as possible so in that respect the Bulldog BD3 is imperfect.
Closing Thoughts
DinoPC Bulldog BD3 looks great and delivers stellar gaming performance, including at 4K. As gaming PCs go, it is fairly small however it still requires a reasonable amount of space under your TV. The design of the Bulldog chassis ensures that cooling air can flow through the case from all sides to keep the internals nice and cool. If you absolutely had to place the Bulldog on a carpeted floor you would probably be OK however it doesn't seem like a good idea.
Working inside the Bulldog chassis looks a bit fiddly but if you felt the urge to perform a modification or upgrade it should be perfectly feasible. We know from personal experience that installing the H5 SF cooler requires a degree of patience so this built PC from DinoPC makes life considerably easier than buying a barebones.
We imagine most owners of this PC would treat it as a sealed unit and never remove the top cover.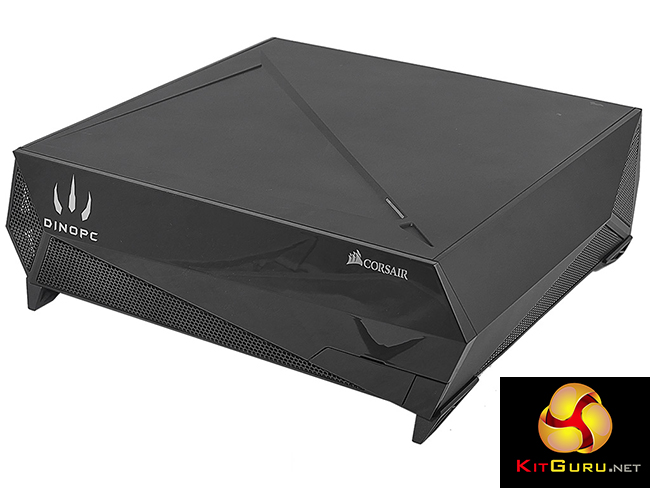 The fact that Bulldog does not have a front HDMI port is a minor inconvenience that may affect VR gamers.
We only have two criticisms of Bulldog BD3. The first is the noise levels which are noticeable without being a major black mark.
The second is the price which is a touch steep at £2,119. Obviously we know GTX 1080 is horribly expensive and neither does Core i7 come cheap. Add in other quality components such as the Asus motherboard, Corsair DDR4 and a Samsung SSD and you have a hefty bill on your hands. The end result is a gaming PC that looks fairly understated yet does a very fine job indeed.
You can buy from DinoPC for £2,119.00 HERE. If you want a BullDog system but have a smaller budget, the full range of DinoPC BullDog systems are available from HERE.
Discuss on our Facebook page, over HERE.
Pros:
Handles 4K gaming with ease.
GTX 1080 graphics are top notch.
Storming CPU performance.
Looks good under your TV.
Cons:
Moderately noisy.
High price.
No HDMI port at the front for VR gamers.
KitGuru says: Our first experience with Corsair Bulldog is a winner.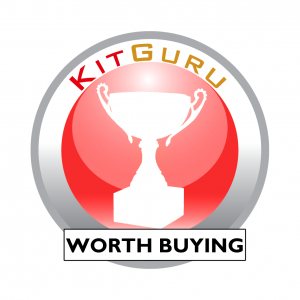 Be sure to check out our sponsors store EKWB here