Following on from case selection in Part 1, Jasmine is back to complete the actual build process for her first DIY custom PC build. What can possibly go wrong? And how will the final build turn out?
In case you have not yet watched Part 1, make sure you check that out to see the introduction to this project and the case selection. We went through six different chassis choices and Jasmine decided that the NZXT H1 was the front-runner. However, the riser card issues with the H1 meant that we opted for the second-placed Cooler Master NR200p instead.
Thankfully, we were able to quickly receive the new – fixed – PCIe riser card from NZXT. This meant that Jasmine could use her favourite case for this build – the NZXT H1.
In terms of part selection, we kept the focus on the primary use cases of gaming (mainly at 4K), some video editing, and some general usage. The system has to be compact, quiet, and good-looking.
We decided to opt for the well-balanced AMD Ryzen 5 5600X that we regard as one of the best CPUs currently on the market in terms of value and performance. The motherboard of choice was the well-built and feature-heavy Gigabyte B550I Aorus Pro AX which features two M.2 slots and fast WiFi.
For memory, we opted for a 2x16GB kit of Corsair Vengeance RGB Pro SL DDR4. This is fast at 3600MHz and has attractive RGB lighting. The SSDs were a WD_Black SN750 for Windows and programs and a WD_Black SN850 for higher speed storage.
The NZXT H1 chassis comes with a built-in 650W PSU, so we did not have to use the high-end Corsair SF750 unit that would have been necessary if Jasmine chose a different case. We also use the built-in NZXT 140mm AIO liquid cooler to manage the CPU.
Today's graphics card market is a complete mess, so we hope that you may be reading this article and watching the video when the situation has improved. Jasmine was fortunate to be able to choose from either an Nvidia EVGA RTX 3070 or an AMD Radeon RX 6800 XT.
The RX 6800 XT was chosen as Jasmine liked the design and the premium build quality. This is a very good card for 4K gaming and – at its supposed MSRP – impressed Dom in our full KitGuru review.
The build process itself certainly was not without hiccups. And that's completely fine. We hope that this helps novice DIY builders to understand that it is fine to make mistakes as they can usually be corrected. And if something appears complicated or unknown, it is absolutely fine to consult the manual or ask for help.
Jasmine dropping a screw into the power supply certainly was not ideal! Thankfully, we were able to safely remove this screw without causing damage. We went through the pain of fishing the screw out so that you can be aware of not dropping anything into your own PSU when building.
Overall though, building into the compact NZXT H1 chassis was certainly enjoyable and reasonably straightforward even for a first-time builder like Jasmine. There is no need to be daunted by the prospect of building inside a compact, Mini-ITX chassis if you are an inexperienced user. And that is especially true if you really like the case design and think it will suit your needs perfectly.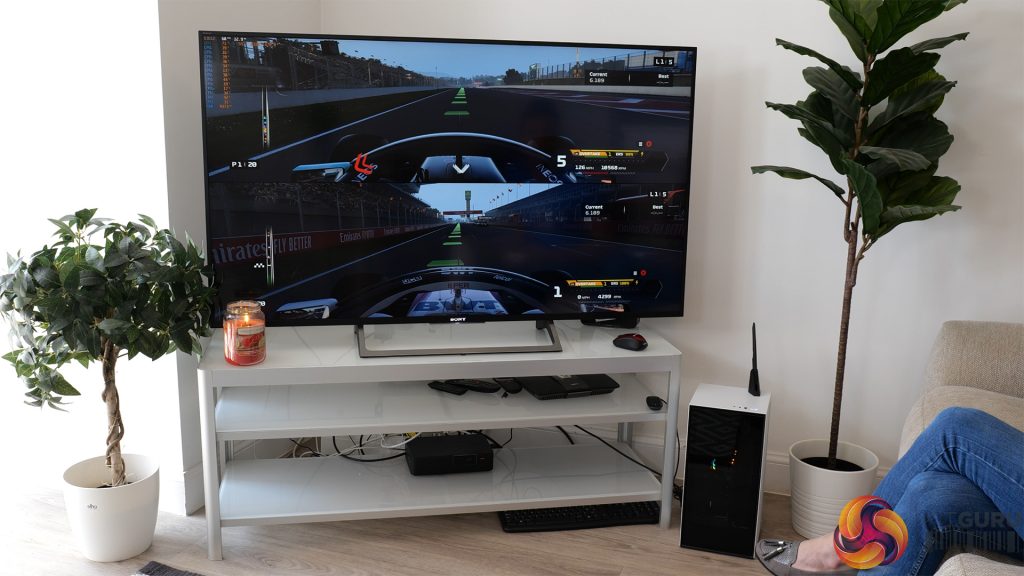 The final build turned out well in our opinions, and the 4K living room gaming performance was very good (the same cannot be said about our gaming skills though)!
We hope that this build project has shown you that it is certainly possible to build your very own first gaming PC as a novice builder.
If you need help with certain aspects such as installing the CPU cooler or being careful with the CPU, that's absolutely fine. If you need some assistance on which parts are best for your needs, that's absolutely fine. And if you watched the video and are now extra careful about not dropping screws into a power supply, that's absolutely fine!
KitGuru says: How do you think the final build turned out? Is this a compact living room gaming system that you would be proud to build even as a more experienced DIYer? Let us know.