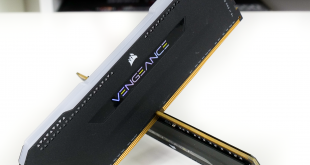 Corsair's Vengeance RGB Pro memory modules have long been a go-to option for enthusiasts and gamers alike. With the new Vengeance RGB Pro SL kit, Corsair is aiming to strike the same balance between solid performance, reasonable pricing, and an appealing RGB lightbar.
One key differentiator for the new SL modules, however, is the reduced height. Dropping down to 44mm tall – rather than the 51mm of the original Vengeance RGB Pro sticks – the SL modules represent a huge improvement for users with oversized CPU coolers or roof chassis fans.
Better yet, Corsair still manages to maintain a dynamic ten-zone RGB lighting system that, of course, integrates seamlessly with the excellent iCUE platform. And the onboard temperature sensor data can also be displayed through iCUE, which is a good bonus for tweakers.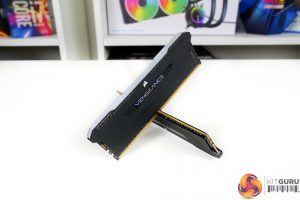 Available in both black and white heatspreader form with 16GB to 128GB capacities and 3200MHz or 3600MHz frequencies, Corsair is aiming to give buyers a reasonable amount of choice with the new Vengeance RGB Pro SL memory kits.
We are testing a 32GB (2x16GB) dual-channel kit with the black aluminium heatspreader. The operating speed is rated at 3600MHz and the timings are 18-22-22-42 at 1.35V, which is pretty slack but not uncommon for the price point.
Corsair is using Micron D9XPF 'B-die' ICs according to Thaiphoon Burner. Notable is the single-rank configuration for the 16GB DIMMs in our test kit. This will undeniably hurt performance in memory-intensive tests versus the typical dual-rank competitors that we often see in 2x16GB 3600MHz sets.
With an MSRP of £209.99 for our 2x16GB DDR4-3600MHz C18 (CMH32GX4M2Z3600C18) Vengeance RGB Pro SL memory kit, let's take a look at the performance.
Model Number: CMH32GX4M2Z3600C18
Capacity: 32GB (2x 16GB)
Rated Frequency: DDR4-3600MHz
Rated Timings: 18-22-22-42
Voltage: 1.35V
Format: Non-ECC Unbuffered 288-pin DIMM
Be sure to check out our sponsors store EKWB here