Corsair has delivered with the Vengeance RGB Pro SL modules by delivering the same aesthetic design as the standard Vengeance RGB Pro, but shrinking the heatspreader and making the sticks more usable in the process. We like this design decision – improved compatibility with CPU coolers and cases is seldom a negative.
Focussing first on performance, we have test data from a somewhat direct competitor in Patriot's Viper Steel RGB 2x16GB 3600MHz kit that costs around £170 in the UK. Let's not make any mistakes – this Patriot kit is far from a performance set of memory, with timings rated at a poor 20-26-26-46. However, the tighter and more expensive Corsair Vengeance RGB Pro SL kit consistently delivers lower performance in our AMD platform testing.

This point highlights the single-rank versus dual-rank comparison which is a perfectly valid factor when comparing kits of similar capacity and price point. Performance differences are tangible on AMD's Ryzen platform – with Zen 3 being particularly sensitive. That same level of rank interleaving sensitivity is not necessarily the case for users on an Intel platform.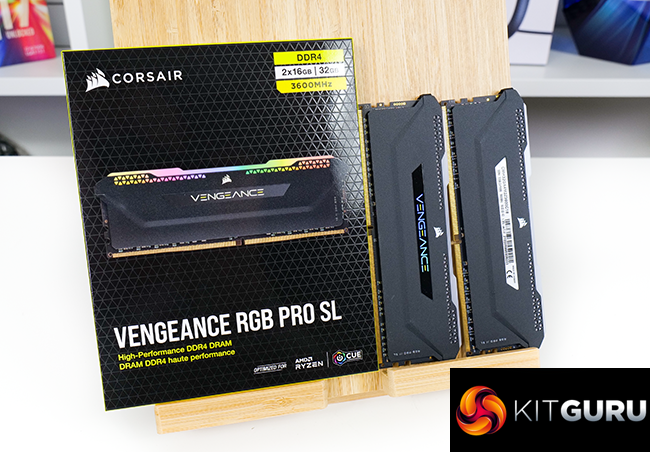 Overclocking was reasonable, with 200MHz added to the DRAM frequency and a tightening of the timings permitted by higher operating voltage. The 3800MHz that we achieved also tied in nicely with a 1900MHz fabric clock.
The Corsair Vengeance RGB Pro SL modules have some clear positives. The 44mm height is an excellent, consumer-friendly move that aids CPU cooler choice without sacrificing notable cooling performance or LED light quality. Corsair's iCUE integration between the ten-zone RGB system on the memory sticks and other system components is market-leading. And we appreciate the choice of capacities, white or black heatspreaders, and sensible speed options.
With that said, the performance that we are seeing from the single-rank, Micron B-die 16GB DIMMs with relatively slack timings leaves plenty to be desired. That is especially true with the price tag commanding a little over £200 spend.
Corsair's Vengeance RGB Pro SL 2x16GB single-rank kit is clearly one for those who prefer aesthetics, iCUE integration, and a short heatspreader over raw performance. Of course, there are different capacities and DIMM configurations also available, so they may be worth looking into for your needs, especially if you will be running four DIMMs to mandate the benefits of rank interleaving.
The 32GB (2x16GB) Corsair Vengeance RGB Pro SL 3600MHz C18 'Ryzen Optimised' memory kit is currently available at Scan for £206.54.
Discuss on our Facebook page HERE.
Pros:
Same excellent aesthetics as Vengeance RGB Pro.
Shorter heatspreader design is smart and convenient.
Strong lighting setup with 10 addressable RGB LEDs.
Excellent iCUE integration.
Some overclocking headroom is a positive.
Cons:
Expensive.
Limited performance from single-rank, Micron B-die 16GB DIMMs.
KitGuru says: Corsair has done a superb job with the aesthetic, functional, and RGB lighting design of the Vengeance RGB Pro SP. Unfortunately, though, the single-rank configuration and slack timings of our 2x16GB kit result in lower performance than we would like at the price point. This is a kit for those who value aesthetics and CPU cooler compatibility very, very heavily.