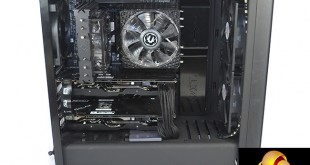 Nvidia's GTX 970 sits in that graphics card sweet-spot where it's about 10-20% slower than its GTX 980 brother, but retails for only 60% of the price. It's that alluring balance between performance and value that makes the GTX 970 a smart candidate for constructing a strong SLI configuration.
OcUK realises that multi-GPU potential by offering up to a pair of KFA2 GTX 970 Infinity Black Edition graphics cards in its Ultima Finesse Blackhole system. Forging the path for the GTX 970s are Intel's competitive Core i7 5820K CPU and an MSI X99S SLI Plus motherboard.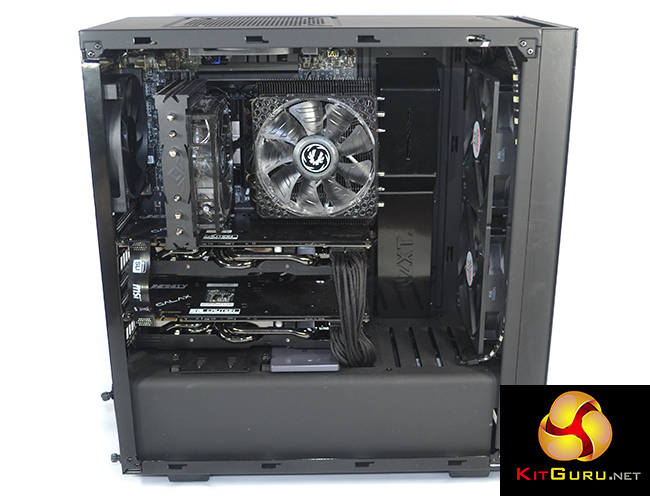 OcUK wraps up the SLI-capable system in NZXT's competitively-priced S340 chassis, giving users excellent viewing angles of the internals. Cooling the 3.9GHz-clocked 5820K is a Prolimatech Genesis, which also provides incidental airflow for the motherboard and memory. Samsung's 250GB 840 EVO SSD and Seagate's 2TB SSHD are called upon for storage purposes.
Fiasco regarding the 3.5GB of high-speed memory aside, the GTX 970 is still an impressive graphics card. Does the pair of custom-cooled, factory-overclocked KFA2 Infinity Black Edition cards have what it takes to deliver the goods at a 2560×1440 gaming resolution?
System Configuration:
CPU: Intel Core i7 5820K Six Core Haswell-E Processor overclocked to 3.9GHz
Motherboard: MSI X99S SLI Plus (Socket 2011) DDR4 ATX Motherboard
Graphics Cards: 2x KFA2 GTX 970 Infinity Black Edition 4GB Graphics Card SLI
Case: NZXT Source 340 Gaming Case – Black
Power Supply: Super Flower 750W Gold PSU
Cooler: Prolimatech Genesis Dual Fan CPU Cooler
RAM: 16GB (4x4GB) DDR4 2400MHz Quad Channel Kit
SSD: 250GB Samsung 840 EVO
Hard Drive: 2TB Seagate SSHD
Sound: High Definition 7.1 On-board Sound Card
Operating system: Windows 7 or Window 8.1
Warranty: 3 years standard (up to 5 years available to purchase)
Price as configured: £1870.92 (at the time of writing)