Today we are taking a look at MSI's new silent case kit, which consists of a new low-noise focused mid-tower chassis, a 360mm AIO cooler and some silent and stealthy-looking 120mm fans. We thought the best way to test this silent case kit would be to create an MSI-themed build… so here it is!
Watch via our Vimeo channel (below) or over on YouTube at 2160p HERE

Timestamps
00:00 Start
00:56 Parts overview
01:55 MPG Quietude 100S Case
09:30 MEG Silent Gale P12 Fans
10:29 MEG CoreLiquid S360 Cooler
13:46 The plan – and build components
15:16 System build
20:25 Silent Gale P12 fans -thoughts and install
22:11 Ventilation and CPU cooler install
25:05 Power Supply Installation
26:08 Rest of the Install (timelapse)
28:43 Build is finished!
29:43 A look at cooler software
30:59 James discusses the build and case quality
33:47 Thermal tests and closing thoughts
We have been told the MSI silent case kit is expected to be available for purchase as a bundle, while the individual components will also available separately from late October to early November.
The case is the MSI MAG Quietude 100S, a mid-tower ATX chassis featuring removable noise insulated panels, dual RGB lighting zones, a hinged tempered glass side panel, fan speed control via a front panel button with one 120mm silent fan pre-installed in the rear panel.
Included with the case is a single MEG Silent Gale P12 120mm fan, which is a new line of silent, zero RPM fans from MSI. The fan blade design is optimised for maximum airflow with a 32-degree angle and constructed from a high strength liquid crystal polymer to reduce vibration at maximum RPM. A hydro-dynamic bearing, anti-vibration rubber mounts and a frame design with an angled curvature all help to reduce noise. The speed range of Silent Gale P12 is 0-2000RPM controlled by PWM signal, the fans are backed by a 6-year warranty for peace of mind.
Silent Gale P12 fans can also be found on a new AIO liquid cooler from MSI. The MSI MPG Coreliquid S360 is the latest instalment in the MSI AIO range with a focus on low noise output with a 0RPM fan mode, high-performance cooling from the Asetek generation 7 pump unit and unique aesthetics from the CPU block mounted 2.4-inch IPS screen that allows users to display hardware information or add their own personal touch with customisable graphics and videos.
MAG Quietude 100S Features
Low noise chassis design featuring noise dampening material, removable noise insulated front and top panels and a low noise MSI MEG Silent Gale P12 120mm fan pre-installed as a rear exhaust.
Dual ARGB lighting zones on the PSU shroud and the base of the chassis below the front panel. RGB lighting can be controlled via a button on the front panel or by connecting to compatible motherboards.
Three-stage fan speed control button located on the front panel I/O. Settings can be adjusted between zero, 70% and 100% RPM depending on user preference.
Extensive front panel I/O connectivity including two USB 3.2 Gen 1 Type-A ports, a single USB 3.2 Gen 2×2 Type-C port and dual 3.5mm audio jacks for headphone and mic.
VGA support bracket integrated into the motherboard tray designed for compatibility with graphics cards of varying size and weight.
Generous cooling hardware support, up to seven fans in total or up to 360mm radiators can be installed in the roof or the front of the chassis.
Support for E-ATX/ATX/M-ATX and Mini ITX motherboards. Maximum supported CPU cooler height up to 175mm, supported maximum GPU length of 380mm and up to a maximum PSU length of 220mm.
MEG Silent Gale P12 Features
Liquid crystal polymer fan blades with a 32-degree blade angle for optimised airflow performance.
Hydro-dynamic bearing and anti-vibration gaskets help reduce noise caused by friction and vibration. An angled and curved frame design reduces turbulence while enhancing static pressure.
Zero noise mode with a speed range of 0-2000RPM controlled by PWM signal. Each fan comes with a 300mm long 4-pin PWM extension cable.
Maximum airflow 56.2CFM, maximum air pressure 2.21 mm-H2O and maximum noise level of 22.7 dBA.
MEG Coreliquid S360 Features
Equipped with a 2.4-inch IPS screen that can display hardware information, custom images, video and more. The IPS display is mounted directly on top of the Asetek Generation 7 Pump housing.
0 RPM fan mode for near-silent operation. Outfitted with three MSI Silent Gale P12 fans with a PWM speed range of 0-2000RPM.
A 60mm downdraught fan is sandwiched between the CPU water block and the IPS display which helps dissipate heat from the surrounding components such as the VRM and M.2 SSD.
The fan speed and customisation of the IPS display can be controlled and adjusted via the MSI Centre software.
Compatible with all current mainstream desktop platforms from Intel and AMD including the upcoming Intel LGA1700 (Alder Lake) socket and AMD Ryzen Threadripper.
The Build
System Specification
Using the MSI silent case kit to build a system was a pleasant experience overall. The MAG Quietude 100S chassis seems like decent quality as a whole, some areas could be improved but alignment with the motherboard standoffs, rear I/O, PCIe cut-outs and power supply mounts all seem good, everything fit into place in the chassis as it should. There is plenty of space for cooling too, installing the 360mm radiator at the front was easy, however, tubing outlets had to be at the top which is sub-optimal.
The case allows for large graphics card installation, the Radeon 6600 XT looked quite small inside the case so there is loads of space to install larger high-end cards, even with a front-mounted radiator. Space around the motherboard is good too, with case fans installed in the roof, there is still room to access the top EPS power connectors and top fan headers which is a bonus.
With the silent top panel fitted, fans mounted in the roof are pretty pointless. However, they can be connected to the integrated fan hub and set to zero RPM via the front I/O fan switch. If the user feels that they need more airflow during demanding workloads, the top panel can be easily removed and the fans switched on. Installing an AIO at the top of the case is only a good idea when the silent panel is removed permanently.
The MSI MEG Coreliquid S360 is Asetek based so it's easy to install. Screw in four standoffs to the stock AM4 backplate, lower the CPU block in position over the CPU and tighten in place using four thumbscrews to install the block, it's that easy. The Integrated 2.4-inch IPS display and fan/pump speed can be configured via the MSI Centre software.
MSI includes two options for fixing the MEG Silent Gale P12 fans to the chassis. Either standard coarse thread fan screws or plastic tool-free clips can be used. I chose to use the screws since the build will be disassembled shortly after the video and I have found in the past that this type of plastic clip can sometimes be awkward to remove and easily damaged upon removal if you are not careful.
With all the silent case kit parts installed into the system, it looks stunning. The build has a very stealthy dark appearance with the AIO, fans and case all being black and minimal RGB lighting. A hint of purple illumination was added to the memory and case lighting to match the colour of the border around the AIO display, but this build would have also looked great with no RGB at all.
Thermal/Noise Performance Testing
This is a showcase build rather than a typical review, however, as well as finding out how good this case, cooler and fans are to build a system with, we wanted to measure how well the silent case kit holds up in terms of thermal performance and just as importantly how quiet the system is under load.
To simulate thermal demand we run the Cinebench R23 multi-thread benchmark in a loop for 30 minutes to fully load the CPU. This should give the CPU enough time to reach its constant steady-state temperature. With this data, we can compare how the CPU cooler handles the thermal demand and measure peak noise levels. No GPU load was introduced to the test as we didn't want GPU heat and noise to affect results.
We first measure the thermal performance with the case in its default configuration, so all silent panels, tempered glass and steel side panels are installed. The system is then left to fully cool down, silent panels removed and the same stress test runs for a second time to see how this configuration affects thermal performance and noise levels.
During testing, only stock case fans are used unless otherwise specified. All fans and pumps (where applicable) will be set to their silent fan curve profile, controlled by the MSI Centre software/Motherboard BIOS as this is recommended by MSI. The additional Silent Gale P12 fans installed to the roof of the chassis are set to zero RPM for the duration of the test.
All temperature measurements are presented as Deltas – meaning the ambient temperature has been deducted from the CPU temperature giving us a Delta. Data shown in the charts represent the average CPU temperature over the length of the test as measured by HWiNFO and then calculated to get the average. Ambient temperature during thermal tests is between 17-19⁰C.
Noise levels are measured by placing a noise meter 300mm from the front of the chassis while the stress test is running and the peak noise level during the test is recorded. The noise floor (ambient noise level) in the room is 36dBA.
Thermal Performance Overview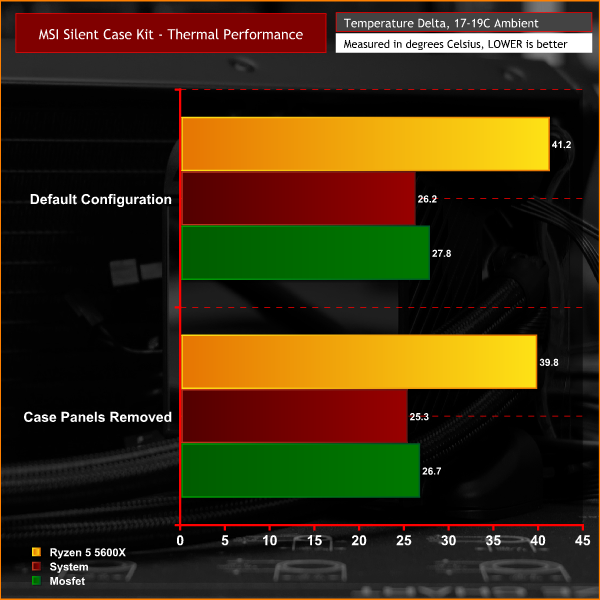 As you can see, with the silent fan profile used to control AIO fan speed, there is little difference in terms of thermal performance with the case in its default, silent configuration or with the silent panels removed. This means that even with the relatively closed design of the front panel, sufficient airflow is passing through the side, top and front vents which is good for a case of this type.
CPU boost frequency during both tests was very consistent at 4.3GHz – 4.35GHz average. So no matter how the case is configured, system performance is on a pretty equal level.
Noise levels Under Load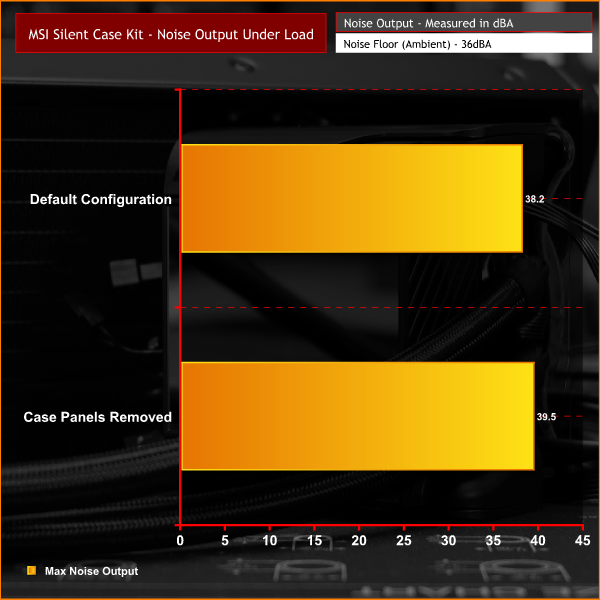 Similar to thermal performance, noise levels are virtually identical whether the case is in its silent (Default) configuration or not. Using the silent fan profile, noise levels were so low under load that the system noise output was barely above our noise floor (Ambient noise level) which is very impressive when you take into consideration how well the case/cooler handled thermals too.
Closing Thoughts
I enjoyed building a system using this "Silent case kit" from MSI. Taken as a whole the chassis was perfectly fine to use for a high-end build. However, there were a couple of areas where MSI could improve the design. The silent panels were a bit fiddly to remove, the front panel often brought the dust filter with it when removed as the dust filter didn't seem like a perfect fit, but overall the case is pretty well built and feels sturdy structurally.
MSI's front I/O fan switch could have been a little more conservative in terms of fan RPM. The switch has three stages, zero, 70% and 100% RPM. Running at 70% RPM, the three Silent Gale P12 fans installed in the chassis roof were noticeably audible. Since this is a low noise case I think 70% fan speed for the first RPM stage is a bit aggressive, 50% fan speed or lower would be better for a lower noise output while still allowing decent airflow.
A vented PSU shroud isn't my cup of tea either, I completely understand why it's there to help with airflow etc but it can look untidy seeing all the PSU cables underneath the PSU shroud, and for me, the whole point of a PSU shroud is to make the system look neat.
Positives definitely outweigh the negatives though, especially if we are talking about the kit as a whole. The case has some premium features such as noise insulated panels, a hinged tempered glass side panel, real brushed aluminium trim on the front, not plastic made to look like brushed aluminium and the fact that MSI has included an integrated VGA support bracket is pleasing, as it can be very useful if you install a high-end heavy graphics card.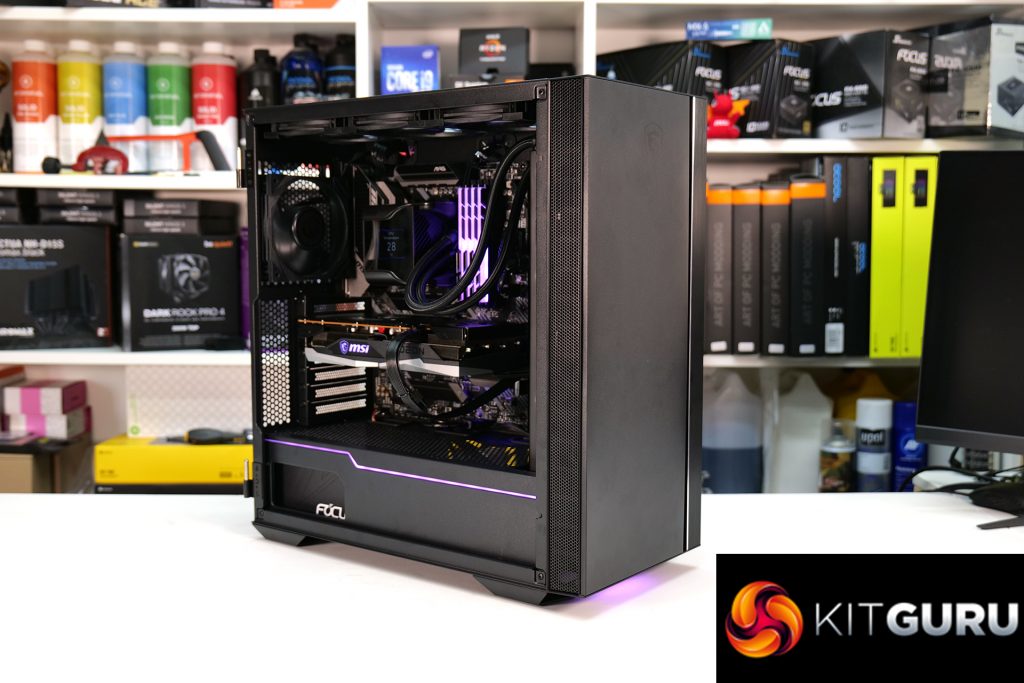 The MSI MPG Coreliquid S360 cooler also has a premium feel to it, which it should do with a £250 price tag. There are a handful of AIOs with integrated CPU block displays on the market but MSI added a downdraught fan too, which helps to cool critical components surrounding the CPU such as the VRM and M.2 drive which is a nice feature. Also, the stealthy, dark look with no RGB looks great in my opinion.
Like the Coreliquid AIO, the MAG Silent Gale P12 fans have a premium look and feel. The build quality of the fan frame is very solid, the choice of screws or tool-free installation is a bonus and the included 300mm 4-pin extension cable came in handy in our build. At low RPM the fans seem to move plenty of air as our thermal performance test proves. Multiple fans are also very quiet when operating at low speed.
Overall, the MSI silent case kit is a very solid premium product. I love the stealth looks and the high-quality build of the AIO and fans especially, the case is ok but there are plenty of very good alternatives at around the same price point. We've been told this will be available as a bundle purchase and if you want to buy any of the parts separately, they will start hitting retail shelves from late October/early November.
MSI MAG Quietude 100S is priced at £129.99 MSRP and is estimated to be available in late October/early November in the UK. The MEG Coreliquid S360 should be available in early November with an MSRP of £249.99 and the MEG Silent Gale P12 fans are expected to arrive in the UK in Q1 2022. No official UK price for the fans is available just yet, however, the U.S MSRP is $39.
Discuss on our Facebook page HERE.
MSI MAG Quietude 100S
Pros:
Sound insulated panels.
Good cable management space.
Decent airflow/cooling for a solid front case.
Cons:
Front panel /filter is not a great fit.
Fan speed switch RPM is too aggressive for a low noise system.
MEG Coreliquid S360
Pros:
No RGB.
Solid premium build quality.
Good thermal performance.
Cons:
CPU block is very bulky.
Not cheap.
MEG Silent Gale P12
Pros:
Slick stealthy appearance with solid build feel.
Quiet at low/medium RPM.
Included extension cable.
Cons:
UK availability is way off.
UK pricing is currently unclear.
KitGuru says: As a whole package, the MSI silent case kit is a lovely bit of kit to build a system around. Noise levels under load are very low and I think it all looks very slick when put together. What do you guys think of this new low noise gear from MSI?