It's been a month of build videos for James so far and today isn't going to be any different since we have a stack of new parts from NZXT to try out. The new power supply aside, all of these parts are revisions of earlier versions but they are all based around the same theme which we think will make a good base for an interesting build. As well as the white theme, the new NZXT H510 Flow is NZXT's first attempt at an airflow focused mid-tower chassis, so a bit of thermal testing is in order too.
Timestamps
00:00 Start
00:15 Featuring the H510 Flow
08:01 Kraken X63 and Z63 White
10:50 NZXT C750 Bronze
12:17 Rundown of the hardware in the system
13:25 The Build
25:03 Cable management (timelapse)
27:57 Build is Complete!
31:27 Tests and Results
NZXT has always placed aesthetics above airflow in order of importance when designing its mid-tower chassis, but all that changes now with the new NZXT H510 Flow. The original H510 has been around for a few years and when it was originally released, thermal performance was average. NZXT later released the H510 Elite which did not bring an improvement in airflow (in fact in some tests, it was worse) but the H510 Flow will surely be better with its almost fully perforated front panel.
Other than the new high airflow front panel, not much has changed in the H510 Flow compared with the original H510, so a full review of the case seems a little pointless as all the features will have been covered many times before. The basic structure and features of the case are similar to the H510 Elite that Leo reviewed a while back, minus the RGB goodies. The H510 Flow goes back to basics and just includes two 120mm plain black fans.
A theme build with a white H510 Flow seems like the most appropriate option since NZXT has released some other new white parts at the same time. We covered the NZXT Kraken X and Z3 coolers with in-depth reviews last year and found them to be very solid in terms of build quality and thermal performance, which we don't expect to be significantly affected by a colour change. The new Kraken Z-3 and X-3 RGB coolers are simply a white version of what is already available, there are no other changes to the specification.
Build Specification:
CPU: AMD Ryzen 9 5900X
Motherboard: NZXT N7 B550
Memory: 32GB kit (4x8GB Modules) Corsair Dominator Platinum RGB DDR4-3600 (White)
Graphics: Palit GeForce RTX 3070 Game Rock
2nd Storage Device: 2TB Kioxia XG6-P PCIe Gen3x4 NVME M.2 SSD
CPU Cooler: NZXT Kraken X63 RGB (White)
Power Supply: NZXT Cseries Bronze C750 80+ Bronze Certified
Cable Extensions: White/black SilverStone Premium Cables (24-pin), White Corsair Pro PSU Cables (PCIe)
Case: NZXT H510 Flow (White)
Operating System: Windows 10 21H1
System Installation
We had a few niggling issues when building the system, there is nothing fundamentally wrong with the case. It has very sturdy build quality and all panels line up and fit together well, components fit into place and line up with motherboard standoffs fine. The graphics card was a little awkward to align the fixing screw holes but loosening off the PCIe slot cover below the card solved that problem, so overall it isn't a bad case to build a system inside.
As it is a compact mid-tower chassis, space inside the H510 Flow can be quite tight. Connecting power and other things such as fan cables at the top of the motherboard can be a fiddly job, especially if you have a top fan installed. Connecting the EPS power cable was very difficult with the top fan installed so I would recommend that you install a top fan after connecting everything up.
I'm not a fan of the perforated power supply shroud top cover, it spoils the otherwise clean aesthetics of the build being able to see messy power supply cables. I am surprised NZXT uses a vented power supply top since the case is heavily designed around clean and sleek looks. Other than that, the appearance of the case will suit users who want the minimalist look down to a tea.
Cable management in this case should work spot on if you are building a standard system. NZXT's perfect world where cable management follows the integrated channels built into the case should work for most users. However, those who deviate away from NZXT's perfect cable management world by using a 24-pin sleeved extension might be in trouble.
The 24-pin connector in the extension we used was too big for the integrated channel, so it had to run alongside it and zip ties were used to hold it in place. It didn't look too bad from the inside of the main compartment as it was hidden by the cable management modesty panel, but it wasn't optimal. Removing the integrated cable channel didn't improve the situation as it leaves nothing to zip tie a cable to if it's not there, which is a shame for people with cable OCD like myself.
Thermal Performance/Noise levels
To simulate full system thermal demand we run the Cinebench R23 multi-core benchmark and heaven benchmark simultaneously in a loop for 30 minutes. This should give the CPU and GPU enough time to reach constant steady-state temperature. With this data, we can record how the system handles the thermal demand and measure peak noise levels.
We first measure the thermal performance with the case in its default configuration, so all panels are installed as the case comes from the factory, the system is then left to fully cool down. To compare the H510 Flow thermals against a solid front panel (as found in the original H510) we blanked off the front panel with a sheet of paper and left a small gap in the right-hand side panel to simulate the small perforated section of the H510 side panel vent.
During testing, only stock case fans will be used unless otherwise specified. All fans and pumps (where applicable) will be set to a static RPM in the motherboard BIOS, CPU fans – 1000 RPM, case fans – 800 RPM.
All temperature measurements are presented as Deltas – meaning the ambient temperature has been deducted from the CPU temperature giving us a Delta. Data shown in the charts represent the average CPU temperature over the length of the test as measured by HWiNFO. Ambient temperature during thermal tests is between 19-20⁰C.
Noise levels are measured by placing a noise meter 300mm from the front of the chassis while the stress test is running and the peak noise level throughout the test is recorded. The noise floor (ambient noise level) in the room is 36dBA.
Thermal Performance Overview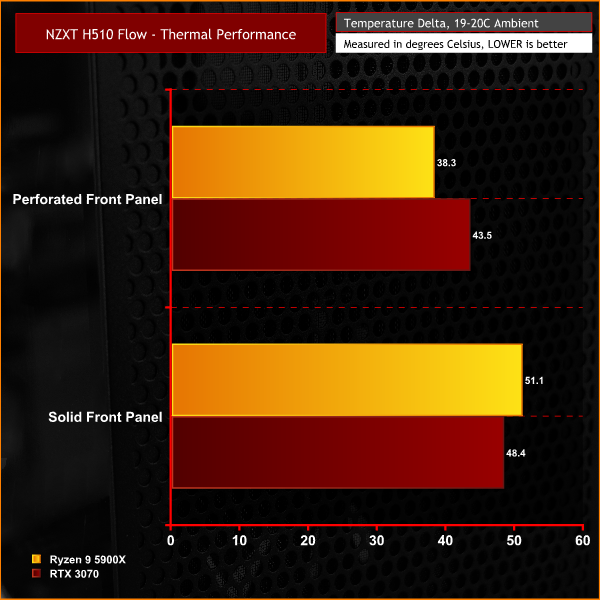 It is clear to see how much of an improvement the new H510 Flow front panel makes when compared with a solid panel arrangement. A massive 13⁰C reduction in CPU temperature was seen compared with the solid front panel. GPU temperature was also reduced by around 5⁰C which is less dramatic but still a healthy improvement.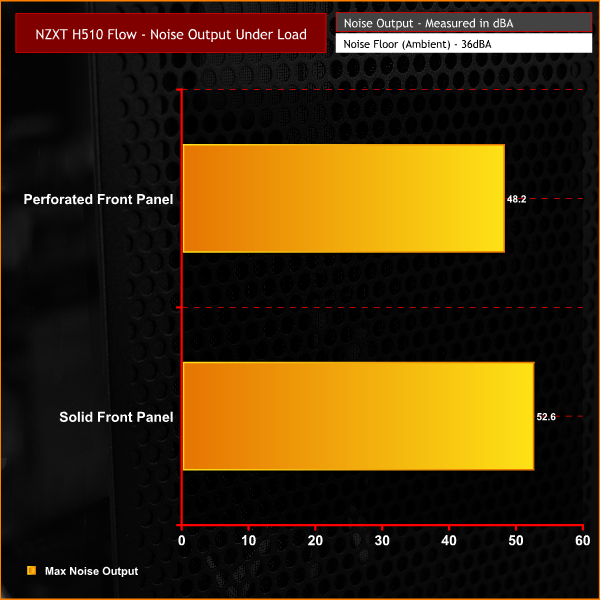 Noise levels
As we often see during thermal tests, when removing panels or opening up the chassis, it leads to a reduction in noise due to the GPU fans not having to ramp up as much to keep the temperature under control. When we sealed up the H510 Flow front panel noise increased, which shows that a high airflow case can also be a quiet case.
Final Thoughts
There is certainly no mistaking an NZXT theme build, no other manufacturer does understated like NZXT. I like the slick minimalist looks of the H510 Flow, even with the perforated front panel looks are unassuming. Often high airflow mesh front panel cases look a bit fiddly but NZXT managed to keep it looking low key while making a huge improvement in airflow and thermal performance during our test.
Some of the minor issues of the H510 such as the lack of space around the top of the motherboard and the fiddly cable management remain but overall this isn't a bad case, especially if you want to build an airflow focused system with stealthy looks for a living room gaming pc perhaps.
It is a shame that NZXT doesn't offer its own PSU cable extensions, having some white cable extensions long enough for the 24-pin connector to clear the H510 Flow cable management channel would have been the ideal solution to improve the cable management around the right-hand side of the system, maybe NZXT will come up with some cable extensions in the future who knows?
The Kraken X63 cooler worked very well inside this build with its new white appearance, it's a shame that the AIO/Fan bracket at the front of the case is a bit tricky to install. Once in place though it feels solid, however, the case wouldn't be any worse if that front bracket wasn't there at all. But taken as a whole it's not a bad case with the negatives aside.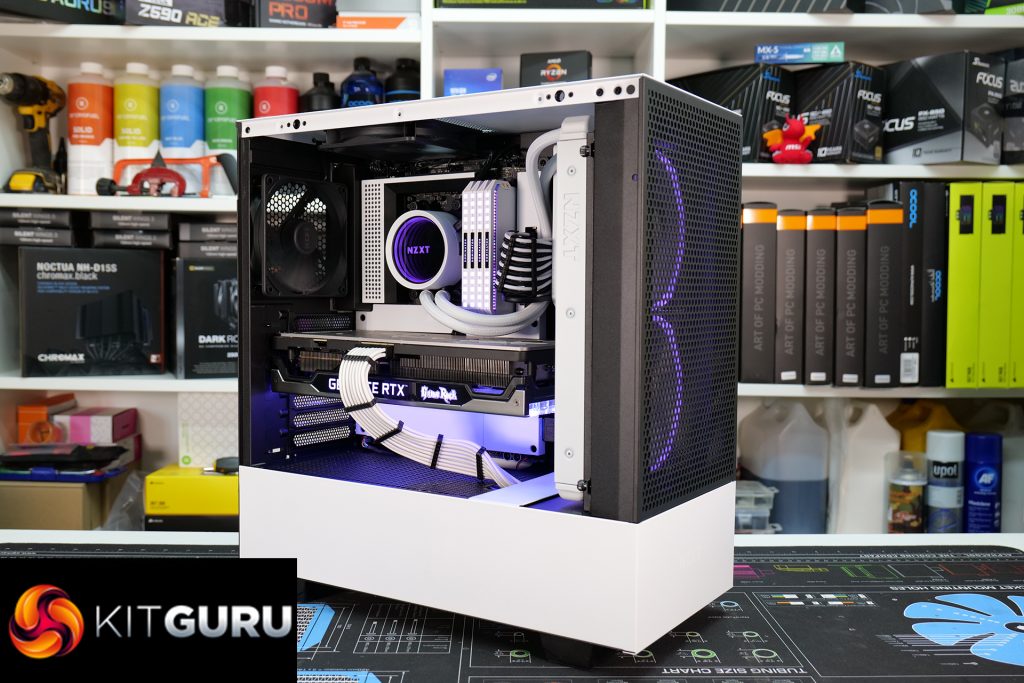 The NZXT H510 Flow is available to pre-order now from the likes of Novatech and Scan. However, those websites show stock arriving at different dates so we expect anyone who pre-orders to get their hands on the product around the end of October/early November.
Kraken X63 in white is in stock and available to purchase now priced at £174.95 from Overclockers UK. Kraken X53 RGB (240mm) and X73 RGB (360mm) versions are also available in white now too.
NZXT C Series Bronze power supplies are due to be launched in Q4 2021 with the C750 version priced at £84.99 MSRP, C650 is £74.99 and the C550 will set you back £64.99.

KitGuru says: We think our white NZXT theme system looks pretty sweet with its clean looks. Are you guys interested in purchasing any of these new white NZXT parts to build a clean looking high airflow system?