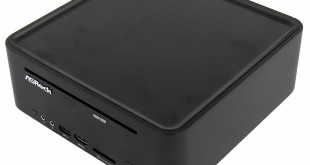 The ASRock Vision X 471D is an update of the Vision X 420D that was introduced about a year ago. This barebones is supplied without an Operating System, however the hardware is complete so you have no need to install memory, storage or anything else. On the one hand this is a simple job as the Vision X comes with a slot loading DVD drive so you simply insert your Windows disc (or USB flash drive) but on the other it is more involved than merely turning on your new laptop or PC.
On the face of it the ASRock Vision X 471D has had a major overhaul, so while it looks externally the same as before pretty much every component has been changed. To a certain extent this is true however the devil lies in the detail.
Watch via our VIMEO Channel (Below) or over on YOUTUBE.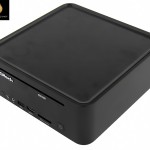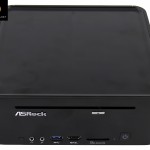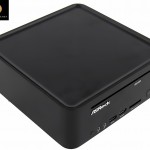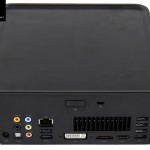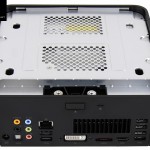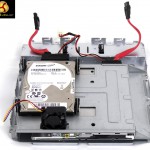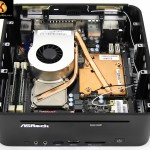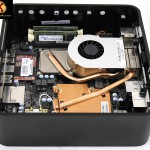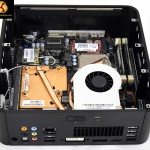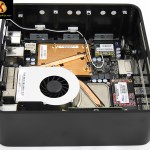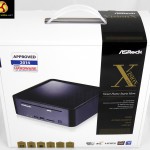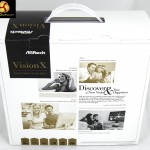 The CPU has been changed from Core i5-4200M to Core i7-4712MQ so is now quad core rather than dual core and gains 200MHz of extra boost. The system memory remains the same at 8GB of DDR3-1600MHz and the chipset is still Intel HM87. One significant change is that 420D had a 1TB hard drive and the 471D now comes with a 256GB SSD and 2TB storage drive. This is a definite sign of progress however the upgrade was an easy one for ASRock as the 420D had an empty mSATA slot and they have simply plugged in the necessary drive. Both the SSD and RAM are supplied by a company called Asint.
Another easy but worthwhile upgrade is the Wi-Fi which has changed from 802.11n to 802.11ac. We love the extra performance of 802.11ac and give this the big thumbs up.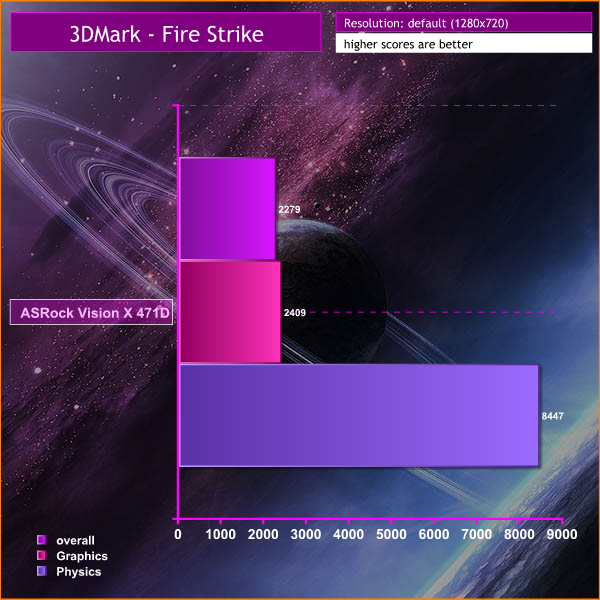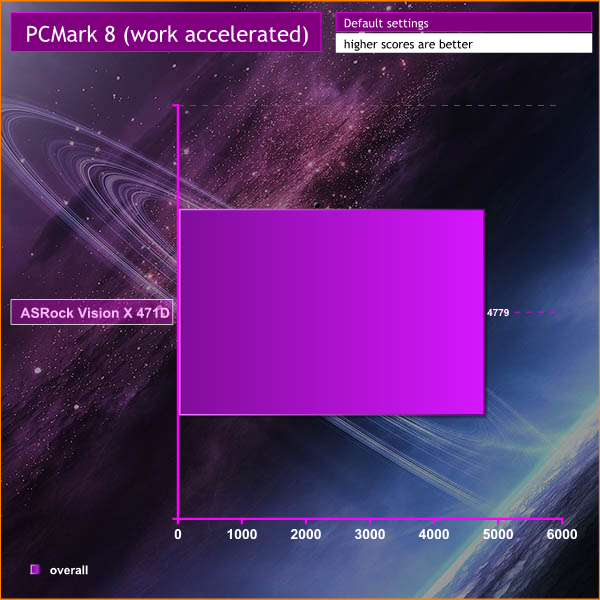 The final change that deserves some attention is the MXM graphics module. In the 420D the graphics were AMD HD8850M which dates from 2013 and has a mere 640 cores while the 471D graphics are AMD R9 290X. That sounds like a significant improvement however the bad news is that the graphics are exactly the same and have merely been renamed by AMD.
While the Vision X 471D doesn't require any assembly the set-up sheet gives details of how you get inside the casing. These instructions aren't especially clear however they might come in handy as there is a spare 2.5-inch drive bay inside the chassis. The necessary cables are supplied in the accessory pack so you can, if you wish, install even more storage.
ASRock also includes a Media remote control in the package so you can recline in comfort to watch movies.
ASROCK Vision X 471D Specifications:

Dimension – 200mm(W) x 70mm(H) x 200mm(L)
CPU – Intel Core i7 4712MQ
Operating System – Microsoft® Windows® 8.1 32-bit / 8.1 64-bit / 8 32-bit / 8 64-bit / 7 32-bit / 7 64-bit compliant
Chipset – Mobile Intel® HM87 Express chipset
Memory – 8GB DDR3-1600MHz (2 x 4GB) – Supports DDR3 1600/1333/1066 MHz, 2 x SO-DIMM slots, Max. up to 16GB*
*Due to the operating system limitation, the actual memory size may be less than 4GB for the reservation for system usage under Windows® 32-bit OS. For Windows® 64-bit OS with 64-bit CPU, there is no such limitation.
VGA – AMD Radeon™ R9 M270X Graphics (with 1GB GDDR5 VRAM)
– Supports Blu-ray 3D playback, AMD HD3D technology
AMD has officially renamed AMD Radeon™ HD8850M to AMD Radeon™ R9 M270X.
**Blu-ray disc is supported by Blu-ray drive.
HDD – 2TB – Supports second 2.5″ SATA HDD
mSATA – 256GB mSATA SSD
ODD – DVD Super Multi
Wi-Fi – 2T2R 802.11 a/b/g/n/ac
*5GHz/2.4GHz Dual-Band access / Faster Speed: WLAN up to 867Mbps data rate.
Front I/O – 1 x MHSL, 1 x USB 3.0, 1 x MIC, 1 x Headphone, 4-in-1 Card reader (SD3.0/MMC/MS/MS PRO)
Rear I/O – 1 x HDMI, 1 x DVI-I (Dual-Link), 1 x USB 2.0, 1 x S/PDIF, 1 x eSATA, 5 x USB 3.0
LAN – Gigabit LAN
*Supports Wake-On-LAN
Sound – 7.1 CH HD Audio, Supports DTS Connect
Volume (litres) – 2.8L
Bluetooth – BlueTooth 4.0/ 3.0 + High Speed Class II
Remote Controller – MCE Remote Controller
Power Unit – 120W/19V Adapter.
Cooling Performance.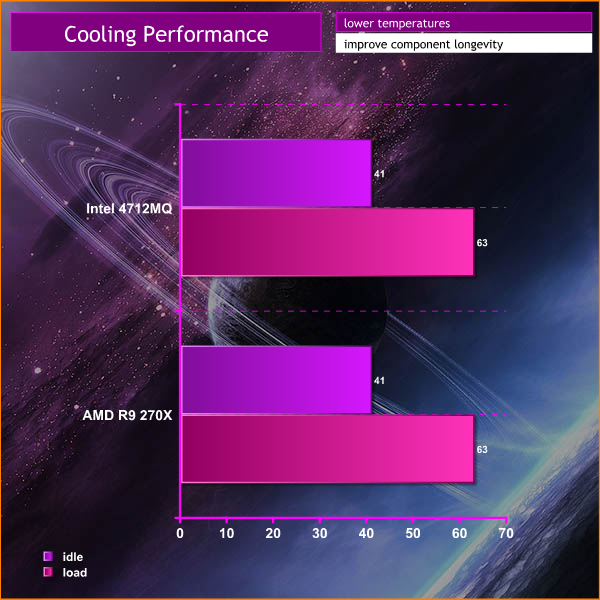 There are two fans inside the chassis. The tiny 30mm HDD fan spins at 1,600rpm but of course such a small fan moves very little cooling air. The main CPU fan operates at 2,250rpm and does a decent job of keeping the hardware cool. The system idles at 41 degrees C for both CPU and GPU and rises to 63 degrees under load, which is doubtless assisted by the size of the chassis as there is enough space for cooling air to flow freely.
Acoustics Performance.
ASRock has done a decent job with the layout of the Vision X and the consequence is that the 50mm fan doesn't have to work especially hard to keep the CPU and GPU cool. While the cooling fan is audible it never becomes noisy or intrusive.
Closing Thoughts
The latest version of the ASRock Vision X is relatively bulky for a Mini PC and cannot be used as a VESA system, however it takes up far less space on the desk than a regular PC tower. The hardware inside the Vision X is comparable to a mid-range laptop or PC and the AMD graphics help the Intel Core i7 along to a useful extent. In a benchmark such as 3D Mark the Vision X is demonstrably better than the Gigabyte Brix S which relies on integrated Intel graphics.

The combination of Core i7 and AMD graphics also gives Vision X the edge over Brix S in PC Mark 8, however there is a limit to its abilities. In a game such as Tomb Raider the hardware doesn't allow you to play the game on Ultimate settings as the average frame rate at Full HD is only 15.8fps. Pull the settings back to High and the frame rate increases to 38.8fps. It is a similar story in Thief where the frame rates average around 20fps.
On the other hand when you convert a movie file in MediaEspresso the Vision X takes a while longer than Brix S, which indicates the 5th generation CPU in the Gigabyte outperforms the 4th generation in the ASRock.
This leaves the ASRock Vision X X471D in a middle ground where it can comfortably handle office and movie duties but isn't up to the job of playing games with the settings most of us wish to use. It is a minor annoyance that the slot loading DVD drive cannot handle Blu-rays as that would seem an obvious feature for a PC that is supplied with a media centre remote control.
Discuss on our Facebook page, over HERE.
Pros:
Convenient small form factor.
802.11/ac Wi-Fi
SSD for performance plus 2TB HDD.
AMD graphics support the Core i7 CPU.
Effective cooling that is nice and quiet.
Good range of USB, eSATA, Ethernet and audio ports.
Cons:
Comes without an OS so you have the chore of installing Windows.
High price. You're paying a premium for the small form factor.
4th Gen Haswell Core i7 looks a bit tired compared to the 5th Gen Broadwell we saw in Gigabyte Brix S.
KitGuru says: ASRock has made some useful updates to Vision X but would have done well to cut the price.