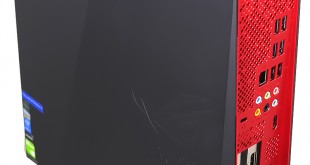 Asus aims to pull off a neat trick with the Republic Of Gamers G20AJ. They have taken a desktop Core i7 CPU and a desktop GTX 970 graphics card and crammed the two of them into a tiny 12.5-litre chassis that appears to be a similar size as a Sony PlayStation 4.
As it happens this is a bit of an optical illusion as the games console can lay flat under your TV while the Asus ROG G20AJ needs to stand upright to allow the exhausted hot air to safely rise and dissipate. There is however no denying the Asus ROG G20AJ is a tiny gaming PC. It is only 10cm wide, 34cm tall and 36cm deep although it has to be said the unique double power brick that you can see in our video adds to the overall bulk.
Watch via our VIMEO Channel (Below) or over on YouTube HERE.
The key point here is many small form factor PCs keep their size to a minimum by limiting the amount of heat they produce. For example the Asus ROG GR8 gaming console PC we saw a while back (HERE) achieved its tiny form factor by effectively repackaging a laptop in a desktop form factor.
This had the consequence of limiting its gaming ability as the GTX 750Ti graphics and dual core Core i7-4510HQ CPU were good but not class leading. By contrast the G20AJ goes for the throat and promises a Full HD gaming experience that will put Playstation 4 and Xbox One to shame. Indeed, Asus claims the G20AJ is 'The World's Most Powerful Compact Desktop' which is a pretty bold statement.
Asus ROG G20AJ Specification:
Processor Type: Intel Core i7-4790 3.6ghz (4.0Ghz Turbo)
Chipset: Intel H97
Memory Supplied: 1x 8GB, 1x 4GB – 12GB DDR3-1600MHz SO-DIMM
Graphics: Nvidia GeForce GTX 970 4GB
Graphics connectors: 1x HDMI, 3x DisplayPort, 1x DVI-I
Solid State Drive: 128GB Kingston made for Asus
Hard Drive Supplied: 1TB Toshiba 7,200rpm
Audio: SonicMaster 7.1
Audio connectors: 6x mini jacks
Ethernet: Intel Gigabit
Wi-Fi: Realtek 8821AE 802.11a/b/g/n/ac + Bluetooth v4.0
USB: 4x USB 3.0, 4x USB 2.0
Dimensions: 104mm wide x 358mm deep x 340mm high
Operating System: 64-bit Windows 8.1
You will, of course, have spotted that Asus is using a 4th Gen Intel Haswell CPU along with an H97 chipset and while this isn't cutting edge Skylake technology it certainly offers a decent level of performance. The other oddity is that G20AJ is delivered with 64-bit Windows 8.1 along with the Microsoft offer of a free upgrade to Windows 10. It comes as something of a surprise that Windows 10 isn't simply installed at the factory.
Opening the casing isn't especially difficult but neither is it particularly informative. You can clearly see the graphics card, CPU cooler and SSD in our photos but if you want to go any deeper you'll have plenty of dismantling on your hands as there are brackets, screws and pieces of steelwork galore.
No doubt it is theoretically possible to upgrade the GTX 970 graphics card at some point in the future but it looks like a fair amount of hard work and it probably makes better sense to treat the G20AJ as a sealed unit.
Visually the most unusual aspect of the G20AJ is the external power supply which consists of two power brisks in a plastic frame. You need two mains power sockets and the are two power jacks on the rear of the chassis. The G20AJ idles at 40W and draws 260W in 3D Mark so no doubt that is too much juice for a single power brick, unless you do some serious engineering. All we know is that we have never seen anything quite like it before.
Testing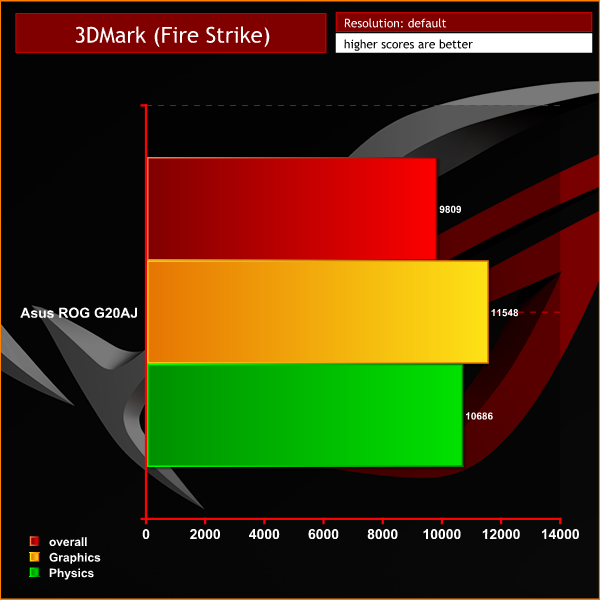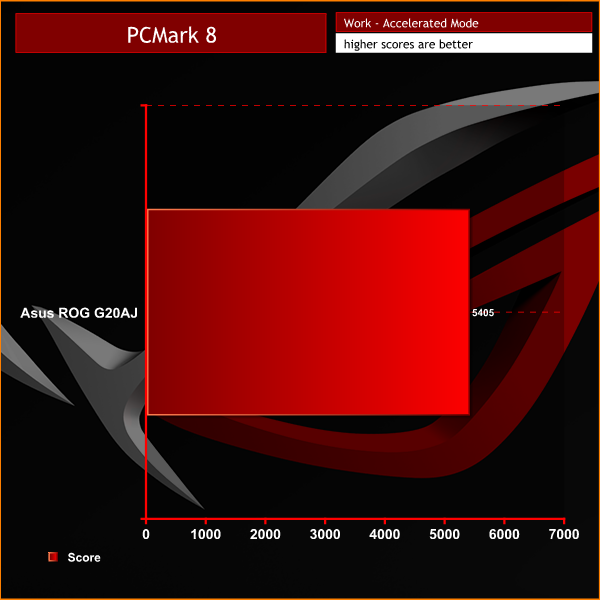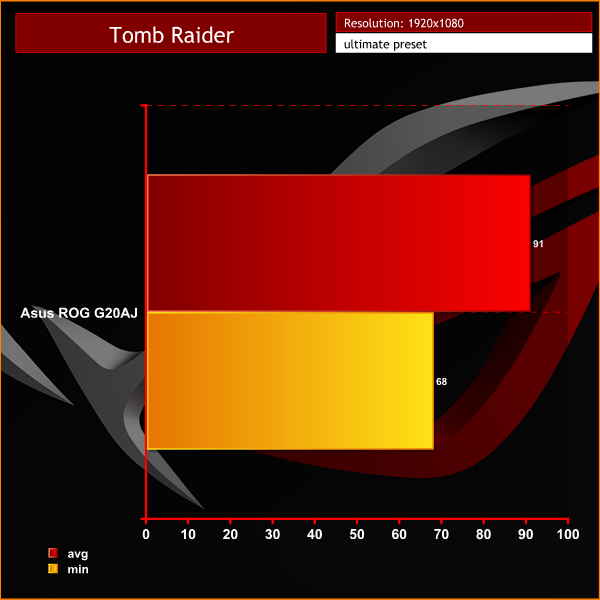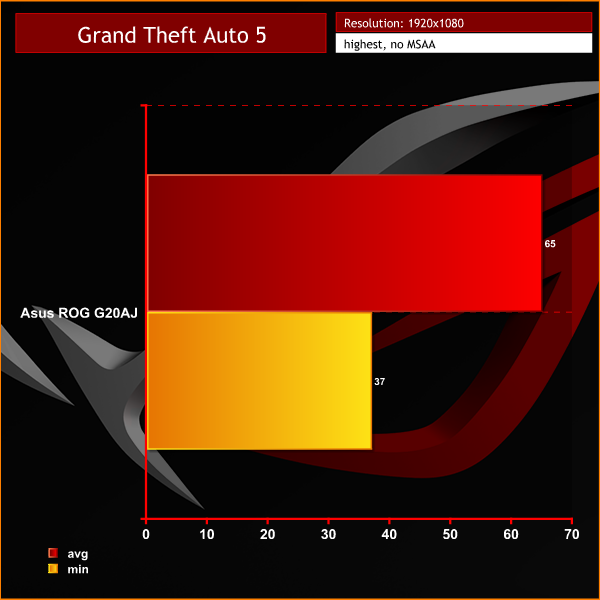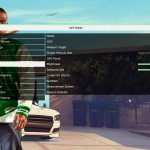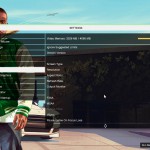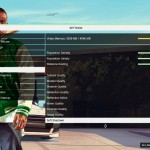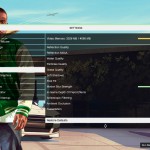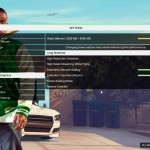 Testing the ASUS G20AJ with the usual suite of PC Mark 8, 3D Mark, Cinebench and a selection of games delivered a solid set of results that are exactly in line with our expectations from 4th Gen Core i7 and GTX 970. The figures give no clue this is a small form factor PC; it is a decent PC that delivers a proper Full HD gaming experience and just happens to be a lot smaller than you might expect. Admittedly you might want to turn down the quality settings in Grand Theft Auto V but that's true of pretty much any PC that doesn't have a GTX 980 or better.
Temperatures
Under load the CPU temperature sat at a steady 72 degrees which is higher than a conventional desktop PC and much, much lower than the point at which we have any concern. Asus has packed a desktop Core i7 in a small chassis and has kept it under control with an oversized laptop-style cooler that does a fine job. The graphics temperature was a steady 73 degrees under load which is very acceptable.
Closing Thoughts
We like the Asus ROG G20AJ a great deal. In fact it would be safe to say the G20AJ impressed us and won us over with its combination of small form factor, high performance and Republic Of Gamer features such as the RGB lighting system.
Yes we would have been even happier if the CPU was Skylake rather than Haswell but that is a fairly minor detail and no doubt the older silicon helps to keep the price a little lower.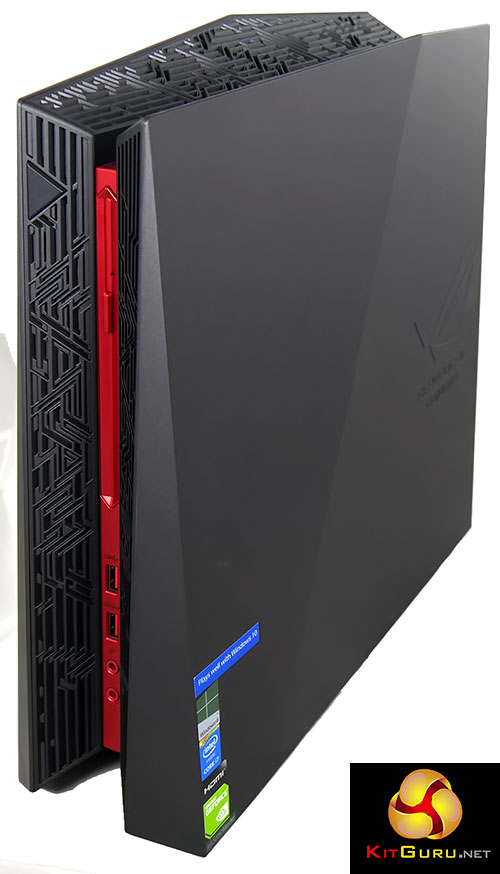 In a world where Steam Machines appear to be slowly (ever so slowly) rising, it makes perfect sense to connect a regular gaming PC to your TV and the G20AJ is one way to avoid having a socking great tower cluttering up your living room.
The G20AJ isn't quite perfect as ASUS really don't want you tinkering with the insides, so you should treat this PC as a sealed unit. Apart from that we have a damn fine PC on our hands that delivers impressive gaming performance in a small and stylish chassis that is backed up with quality engineering.
Essentially you are paying £100 more for the Asus G20AJ than you would for a comparable Core i5 gaming tower and that will get you a much smaller form factor and a similar level of performance.
You can buy from Curry's/PCWorld for £1,199.99 HERE.
Discuss on our Facebook page, over HERE.
Pros:
Small form factor.
No really, it's small and looks good too.
Asus ROG colour scheme is always a winner.
Core i7 and GTX 970 delivers good frame rates at Full HD.
The cooling system controls temperatures without making a racket.
Ultra-quiet 22dB operation while idle.
Customizable RGB lighting.
Cons:
Minimal upgrade path.
You require two mains power sockets.
4th Gen CPU looks a little old hat.
We don't like McAfee installed out of the box.
Asus Web Storage is prone to popping up every so often to remind you there is a chunk of space in the cloud that bears your name.
KitGuru says: Asus has delivered a small form factor gaming PC that delivers pride of place next to your TV.