Corsair One started life as a concept for a new case and evolved into a fully built gaming PC. We have previously seen the Corsair Bulldog barebones but Corsair One is different as it is a fully functioning Windows 10 PC that requires no assembly.
The aluminium tower is considerably smaller than you might expect and only stands 380mm high, which means you should have little difficulty finding room for it near your TV or stood on your desk. Inside you'll find an Intel Core i7 and Nvidia graphics which each have their own liquid cooling set-up.
Watch the video via our VIMEO Channel (Below) or over on YouTube at 2160p HERE

Specification: (UK model)
CPU Intel Core i7-7700K Quad-Core Processor
CPU cooler Corsair liquid cooler
GPU Nvidia GeForce GTX 1080
DRAM 16GB DDR4-2400MHz
Storage 480GB SSD, 1TB HDD
Motherboard Z270 Mini-ITX
Networking Gigabit Ethernet, 802.11ac
Power Supply 400W SFX 80 Plus Gold
External Connections
1x USB 3.1 Gen 2 Type C
3x USB 3.1 Gen 1 Type A
2x USB 2.0 Type A
PS/2 Port
1x HDMI 2.0
2x DisplayPort
S/PDIF
Operating System Windows 10 Home Edition
Dimensions 200mm x 176mm x 380mm
Weight 7.2kg
Warranty Two years
There are three versions of Corsair One. The basic model is called Corsair One and uses a Core i7-7700 with GTX 1070 graphics and a 240GB SSD with 1TB HDD. The more powerful option is the Corsair One Pro with an unlocked Core i7-7700K, GTX 1080 graphics, 480GB SSD and a 2TB HDD. Our review sample is the US Corsair One Pro that increases the SSD capacity to 960GB and does away with the HDD. We are told this super One Pro will be launched outside the USA when Corsair is able to supply sufficient components.
In practical terms this means the UK Corsair One Pro is very similar to the USA Corsair One Pro, however they are not absolutely identical.
As you will see in our video the design of the Corsair One Pro is imaginative with a Mini-ITX MSI motherboard that stands vertically. The CPU is on one side of the PC and the graphics card is on the other side. The CPU and GPU each have a dedicated liquid cooler that employs a radiator that looks similar to the Corsair H100i but which is markedly slimmer. The neat touch about Corsair One Pro is the way the cooling system doesn't mount fans on the radiators in the usual way but instead uses a Corsair ML140 fan at the top of the chassis. Cool air is drawn in through the ventilated side panels of the chassis, across the two radiators and upwards to the exhaust fan where it is expelled at the top of the case.
In our video we didn't dwell on the absence of air filtration, which was an oversight. Adding filters would be sensible but as they are not installed you will simply have to accept that every once in a while you will be getting busy with the vacuum cleaner. It's not ideal and we hope that Corsair will tweak this aspect of the design in time.
Other aspects of the design, such as the lack of RGB lighting may seem like an oversight but we disagree. The case lighting is single colour Cyan and you can use Corsair Link to adjust brightness or set the light to Static, Breathing, Flashing or Off. That seems perfectly sufficient to add some visual interest without driving you crazy when a club light show is running next to your TV.
Testing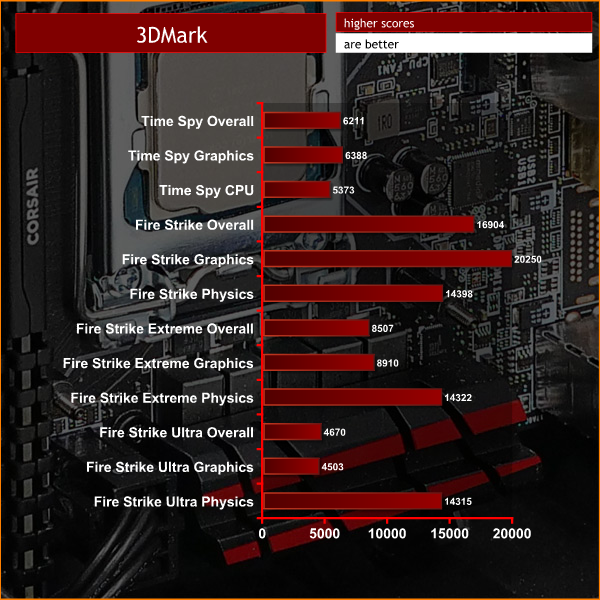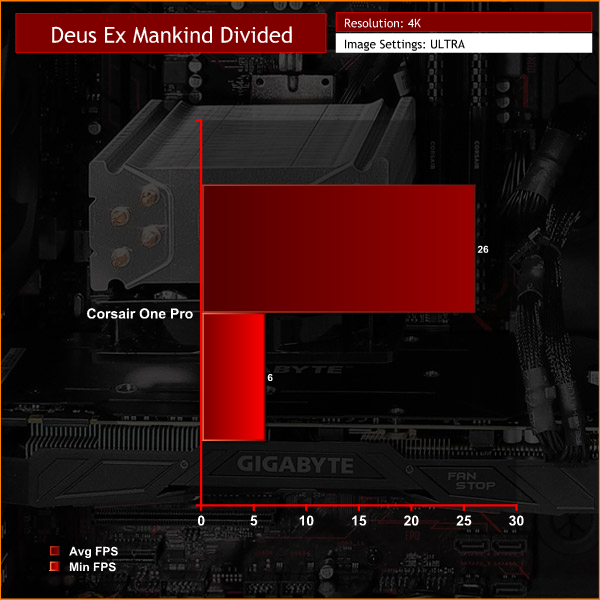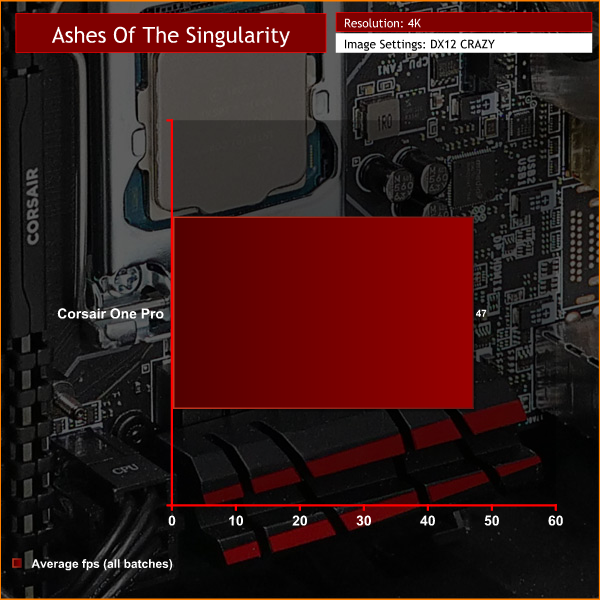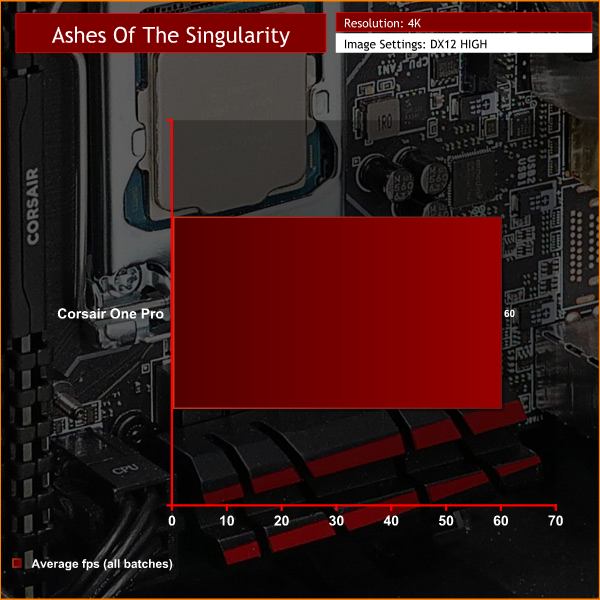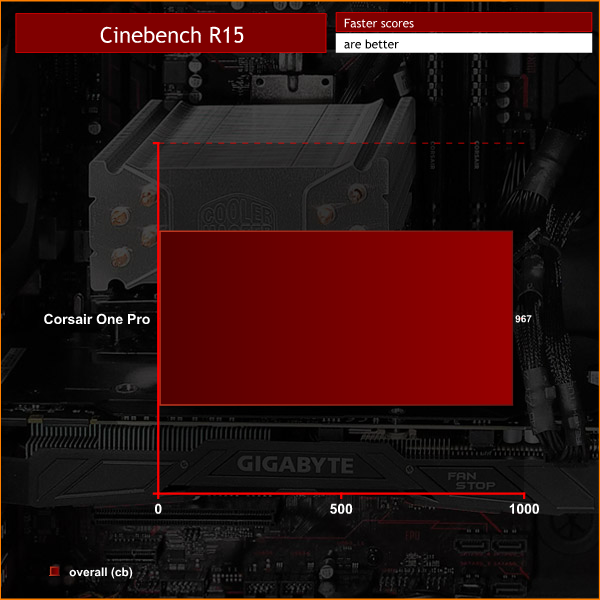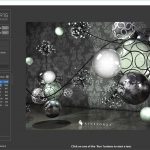 We used Corsair One Pro to play games at 4K and while it managed the task it struggled at high image quality settings. Drop the resolution to 1440p or 1080p and it will haul along but be aware that 4K is a stern test, even for Core i7 and GTX 1080.
Cooling Performance.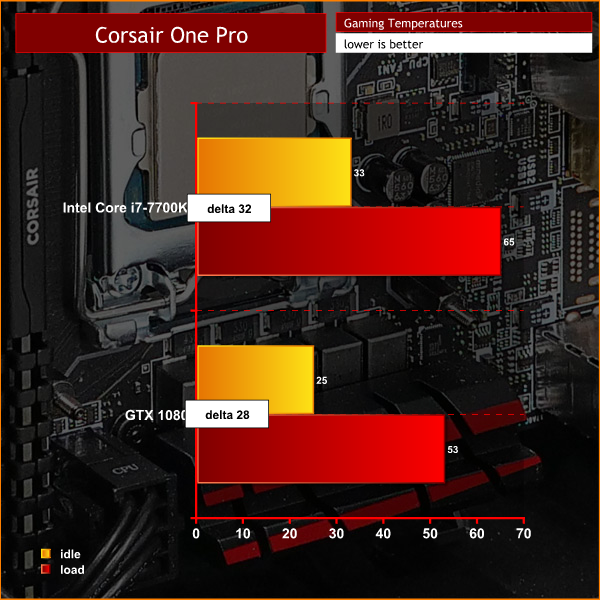 We were impressed by the low temperatures for both CPU and GPU but note that at least one other reviewer suffered from a toasty CPU. The only explanation we can offer is that Intel clearly has problems with the thermal interface on certain CPUs while we appear to have struck lucky with the CPU in our particular example of Corsair One Pro.
Acoustics performance.
If you listen carefully you can hear the two cooling pumps but they simply are not an issue. Similarly the single 140mm fan is very quiet indeed. If you place the Corsair One Pro on your desk close to hand you will surely hear it working. If you site it next to your TV it is effectively silent.
Closing Thoughts.
The Corsair One Pro uses an exciting new design and is considerably better than we first expected. The use of dual cooling systems for CPU and GPU is very clever and the way that Corsair has packed so much hardware in such a small case is impressive. For example the SFX power supply is much smaller than an ATX unit but comes straight out of Corsair's catalogue.
It is a neat balancing act where they use regular desktop components in an unusual configuration that keeps everything tidy and compact without the need to develop bespoke hardware, apart from those Asetek radiators.
This is a clever approach that works superbly well, although it effectively precludes the possibility of upgrading your hardware over time. Corsair One Pro is not a sealed unit like the Mac Pro but requires an enthusiast to work inside the casing and we doubt many people will want to take the risk. Indeed we expect the Corsair One Pro to spend its life powering games on a TV and it is ideally suited to that task.
Buy from the Corsair store for £2265 HERE.
Pros:
Stylish looks.
Low noise levels.
Excellent cooling.
Great gaming ability.
Cons:
No dust filters.
It is a considerable investment.
KitGuru says: Corsair One Pro is smart, stylish and an all-round winner.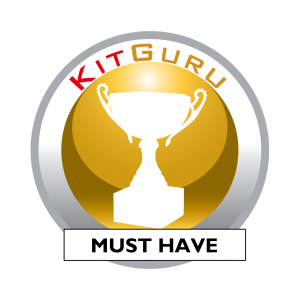 Be sure to check out our sponsors store EKWB here