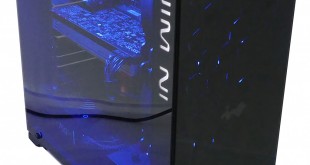 Cyberpower has taken an interesting approach with its Infinity Luxe 805 GT gaming PC. On the one hand they have pushed the specification of the hardware with an overclocked 4.7GHz Core i7-6700K and GTX 980Ti graphics card while on the other they have also emphasised the look of the PC with an In-Win 805 case with Thermaltake Riing fans front and rear. (In the video I say Riing at the rear. In fact all three fans are illuminated Riing fans).
That's a huge amount of hardware yet Cyberpower UK has managed to keep the price just below the psychological barrier of £2000.
Watch via our VIMEO Channel (below) or over on YouTube at 1080p50 HERE
Specifications:
Case: In-Win 805 Mid Tower ATX Gaming Case with Tempered Glass on both side Windows (Black Colour)
Lights & Illumination: Akasa Vegas LED Strip Light (Blue Colour)
Extra Case Fan Upgrade: Maximum Airflow with 3x 120mm Thermaltake Riing Fans with High Pressure Static LED 1,500 RPM (Blue Colour)
Processor: Intel Core i7-6700K Quad Core 4.00 GHz 8MB Cache LGA1151 + HD Graphics *** Pro OC ***
Overclocking Service: Extreme OC (Extreme Overclock 20% or more)
Cooling Fan: Corsair Hydro Series H110i GT High Performance Liquid Cooling system with 280mm radiator
Motherboard: Asus Maximus VIII Ranger Intel Z170 Chipset, ATX mainboard with 4 RAM slots, USB 3.1, 3 PCIe x16, 3 PCIe x1, 2 SATA Express, 6 SATA3, 1 Ultra M.2
Memory: 16GB (2x8GB) Corsair Vengeance LPX DDR4-3000MHz
Video Card: MSI Nvidia GeForce GTX 980Ti 6GB 16x PCIe 3.0
Free Game Coupons: FREE Rise of The Tomb Raider Game Coupon
Power Supply Upgrade: Corsair CX750M Modular Gaming Power Supply, 80+)
Internal PCIe SSD Card: 400GB Intel 750 Series M.2 PCIe Solid State Drive Card, Read: 2200MB/Sec, Write: 900MB/Sec (Single Drive)
Hard Drive: 2TB Seagate SATA-III 6.0Gb/s 64M Cache 7200rpm
Sound: On-board HD audio
Network: On-board 10/100/1000 Gigabit LAN Port
Wireless 802.11N Network Card: Gigabyte PCIe Wireless GC-WB867D-I 802.11AC Wi-Fi up to 867 Mbps + Bluetooth 4.0 Combo with dual antennae
Operating System: Windows 10 Home (64-bit Edition) (Recovery Disk)
Warranty Service: Desktop Standard Warranty: 3 Year Labour, 2 Year Parts, 1 Month Collect and Return plus Life-Time Technical Support
The PC is first packed in the In-Win case box and then an outer box. Inside the chassis Cyberpower has used bubble wrap to support the graphics card and has wisely placed a sticker over the power socket that warns you to remove the packing before you fire your new PC into life.
Removing the tempered glass side panel is quick and easy as it is secured with four thumb screws and this gets you up close and personal with the In-Win 805 chassis. This compact aluminium case sports smoked glass panels on the front and sides and looks superb but is, unfortunately, a nightmare to photograph as the glass reflects so much light. Our video includes a section taken in the dark to show just how much visual impact this PC delivers.
The Corsair H110i GT liquid cooler is mounted in the front of the case and, as mentioned, is cooled with two Riing fans. There is a third Riing fan at the rear and most of the light from these fans and the LED lighting kit is visible through the side panel with a small amount spilling at the front. The system looks really dramatic without also being annoying or distracting, and that is a neat trick to accomplish.
Gamers will concentrate on the guts of the system which consists of a Core i7-6700K that has been overclocked to 4.7GHz, along with a reference speed GTX 980Ti 6GB and super-fast 400GB Intel PCI Express SSD with NVMe.
The hardware is knitted together with an Asus ROG Maximus VIII Ranger motherboard, 16GB of super-fast Corsair DDR4-3000MHz memory, a 750W modular power supply from Corsair and a copy of Windows 10.
On the face of it there is nothing to complain about, although we did have a few queries when we first used the Infinity Luxe 805 GT
We didn't receive the pair of Wi-Fi antennae for the Gigabyte Wi-Fi card (although it worked surprisingly well without) and the 2TB Seagate drive was not formatted and did not appear in Windows Explorer. Both of these problems were laid squarely at the feet of the reviewer who had the PC directly before KitGuru. We also noted the Asus BIOS is a few versions out of date, however as we have said in the past we prefer not to tinker with overclocked PCs as the BIOS is an important part of system stability.
We thought we had Cyberpower bang to rights when we noted that Corsair Link software was not installed but when we raised the point we were told this is intentional as they find cooling is more reliable when it is set in the BIOS.
Fair enough, time to get on and play some games.
Testing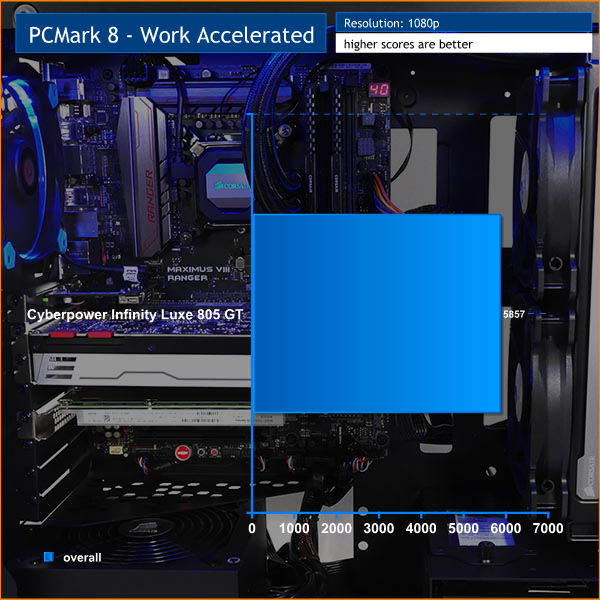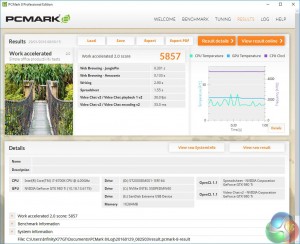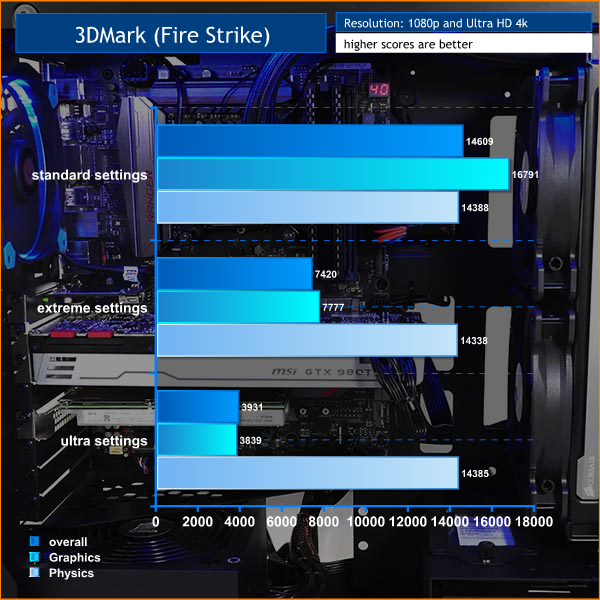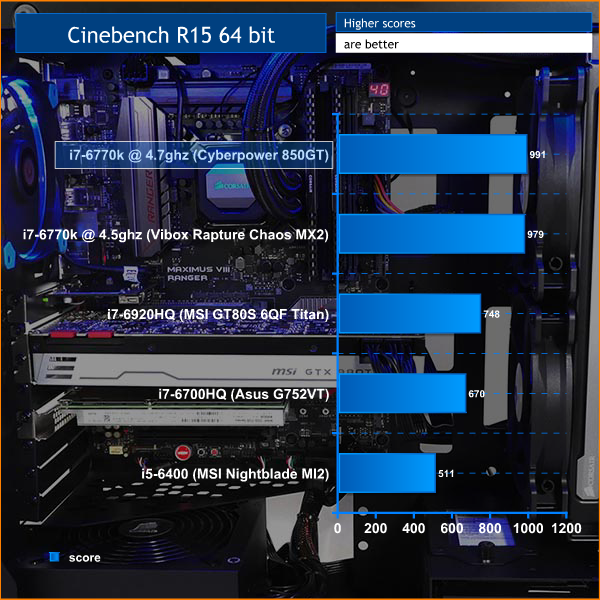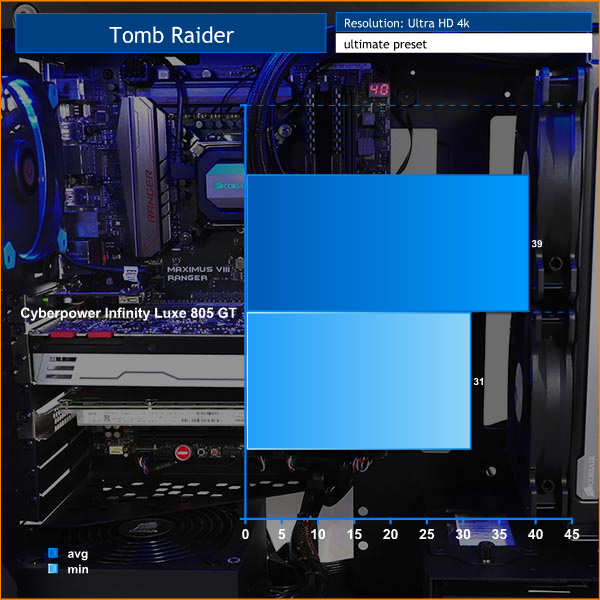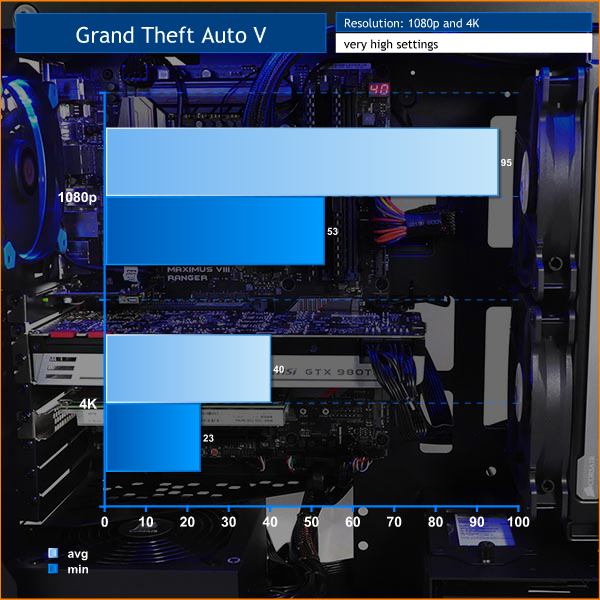 It is interesting to compare Cyberpower Infinity Luxe 805 GT with PC Specialist Nox (review HERE) as the Cyberpower has a slightly higher clock speed and a Ti version of GTX 980. You can see the two PCs have near-identical performance in PC Mark 8 while in 3D Mark, GTA V, Thief and Tomb Raider the Cyberpower stretches its legs. In Tomb Raider the difference in average frame rates is 116fps to 133fps or 15 percent, whereas the more stressful GTA V shows a difference of 61fps to 95fps or 56 percent.
There is no denying the Infinity Luxe 805 GT can play games at 4K but you'll need to drop image quality settings below Maximum to lift average frame rates above 40fps.
It is worth pointing out the graphics card has 6GB of memory and you require 3GB for GTA V in 1080p or 4GB in 4K so this is purely a case of the grunt you require to push all those pixels.
Cyberpower has delivered a storming PC that delivers maximum performance.
Maintaining system stability when you overclock a Core i7 is no mean feat however Cyberpower has done a fine job. The Corsair H110i GT works well, the three Riing fans all play their part and the In-Win 805 chassis allows the air to flow. The downside is that Infinity Luxe 805 GT is noisy. You would expect little else from a case that has glass panels and not even a scrap of noise deadening material but that doesn't change the fact that the level of radiated noise gets annoying.
Closing Thoughts
The Cyberpower Infinity Luxe 805 GT looks amazing, delivers huge gaming performance and is built from a list of top quality components. The price is rather high at £1999 however it is entirely reasonable when you consider the main components are Core i7-6700K, Asus ROG Z170 motherboard, Corsair DDR4-3000MHz, Intel 750 SSD and an MSI GTX 980Ti graphics card. That's a list of stellar names that add up to gaming nirvana.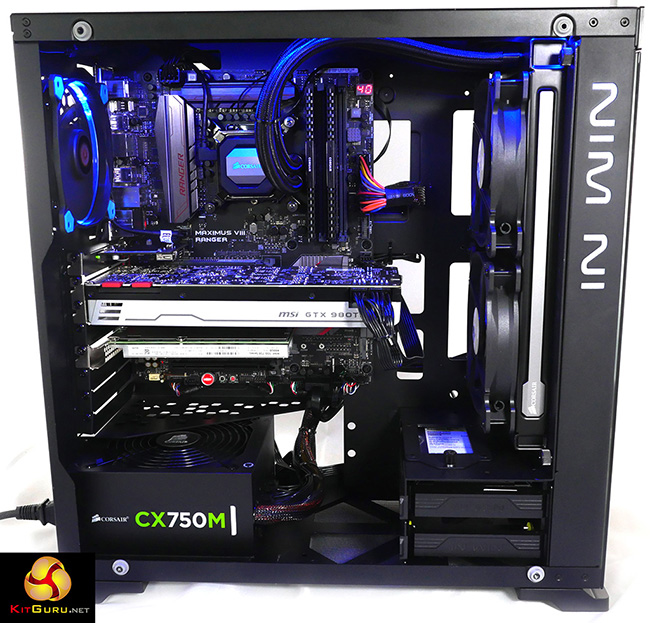 Build quality is good and there is no annoying software nagging away to ruin your day.
The only snags that caught our attention – the 'missing' hard drive and missing Wi-Fi antennae – can be laid at the door of the previous reviewer. It would be preferable if Corsair Link could be installed but we understand the priority has to be given to guaranteed cooling that is set in the BIOS.
That just leaves the noise radiated by the cooling system. The problem here is that an overclocked Core i7 in a bling chassis such as the In-Win 805 is pretty much the worst case scenario for noise as the CPU requires airflow and the In-Win has no noise deadening. It doesn't come as much surprise that Cyberpower has simply bitten the bullet and made a feature of the illuminated fans. This PC is fast, furious and noisy but it looks great. Live with it.
Buy direct from Cyberpower UK for £1999 inc vat over HERE.
Discuss on our Facebook page, over HERE.
Pros:
Glorious glass case from In-Win.
GTX 980Ti handles 4K gaming (provided you are sensible with settings)
Overclocked 4.7GHz Core i7-6700K
Intel 750 SSD is fast and responsive.
Faultless build quality.
Rock solid stability.
Illuminated Riing fans look great.
Cons:
The cooling system is annoyingly noisy.
£1999 is good value but still plenty of money.
KitGuru says: Infinity Luxe 805 GT is epic, provided you can live with the noise.