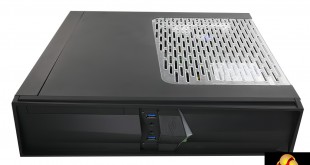 DinoPC GS3 is a small form factor gaming PC that would ideally earn pride of place beside your TV. The look and feel of DinoPC GS3 is determined by the choice of windowed SilverStone Raven RVZ02 case which can either lay down flat or stand up vertically. This is an interesting case with plenty of ventilation however it doesn't use any case fans; the flow of cooling air is determined by the CPU cooler and the fan in the power supply, so the hardware that DinoPC has chosen to go inside GS3 is of critical importance. If they had gone bonkers and specified an overclocked Intel Core i7 with AMD Radeon R9 390 you can be confident that heat and noise would have been problematic, but if they had gone too far in the other direction the GS3 wouldn't have deserved to be called a gaming PC.
Building a small form factor gaming PC is a fine balancing act and it is always interesting to see how well the PC builder manages the task.
Watch via our VIMEO Channel (below) or over on YouTube at 1080p60 HERE
DinoPC GS3 Specification:
Case: SilverStone Raven RVZ02 Windowed
CPU: Intel Core i5-6400 Quad Core 2.7GHz/3.3GHz
CPU cooler: Stock Intel cooler
Motherboard: Gigabyte GA-H170N-WiFi
Memory: 8GB Crucial DDR4-2133MHz in dual channel
Video Card: XFX Radeon R9 380X 4GB
Power Supply: FSP SFX 450W
Hard Drive: 1TB Seagate SSHD 2.5-inch
Sound: On-board Realtek ALC1150 HD audio
Network: On-board dual Intel Gigabit LAN Port
Wireless Networking: Gigabyte 802.11AC Wi-Fi up to 867 Mbps + Bluetooth 4.2 Combo with dual antennae
Operating System: Windows 10 Home (64-bit Edition)
Warranty Service: 3 Year SureCare Warranty: 3 Years Labour, 1 Year Parts.
As a matter of fact DinoPC has another significant constraint with GS3 as the price has to be reasonably low to make it competitive with those £300 Sony Playstation 4 and Microsoft Xbox One consoles.
The upshot is a PC that uses the latest Skylake technology but which limits itself to a Core i5 with maximum Turbo speed of 3.3GHz and a 65W TDP. Graphics are provided by an XFX Radeon R9 380X which will surely be sufficient to power games at 1080p resolution and costs are kept down by the inclusion of a 1TB Seagate SSHD. The storage drive uses a 2.5-inch format and could easily be upgraded to an SSD, provided you are fine spending another £254 for the privilege.
There isn't a massive amount of space inside the slender SilverStone Raven RVZ02 case, but the layout of the internals makes it appear even less roomy than you might expect. As you can see in our photos the main compartment is effectively divided in half with the SFX power supply and motherboard covered by one side panel and the graphics card covered by the other.
This novel layout comes as a result of using a PCI Express riser card with the graphics card mounted in the same plane as the motherboard which helps the hardware fit inside the slender chassis.
As you will see in our video it can be a bit fiddly to remove the two side panels as they wrap around the chassis but once they are off the internal layout is clear. It takes a moment to come to terms with the layout of the SilverStone Raven RVZ02 but it all makes sense as the SilverStone case can accommodate grown up hardware whilst flowing a reasonable amount of cooling air with the minimum of noise.
Testing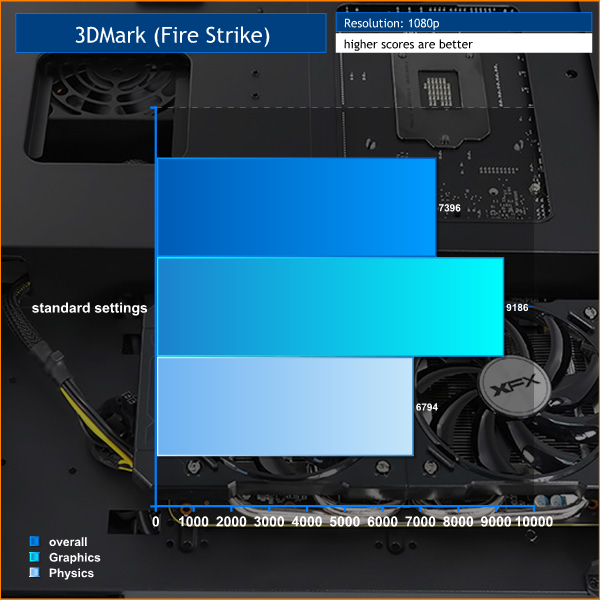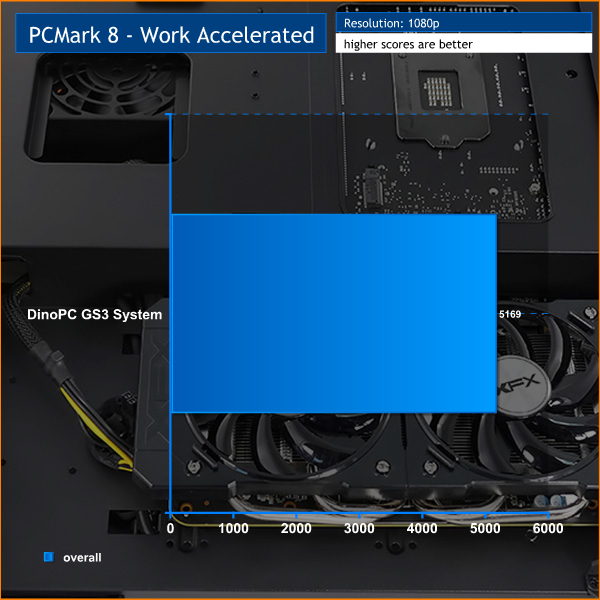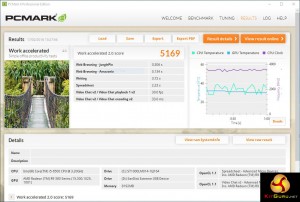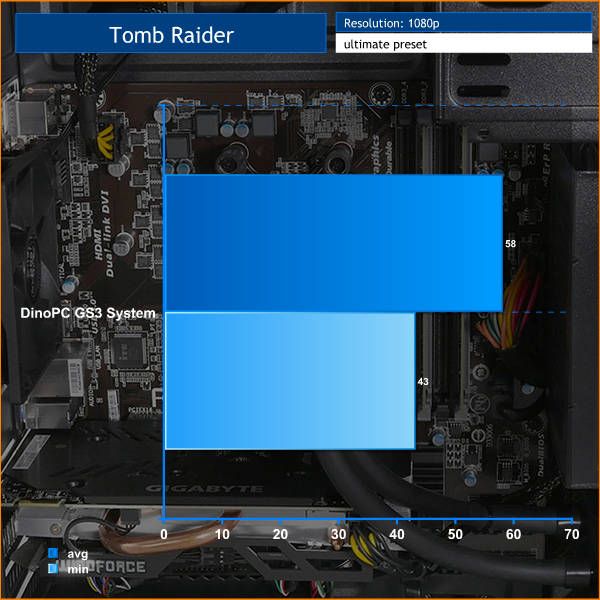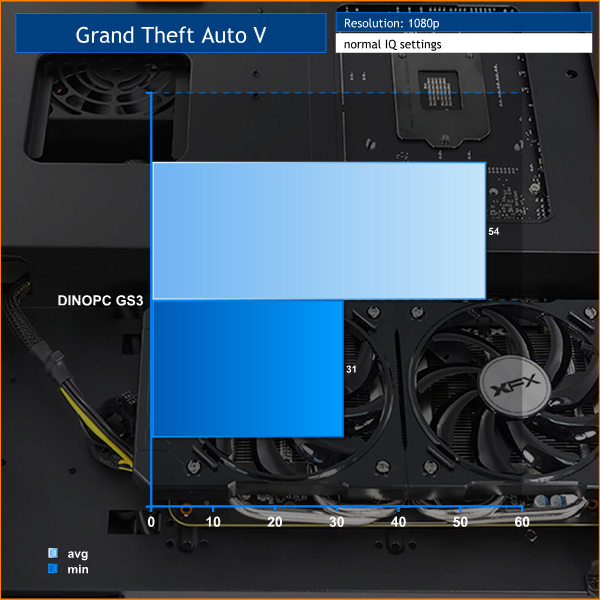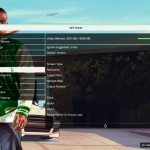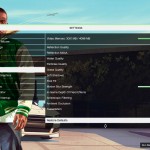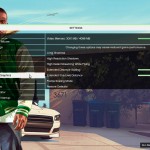 We were confident the XFX Radeon R9 380X graphics card would handle 1080p gaming and our figures back this up. Grand Theft Auto V runs at High Quality settings and averages 54fps while Thief and Tomb Raider run closer to 60fps. Previous testing shows that R9 380X can handle 1440p gaming but this is a side issue with DinoPC GS3 as you will surely be connecting the PC to your TV.
Can it handle 1080p? Check. How about 4k? No, not really.
Does DinoPC GS3 blow a games console out of the water? Check check check.
Thermal Dynamics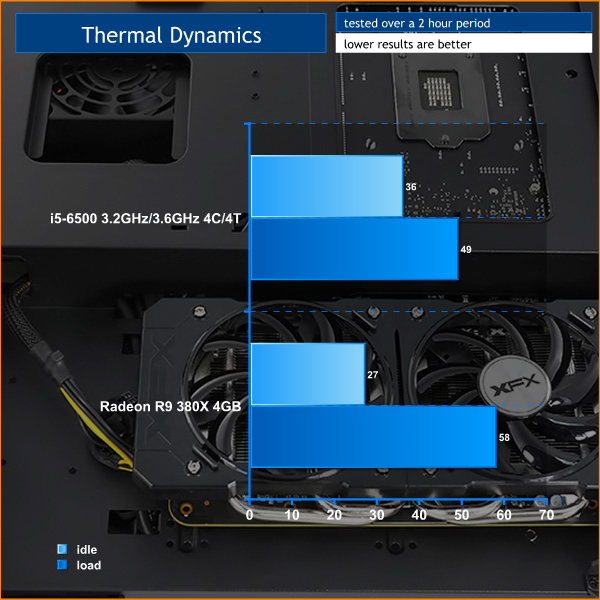 So what about that stock Intel air cooler? It turns out we had no need to worry as the Core i5-6500 in our test PC (base specification is Core i5-6400) idled at 36 degrees and only rose to 49 degrees under extreme load.
The XFX graphics card idles at 27 degrees and stops short of 60 degrees under maximum load. That is an extreme test using AIDA 64. In a more mainstream test such as Cinebench R15 the CPU temperature was 46 degrees and the GPU temperature a mere 42 degrees.
No doubt, the situation was helped by the 65W TDP of the Skylake Core i5, which shows that DinoPC made a sensible choice opting for a mid-range CPU. The other part of equation is the SilverStone case which clearly flows sufficient air to keep things in equilibrium. Those ventilated windows in the panels are positioned directly over the vital components where they do a fine job.
Acoustic Performance
In normal use the DinoPC GS3 is audible when you get up close but certainly is not noisy. We all know a modern graphics card makes very little noise at idle and an Intel air cooler is nearly silent so the fact that the SilverStone case is heavily ventilated doesn't cause any problems.
Under high load the DinoPC GS3 can clearly be heard at a distance of a metre but is absolutely fine if you are sitting across the room on your sofa. Running separate stress tests on the CPU and GPU reveals that the graphics card makes slightly more noise than the Intel CPU cooler but really that is a detail. DinoPC has clearly chosen components that work well inside the SilverStone Raven RVZ02 where they get enough cooling air despite the absence of extra case fans.
Closing Thoughts
The key features of the DinoPC GS3 is the way it packs gaming hardware inside a slender chassis that can either stand beside your TV or lay horizontally on a shelf of your TV stand. Locating a PC in your living room means that heat and noise are significant factors and we consider that DinoPC has done a fine balancing act when it selected the hardware that goes inside GS3.
Skylake Core i5 delivers all the power you need for 1080p gaming and R9 380X has enough power to provide plenty of eye candy. The weakest part of the package is the Seagate SSHD as it cannot compete with an SSD however it is a reasonable choice to keep the cost of the PC low.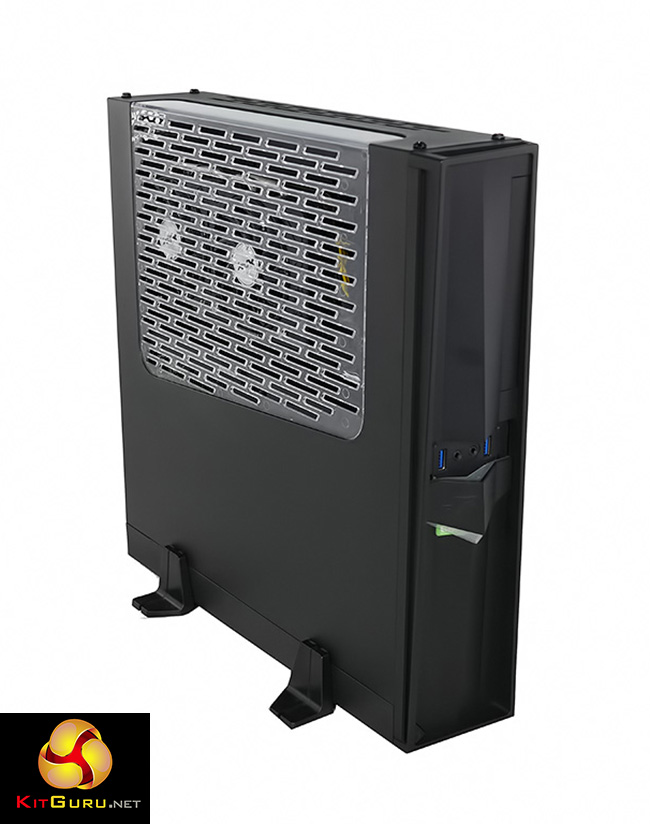 DinoPC has delivered a gaming PC that brings 1080p Steam gaming to your living room without breaking the bank and, equally importantly, without ruining the peace and calm of your household with a price that is way down the budget end of the scale.
Buy from DINOPC for £699 inc vat HERE – be aware the price rises after a month to £729 inc vat.
Discuss on our Facebook page, over HERE.
Pros:
Good 1080p gaming performance.
Slender chassis works well under your TV or stood alongside.
Low price.
Integrated Wi-Fi.
Low operating temperature.
Plenty of storage in the 1TB drive.
Type C USB 3.1 port provides some future proofing.
Cons:
Noise levels increase when the PC is working hard.
No dust filtering on the slotted window panels
Sliding cover on front I/O panel is very stiff.
Reset button is absurdly small.
KitGuru says: The DinoPC GS3 looks understated whilst packing an outsize punch for the price.