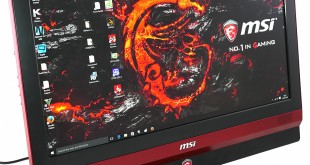 You can look at the MSI Gaming 24 6QE All-in-One in a number of different ways and the most obvious (and laziest) is to compare it with Apple iMac. This misses the point because iMac comes in 21.5-inch and 27-inch sizes and places the emphasis on a svelte design where two of the three models sport a high resolution Retina display. The closest match is the 21.5-inch non-Retina iMac which uses Intel Iris Pro graphics and which has soldered RAM and cannot be upgraded. By contrast the MSI Gaming 24 6QE packs a GTX 960M graphics chip and has spare slots for a second M.2 SSD and a second DDR4 RAM module so the two All-in-Ones are actually quite different. You may have spotted the 6QE suffix to the model name which is significant as it refers to the 6th Gen Skylake processor and associated hardware.

Watch via our VIMEO Channel (below) or over on YouTube at 1080p60 HERE
MSI Gaming 24 6QE Specification:
CPU Intel Core i7-6700HQ (2.6GHz, Turbo 3.5GHz)
Chipset Intel H170 Chipset
Memory DDR4-2133MHz SO-DIMM, 2 slots, Up to 32GB
Graphics Nvidia GeForce GTX 960M 4GB GDDR5
Panel Resolution 23.6" LED Backlight 1920 x 1080 with MSI Anti-Flicker & Less Blue Light Technology
SSD 128GB Transcend MTS800 M.2 SSD (SATA interface)
HDD 1TB 7200rpm HDD HGST HTS721010
Optical Drive Tray-in DVD Super Multi
Audio Nahimic Audio Enhancer
LAN Killer E2400 Game Networking
Wireless LAN Intel® Dual Band Wireless-AC 3165
Bluetooth 4.2
USB 3.1 Gen1 x 5 (1 with Super Charger)
Card Reader 3 in 1 (SD, MMC, MS)
Webcam 2MP Full HD
Expansion Slot M.2. x 3: Wi-Fi x1 SSD x2 , Mini-PCI-E x 2
HDMI in x1, HDMI out x1
Mic-in/Headphone-out
Operating System Windows 10 Home
AC Adapter 230W
Dimensions 584mm (Wide) x 469mm (High) x 192mm (Deep, with stand)
Net Weight 9.47kg
You can see from our photos that the MSI Gaming 24 6QE pretty much amounts to a laptop that has been packaged on the rear of a Full HD 1080p display. This results in a PC that is considerably more compact than an ATX tower but which has more scope for upgrades than an iMac. You can open the casing quite easily by removing a handful of screws if you fancy upgrading the SSD storage or adding more memory but is is unlikely that many people will follow this course of action.
One snag with the laptop-as-a-desktop concept is that a laptop has the ports and connectors arranged around the sides where they are easy to reach whereas the MSI Gaming 24 6QE has a top, two sides and a bottom. The top is unused, the two sides carry the DVD drive, control buttons, card reader and two USB 3.0 ports. The snag is that a good number of the ports are arranged on the bottom edge where they are hidden away between the lower bezel and the stand, and this makes them awkward to reach.
We're talking about three USB ports, two HDMI, Ethernet, power and headset connectors so it is possible to plug in your various bits and pieces during initial set-up. If you move your MSI Gaming 24 6QE from one room to another you will have a bit of a struggle on your hands when you reconnect your devices.
Heading into this review we had no doubt the Core i7-6700HQ would manage game play but we had less certainty about the GTX 960M graphics as the chip can struggle at 1080p with high image quality settings. At KitGuru we generally regard GTX 970M as a good starting point for a capable gaming laptop.
It was mildly disappointing that our review sample didn't come with the MSI keyboard and mouse that was shown in PR photos as that would surely have added to the visual impact of this smart and compact PC (we did get a photo however, see the bottom of this page).
Testing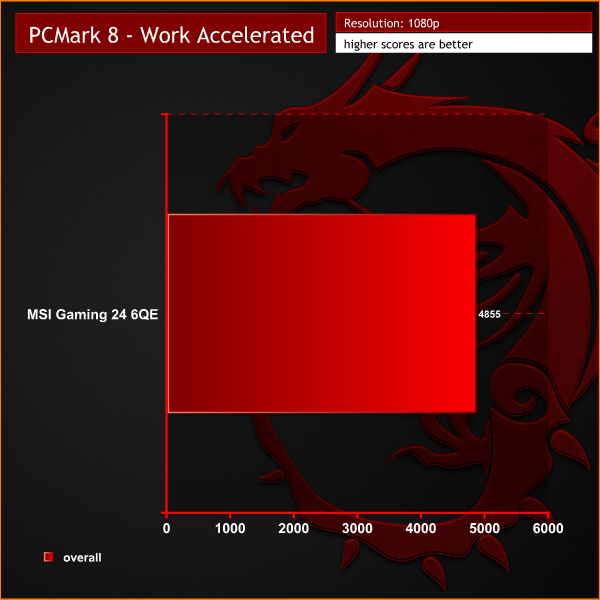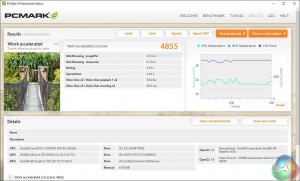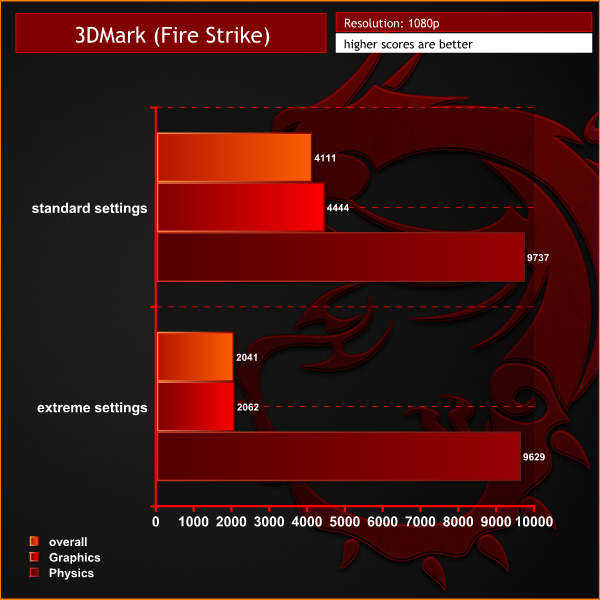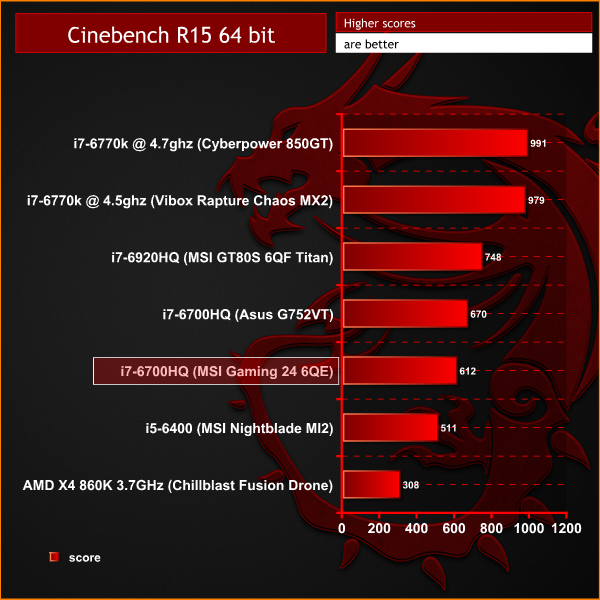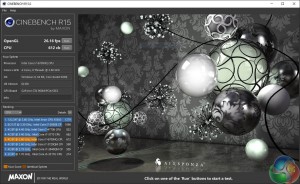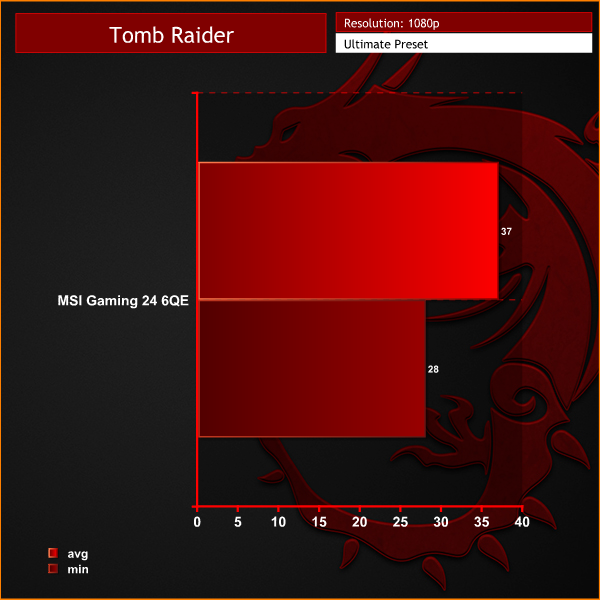 MSI Gaming 24 6QE handled PC Mark 8, 3D Mark and an array of games with a fair degree of success. Naturally we used a screen resolution of 1,920 x 1,080 for testing as that is the setting of the IPS panel and we found it pushed the graphics chip to the limit. With image quality settings set to High the frame rate in games typical landed in the mid-30's fps which wasn't entirely satisfactory.
For a decent gaming experience you will probably have to choose either Medium or Low settings to keep the frame rate closer to 60fps. As you will see in our video the MSI Gaming 24 6QE played Metro Redux 2033 without a hitch however it refused to start GTA V and crashed repeatedly. We have no explanation for this behaviour and hope it is a bug in the drivers that will soon be fixed.
MSI has used the space inside Gaming 24 6QE to install a large blower cooler that is connected to the chips with two flattened heat pipes. There is much more room inside the All-in-One than you get with a laptop and our figures reflect this layout as a CPU temperature under full load of 67 degrees is very acceptable and the GTX 960M running at 49 degrees was as good as it gets.
The cooling fan is certainly audible as it blows the warm air through a small opening in the rear of the casing but it doesn't get loud enough to cause annoyance.
Closing Thoughts
By our reckoning it would cost £800-£900 to build a tower PC with similar performance to the MSI Gaming 24 6QE (including a display) which means you are paying £300-£400 for the convenience of the compact All-in-One design. It's a decent performer and the combination of Core i7 and M.2 SSD helps the system to move along at a fair pace.
Regular tasks do not stress the GTX 960M however games immediately push the graphics to their limits and this is undoubtedly the weakest part of the MSI. Other parts of the specification, such as the 8GB of DDR4 in a single module rather than dual channel don't look especially appealing but in the real world doesn't cause a problem.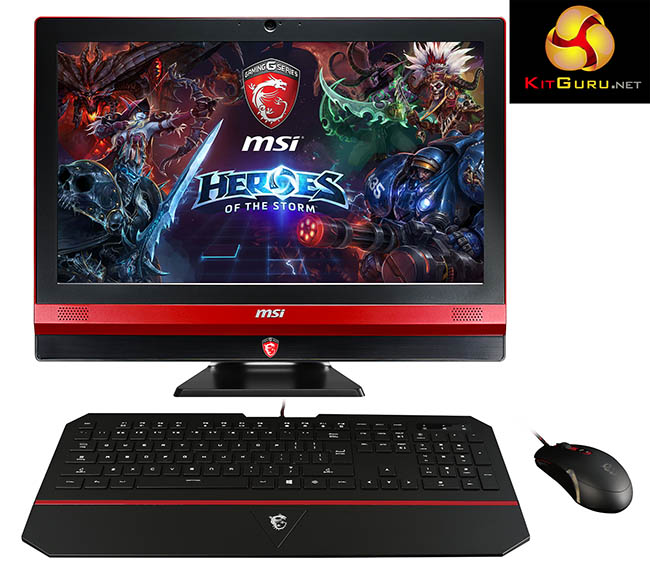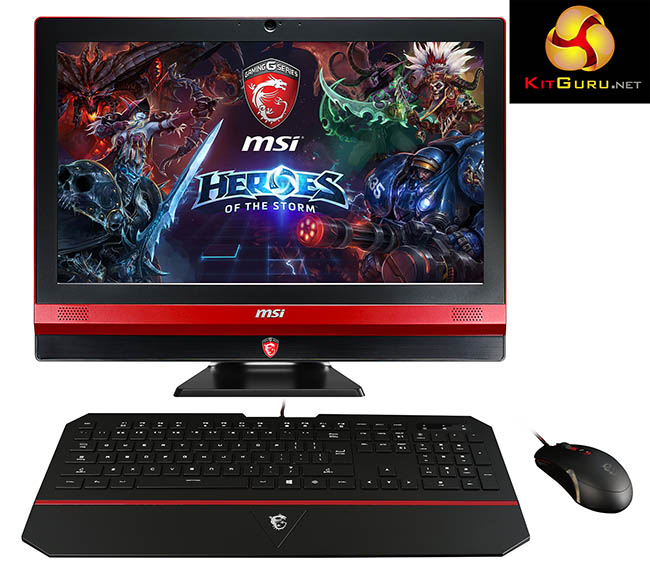 Neither is it a problem that the SSD is only 128GB in capacity with bulk storage being handled by a 1TB hard drive. We can live with all of that, and while we're taking a tour of the system we should mention that the Full HD IPS panel does a fine job. It doesn't have the 'wow' factor you get with some screens where the colour is rich and deep, but we can instead say the MSI looks good and the viewing angle is as wide as you could desire.
We have no serious complaints about the performance or functionality of MSI Gaming 24 6QE but would have been happier if the system incorporated the GTX970m, rather than the GTX960m.
SRP for the MSI Gaming 24 6QE is £1,199 inc vat. We will add etailer links when they become available.
Discuss on our Facebook page, over HERE.
Pros:
Core i7-6700HQ Skylake CPU is excellent.
The 23.6-inch 1920×1080 IPS panel does a fine job.
128GB Transcend M.2 SSD is supported by a 1TB HDD.
Cooling works effectively.
Price seems fair for the engineering required to package this system.
Cons:
GTX 960M will struggle at 1080p unless image quality settings are reduced.
Grand Theft Auto V wouldn't run for some unknown reason.
Access to the bottom ports is a touch awkward.
KitGuru says: MSI Gaming 24 6QE may not look as slick as an iMac but it packs a Core i7 and GTX 960M combo that can just about handle proper games.