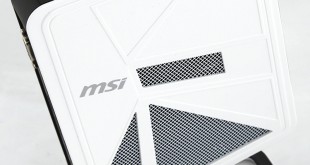 This is the third version of Window Box; DC100 used AMD E-350 Brazos hardware, then DC110 switched to 1.1GHz Intel Celeron 847 and now we have the DC111 with its dual core Celeron running at 1.8GHz.
The MSI Wind Box DC111 is a tiny PC that measures 190mm x 151mm and 35mm thick at the rear of the casing, tapering to 26mm at the front. When the Wind Box sits up vertically on its stand it is 222mm tall, so by any standards it is absolutely tiny. Perhaps the clearest indication of its low-powered nature is the 40W external power brick which is dwarfed by the power unit you get with pretty much any laptop on the market.
Watch via our VIMEO Channel (below) or over on YOUTUBE.
As you'll see from our photos there isn't a great deal going on beneath the bonnet. The tiny heatsink/fan covers a Celeron 1037U processor with GT1 graphics connected to an NM70 chipset. There is a single 4GB module of DDR3-1600MHz memory and a 500GB laptop hard drive from Hitachi.
MSI Wind Box DC111 Specification:
Intel Celeron 1037U (1.80GHz) Ivy Bridge dual core
Intel NM70 Express Chipset
Intel HD Graphics GT1 based on HD 2500
4GB DDR3-1600MHz
500GB HGST 5,400rpm HDD
Gigabit LAN
802.11b/g/n WLAN
HDMI & D-Sub
4x USB 2.0
2x USB 3.0
1x Mic in / 1x Headphone out
SPDIF out
3 in 1 Card Reader
Windows 8.1 with Bing
VESA Mountable
40W Power Adapter
1 year warranty
Testing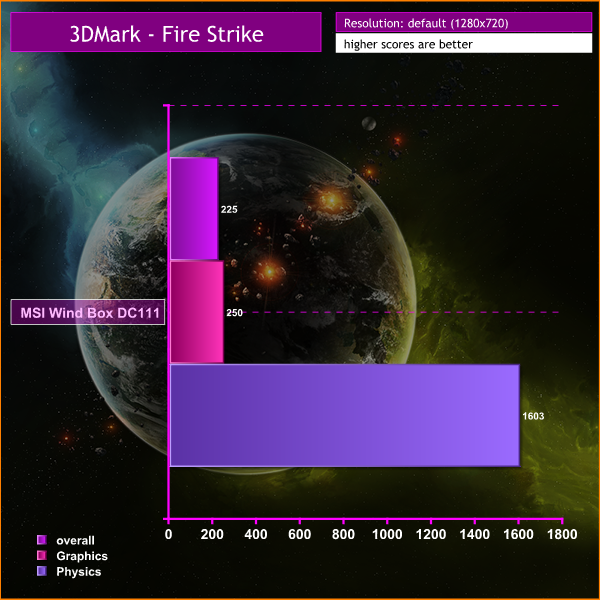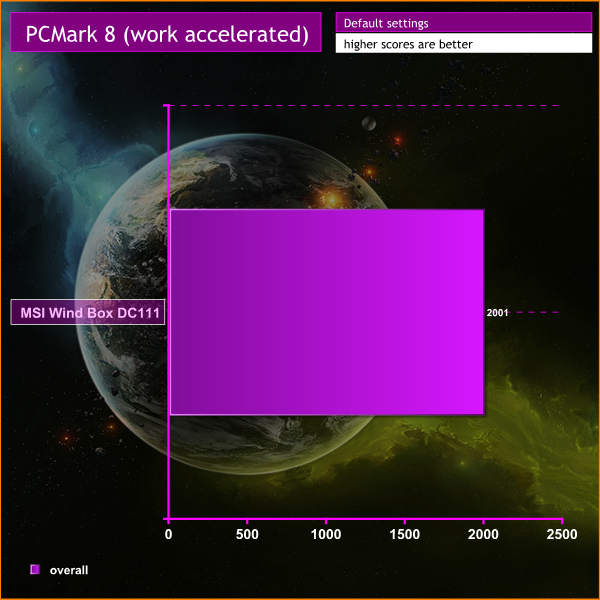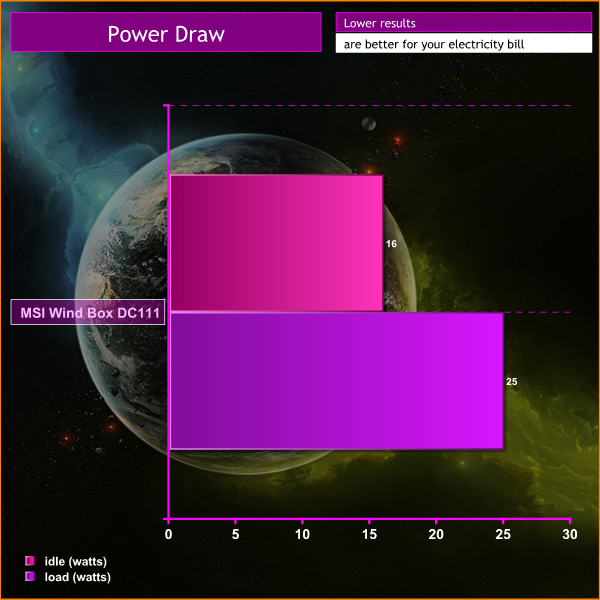 Performance is exactly as underwhelming as you would expect from that specification, however the MSI manages to chug through the tasks you throw in its direction, provided you give it enough time. You can forget about playing games on the Wind Box as it simply doesn't have the CPU or GPU for the job.
Closing Thoughts
Once you accept that gaming is off-limits, you will find the biggest limitation in the hardware is the use of a hard drive, however this is a relatively minor complaint. The biggest actual problem is the HDMI output, as you are obliged to use the Intel graphics properties to scale the display. A setting around 73 percent makes the picture the correct size however it lacks sharpness and clarity. AMD and Nvidia manage HDMI connections far better than Intel and the difference is quite apparent to anyone who has seen a proper digital connection.
On the other hand, if you are considering buying a Wind Box for a non-technical friend or member of your family you have to consider the thought they might not mind the sluggish performance or lack of crystal clear image. Instead they might focus on the absurdly low price for this Windows 8.1 PC and the tiny amount of space it requires.
While we tech heads might mock the lightweight Wind Box, the fact is that it performs adequately and fulfills its brief admirably, provided you simply want a Windows 8.1 PC that is amazingly cheap.
The downside of the low spec hardware (and in particular the low-end graphics) is that the silicon has to work hard whenever the workload increases and this means the tiny cooling fan has to work hard. The case is ventilated on both sides so the Wind Box can get a touch noisy, bearing in mind you are likely to have the MSI stationed on your desktop where it is within earshot.
SRP – £199 – £168 inc VAT at Scan
£91 as barebones (no HDD, no RAM, no OS) at BOX UK
Discuss on our Facebook page, over HERE.
Pros:
Amazingly cheap.
Fully specified PC that comes complete with Windows 8.1.
Tiny footprint.
Very low power draw – power supply is only 40W.
No need to worry about upgrades or maintenance.
Cons:
Intel graphics are only capable of playing movies and running a browser. Forget about gaming.
CPU cannot perform heavy lifting such as video rendering unless you give it plenty of time.
HDMI output scales poorly on digital display and lacks clarity.
The cooling fan is audible when the system is working hard, which is frequently the case.
KitGuru says: The MSI Wind Box DC111 is considerably more accomplished than you might expect for such a small, cheap PC.