When ASRock told us about the Phantom Gaming Alliance we initially thought they were talking about their new Phantom Range of motherboards and graphics cards, but it turns out we didn't get that entirely right. It's the 'Alliance' part that makes the difference. Phantom Gaming Alliance is a joint project between ASRock, Cooler Master and Team Group so yes, ASRock Phantom motherboards and graphics cards are part of the deal but so too is a special version of the Cooler Master H500P case, a choice of CPU coolers, and some snazzy DDR4 RAM and SATA SSDs from Team Group.
'Well Okey Dokey' we said, 'That sounds like fun, send us a selection of Phantom Gaming Alliance hardware and we'll build a PC.'
Watch the video via our VIMEO Channel (Below) or over on YouTube at 2160p HERE
The hardware we received consisted of…
Motherboard: ASRock Z390 Phantom Gaming 6
Memory: Team Group T-Force Xcalibur RGB Phantom Gaming 16GB DDR4-3600MHz
SSD: Team Group T-Force Delta RGB Phantom Gaming 500GB
Case: Cooler Master H500P Mesh Phantom Gaming Edition
CPU Cooler: Cooler Master MasterLiquid ML240R RGB
Graphics Card: ASRock Phantom Gaming Radeon RX590 8GB
Power supply: Cooler Master MWE 750 Gold
…and in addition we grabbed an Intel Core i7-9700K CPU off the shelf.
While we are not reviewing the finished PC here, it so happens we have reviewed a number of the components in recent times including a similar motherboard (version 9 rather than 6). You can find our reviews of the ASRock Z390 Phantom Gaming 9, Intel 9th Gen. CPU, the Cooler Master H500P case, and Team Group T-Force Xcalibur RGB 16GB DDR4-3600MHz.
You may have noticed that in the video I resisted the temptation to make any references to the Verge, however the viewer comments below the video immediately brought it up. This is proof the Streisand effect is alive and well and suggests the Verge's attempts to strike BitWit Kyle was a really bad move.
Closing Thoughts
Throughout the video I made a running commentary and it would be rather dull to simply repeat the same points again, so here are a couple of thoughts that occurred to me after I finished the build.
The Cooler Master ML240R cooler uses Addressable RGB, while the 2x 200mm fans in the H500P case use regular RGB. The ASRock Z390 Phantom Gaming 6 motherboard includes both types of RGB headers but the result is that we effectively had two groups of RGB working away.
On the subject of those 200mm fans, we had a question under the video wondering why 200mm fans are not more popular. Visually they work really well but our understanding is that the weight of the 200mm rotors mean they have a reduced life compared to much smaller 140mm and 120mm fans. Also, 200mm fans have a low operating speed to avoid excessive vibration and noise. The 200mm fans in the H500P have a maximum speed of 800rpm, which is fairly typical for such large items.
The ASRock Z390 Phantom Gaming 6 is a mid-range Z390 motherboard and has a limited number of fan headers, with two for the CPU and three others arranged around the board. It would have helped the build if the H500P case included a fan hub, even if it only supported three or four fans, as that would make a real difference.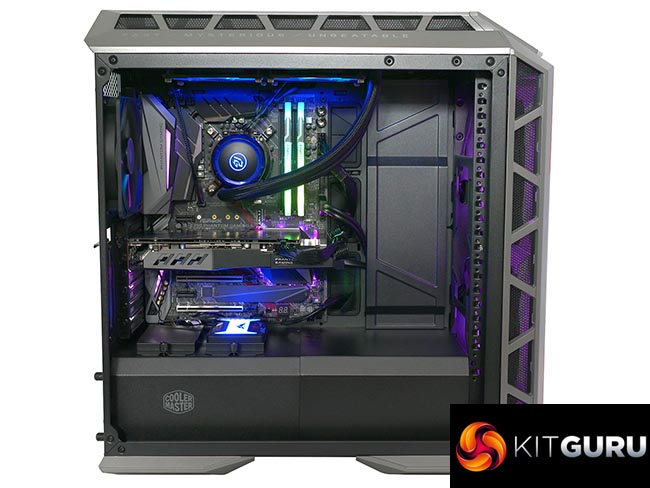 Our final thought about the Phantom Gaming Alliance is that it makes a welcome change to have a selection of colour co-ordinated components that include RGB. This requires a group of manufacturers who cover all the major components and that has been accomplished very nicely by ASRock, Cooler Master and Team Group.
In an ideal world the next version will be more daring and will move beyond a relatively sedate grey and red colour scheme. Black components have been done to death and a white colour scheme would be rather predictable. ASRock is allied to AMD, rather than Nvidia, so a green scheme would be unlikely – but how about blue, red or yellow? This could be the start of something exciting.
Read more about the Phantom Gaming Alliance HERE.
KitGuru says: Phantom Gaming Alliance has delivered colour co-ordination with grey and red parts. For the next version we want to see something more lively and out there.