In a world awash with PCs powered by Intel Core i3, i5 and i7, Vibox has come up with an inexpensive alternative that uses an AMD CPU. We cannot recall the last time we tested an AMD PC so we are very interested to see what the company create for the budget market.

Watch via our VIMEO Channel (Below) or over on YouTube at 1080p50 HERE.
Vibox Element X Blue Specifications:
CPU 4.4GHz AMD FX-6300 6-Core CPU *Overclocked*
CPU cooler Thermaltake Water 3.0 Performer C
Memory 8GB Patriot DDR3-1600MHz
Motherboard MSI 990FXA-GD65
Graphics card MSI R9 380 2GB
SSD 120GB Patriot Blast
Storage 1TB Toshiba 7,200rpm HDD
Optical drive Samsung Super WriteMaster
Audio On-board Realtek 5.1
Case Vibox Tactician Blue Gaming Case
PSU Vibox 600W 80Plus Certified
OS 64-bit Windows 10 Home
Warranty Lifetime Evolution Warranty Build Charge, Shock-Proof Packaging, Express Delivery, 2 Year Parts Cover – Lifetime
Labour & Tech Support
Internal LED Lighting Kit – Blue
The first thing you notice when you turn the system on is the bright blue LED lighting in the floor of the case and the windowed side panel. This system is also available in green or red at the same price.
The second thing we noticed was the noise of the Thermaltake cooling system as the fan was spinning at a heady 1,900rpm. We discuss this matter in the video and will return to it in the 'Power and temperatures' section further down the page.
So let's take a look at what you get inside the Vibox branded case. The guts of the system are an MSI 990FXA-GD65 motherboard and MSI R9 380 GB graphics card so we're talking about a PC that is aimed at 1080p gaming.
Naturally there has to be a question mark over the FX-6300 CPU as few of us are really familiar with hexa-core AMD processors. The FX-6300 is a 95W CPU that runs at 3.5GHz with maximum Turbo of 4.1GHz using 1.2V however Vibox has overclocked to 4.4GHz using 1.4V (which is actually fairly conservative as we have seen reports of 5GHz) so you're looking at an extra 25 percent CPU speed.
The AMD processor is kept under control with a Thermaltake Water 3.0 Performer liquid cooling set-up.
Backing up those core components we have 8GB of Patriot DDR3-1600MHz, a 120GB Patriot Blast SSD and a 1TB Toshiba hard drive. You will see in our photos that the Patriot memory is basic hardware without heat sinks on the RAM chips and the Patriot Blast is unlikely to top your list as a performance model of SSD. The point here is that both pieces of hardware do a reasonable job and keep the data flowing to your processor.
Wrapping things up we have a Vibox branded case with a Samsung DVD drive behind the large stealth door on the front and the power supply is also Vibox branded.
Clearly the key to this PC is the price which sneaks in under £700 inc VAT. That's pretty good going when you consider that it costs about £499 for an Intel Core i3 tower with integrated graphics and a hard drive. Paying £700 for a PC that boots off SSD and that packs a gaming graphics card is tempting to say the least.
Testing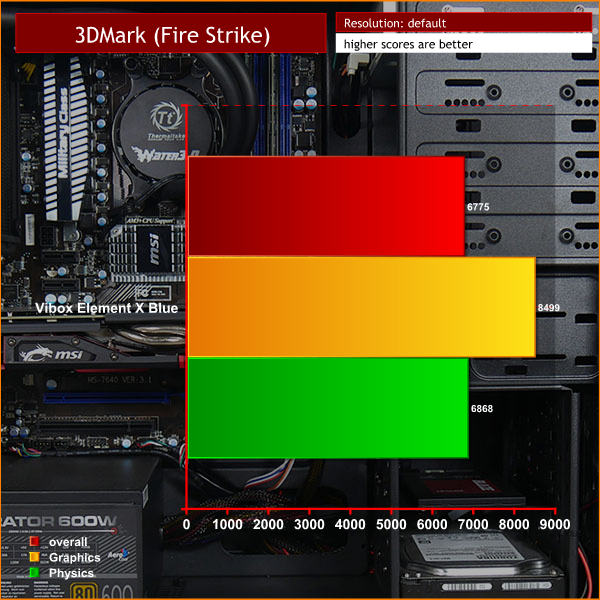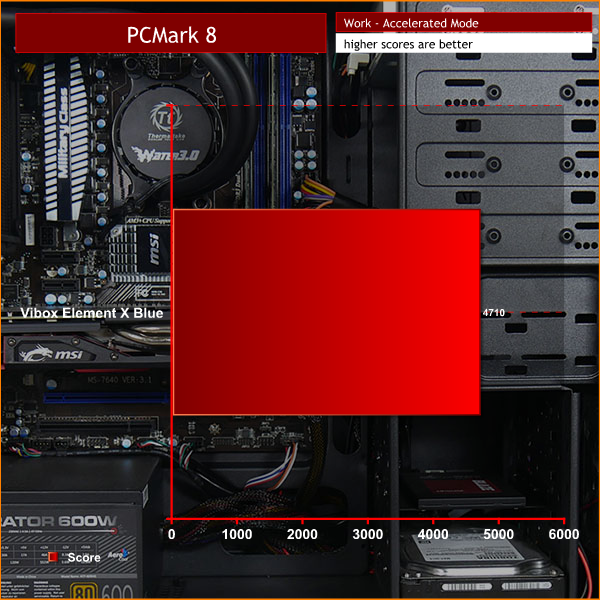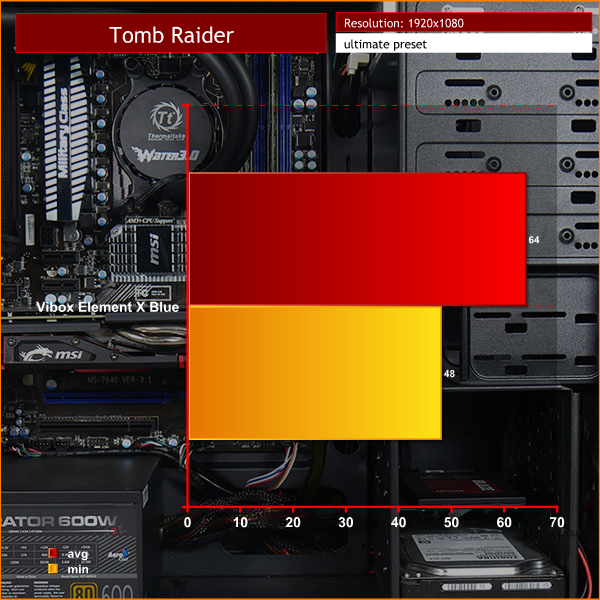 We played GTA V at high image quality settings, although we were limited by the 2GB of graphics memory. GTA V is a memory hog and is happier with 3GB or 4GB but nonetheless the game looked good. Frame rates averaged in the mid-50s however there one or two glitches where the game stumbled.
On the whole we were impressed and of course we were at liberty to reduce IQ settings if we fancied. Thief also stressed the Element X at Very High settings however Tomb Raider was no problem on Ultimate settings.
The break down of 3D Mark shows the graphics do a good job and are indeed in GTX 960 territory while the FX-6300 suffers compared to a quad core Skylake Core i5. Overall we were happy with the performance of this PC however it is clearly limited to 1080p gaming and you will need to adjust your settings to make full allowance for the hardware.
Power and temperatures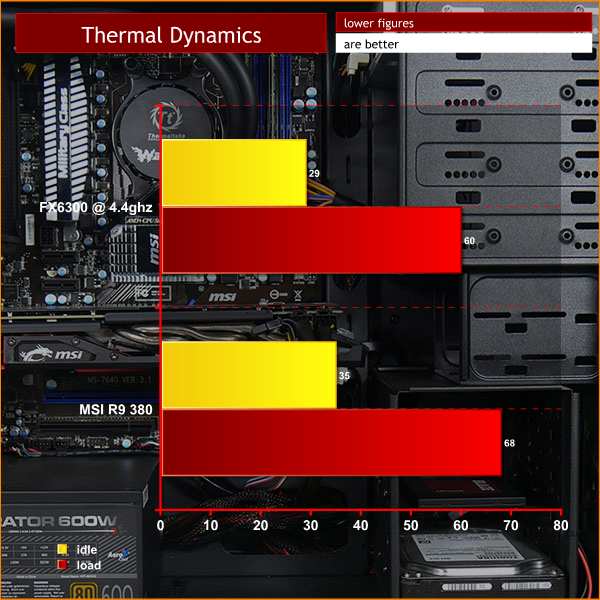 The noise level of the Element X led us to wonder whether the heat output from the AMD processor demands ferocious cooling.
Pretty much the first thing we did was to investigate the BIOS of the MSI 990FXA-GD65 and we were surprised to see that Smart Monitor was disabled which meant the fan on the Thermaltake Water 3.0 was running at full speed. On the positive side of things the CPU temperature was stable at 55 degrees under full load which was considerably better than you might expect.
This gave us the confidence to enable Smart Monitor with a target temperature of 40 degrees and the result was a fan speed of 1,400rpm and a PC that was much quieter. Under load the CPU now ran at 60 degrees rather than 55 degrees which sounds like a small price to pay. We understand that Vibox will use similar settings on Element X in the future.
It was surprising to see the Element X requires 235W at the wall socket when the CPU is under load and the GPU is idling. The power draw fluctuates between 175W and 290W in PC Mark 8 (which is more representative of the real world) and hits 350W in 3D Mark.
Closing Thoughts
You have to take the Vibox Element X Blue on its own terms. As a budget gaming PC there is clearly good value on offer and just as importantly there are no holes in the specification. You cannot expect to throw maximum image quality settings at the Element X unless you are prepared to drop the odd frame here and there. Use some common sense, back it down and the games play smoothly.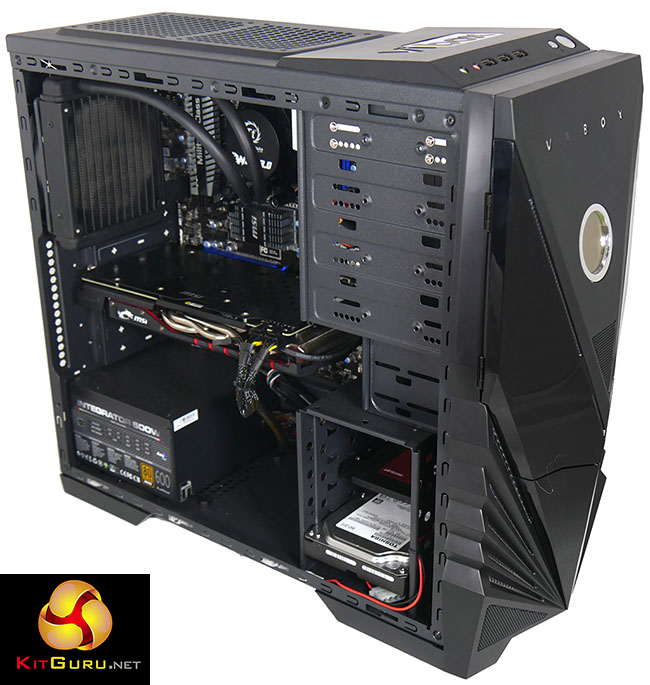 We cannot honestly lose sleep over the power draw of the PC. Certainly it will cost a few extra pence to run compared to a low-end Intel Core i5 but the other side of that same coin is that power equals heat. Vibox has got this covered with a Thermaltake Water 3.0 Performer liquid cooler that does a fine job of cooling the AMD FX-6300 – provided you let the MSI BIOS work as the designers intended.
In the end the FX-6300 processor gives you a simple trade-off. You use more power and get less performance but compared to an Intel Core i5 you save a significant amount of money.
Buy direct from VIBOX for £699.93 inc vat HERE.
Discuss on our Facebook page, over HERE.
Pros:
Decent 1080p gaming performance.
Low price.
Boots off SSD.
Overclocked FX-6300 is kept in check with Thermaltake Water 3.0 AIO.
LCD display on the front of the case monitors temperature.
Supplied with Windows 10.
Cons:
AMD FX-6300 is less sophisticated than Core i5.
The blue lighting kit is intense.
Power draw is higher than an Intel Core i5.
KitGuru says: Anyone who is keen to save cash should consider this AMD powered PC for budget gaming.