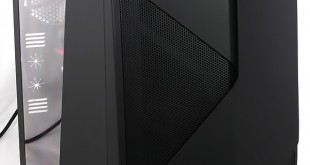 Vibox has created a gaming PC called Rapture-Chaos MX2 that uses a long list of high end components. The result is an overclocked powerhouse that storms through games at 1080p, with the added bonus that it looks superb.
Watch our video and you will see that Rapture-Chaos MX2 lives up to its name in more ways than one as it also suffers from some unfortunate problems.
Watch via our Vimeo Channel (below) or over on YouTube at 1080p50 HERE
Vibox Rapture Chaos MX2 Specifications:
Processor: 4.5GHz Intel Core i7 6700K Quad Core *Overclocked*
Cooler: NZXT Kraken X61 280mm.
Motherboard: MSI Z170A Gaming Pro.
Memory: 16GB Patriot Viper Xtreme DDR4-2800MHz.
Graphics: MSI Gaming Edition GeForce GTX 980 4GB.
SSD: 250GB Samsung 850 EVO.
Storage drive: 2TB WD Black.
Case: NZXT Noctis 450 Black with Internal Lighting kit.
Power supply Super Flower Leadex Platinum 750W modular.
External USB Samsung SE-208GB DVD drive.
Operating System: Windows 10 Home.
Warranty Lifetime Evolution Warranty – Build Charge, Shock-Proof Packaging, Express Delivery, 2 Year Parts Cover, Lifetime Labour & Tech Support.
If you were drawing up a shopping list of enthusiast PC components that had scored highly in reviews you would doubtless end up with a list that was very similar to the components used in Rapture-Chaos MX2. Core i7-6700K is a proven success story and an overclocked GTX 980 delivers enough grunt to power games at 1080p with excellent frame rates. Add an MSI Z170 motherboard, some fast DDR4 and a Samsung SSD along with a decent power supply and the hardware is pretty much sorted.
Top it off with a 280mm NZXT liquid cooler and an impressive NZXT Noctis chassis and you can move on to installing Windows 10 and configuring the PC so you are all set to play a selection of games.
That list of components costs about £1500 at retail, which suggests that Vibox is charging a premium for the overclocking service and the build quality of this PC.
Unpacking the Vibox Rapture-Chaos MX2 took a few moments as we had to remove the side panel and pull out an armful of bubble wrap that had been installed to keep the components in their correct position. After that we were ready to go except, hang on, we couldn't plug in an HDMI or DisplayPort cable. The graphics card or motherboard was slightly out of line in the case with the result that the plastic port blanks in the GTX 980 were actually locked in place. Remove a couple of screws, pull the graphics card, remove the blanks and reinstall the graphics card. Job done.
When the system was running we naturally checked over the software that had been installed and the answer, effectively was 'none', just a bare installation of Windows 10. In the usual scheme of things this would be good news as we hate nag screens from annoying security software or reminders to install an office suite however we feel Vibox missed two tricks.
First, MSI Live Update 6 is a useful piece of software that works with pretty much every MSI motherboard on the market and secondly NZXT Cam is great for monitoring the temperatures inside your PC. As it happens the Kraken cooler and the rear case fan were connected to the PWM fan hub that is part of the NZXT Noctis which in turn is connected to the CPU fan header and controlled in the BIOS using Smart Fan mode.
Once Live Update 6 was installed we saw a whole raft of drivers were out of date and the ASMedia USB 3.0 controller had Microsoft drivers installed rather than the correct software. For good measure the GeForce graphics driver was version 353.62 that dated from July 2015.
We also noted the BIOS was version 1.5 rather than the later 1.6 but left well alone as overclocked PCs can lose overclocked settings when a new BIOS is installed.
Testing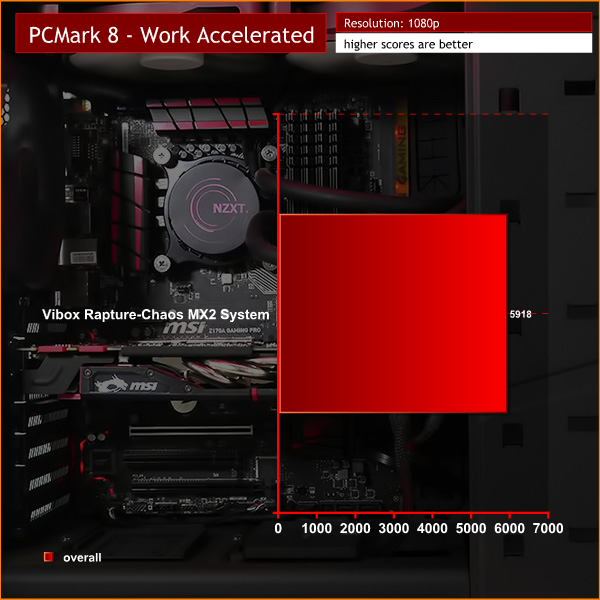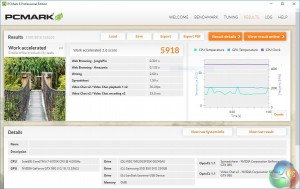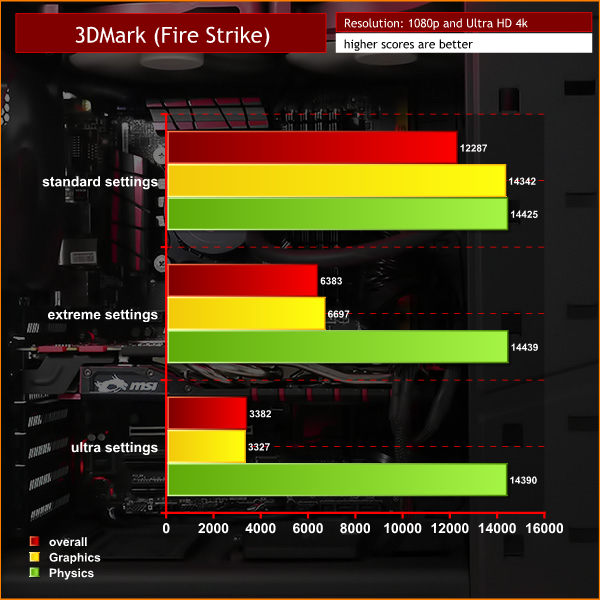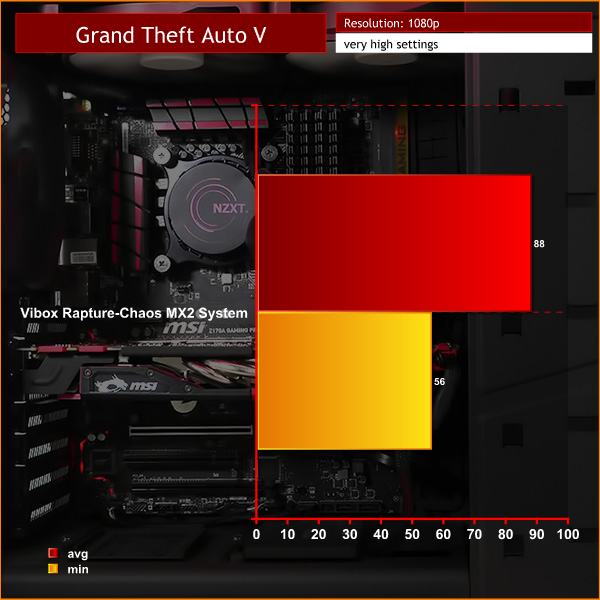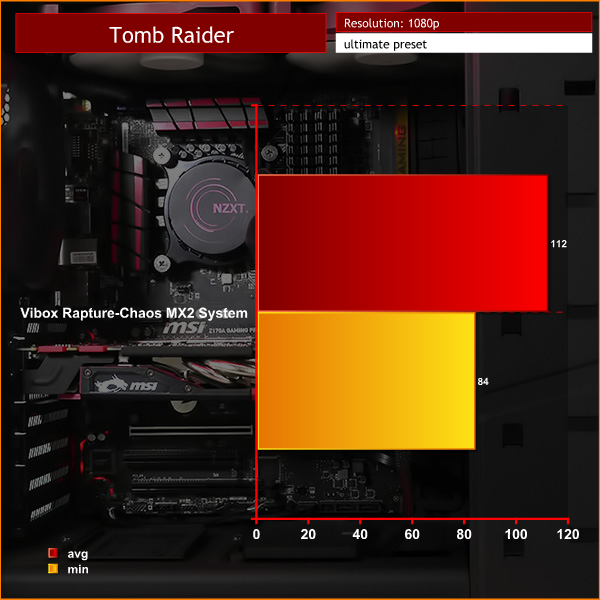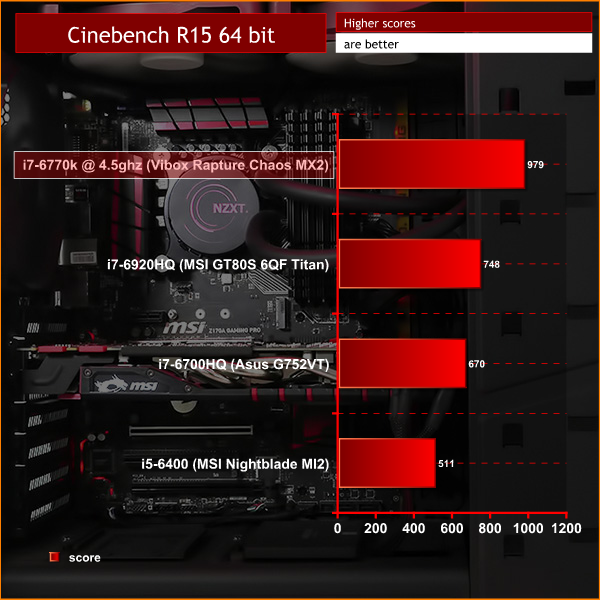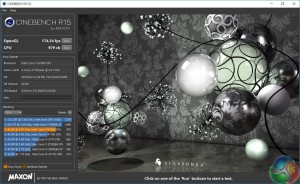 Testing went well and the Vibox Rapture-Chaos MX2 delivered exactly the performance you would expect from a 4.5GHz Core i7-6700K and overclocked GTX 980. A reference GTX 980 has 1126MHz core, 1216MHz boost and 1753MHz/7Gbps memory while this MSI Gaming Edition graphics card has a core speed of 1190MHz core and 1291MHz boost.
If you have watched our video you might be surprised by that summary however it is true to say that Rapture-Chaos MX2 behaved impeccably and delivered high frame rates at 1080p.
Power and temperatures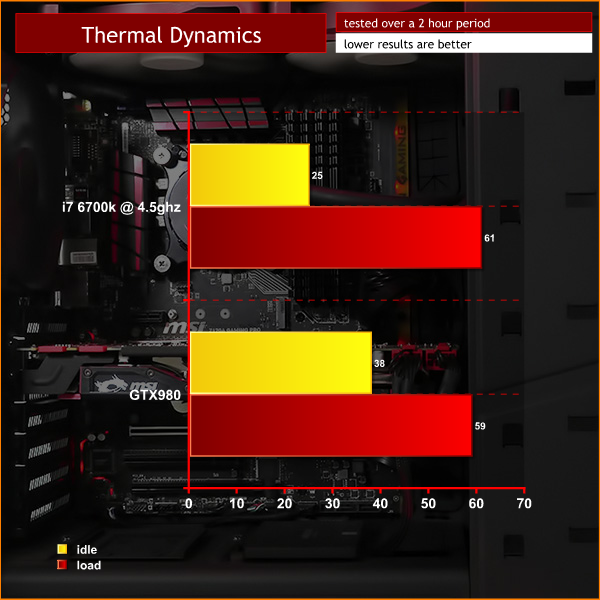 The wheels partially came off this review when we used AIDA64 to stress the hardware and check temperatures. You can see from our screen grabs that the system behaved impeccably in 3D Mark with a CPU temperature around 50 degrees and a GPU temp approaching 60 degrees.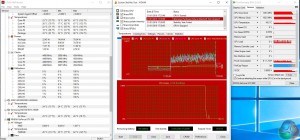 As we show in our video, AIDA 64 caused the system to become unstable and we initially thought this might be due to a faulty CPU. On closer inspection we saw the problem very likely lay with memory timing and once we had sorted that out the PC appeared to be fully stable. The loaded CPU temperature was 61 degrees and the GPU topped out at 59 degrees which are very comfortable levels.
Closing Thoughts
The Vibox Rapture-Chaos MX2 started the review process well in the sense that we liked the choice of components and it always gives us pleasure when we see a performance chassis such as NZXT Noctis coming out of the box. Soon after that we hit a bump when we first couldn't connect a monitor to the graphics card and then discovered the drivers were elderly and required updating.
Once we had got to that stage the Rapture-Chaos MX2 behaved admirably and delivered fine gaming performance, although the overclocked Core i7 required a fair amount of cooling air and as a result the system was reasonably noisy.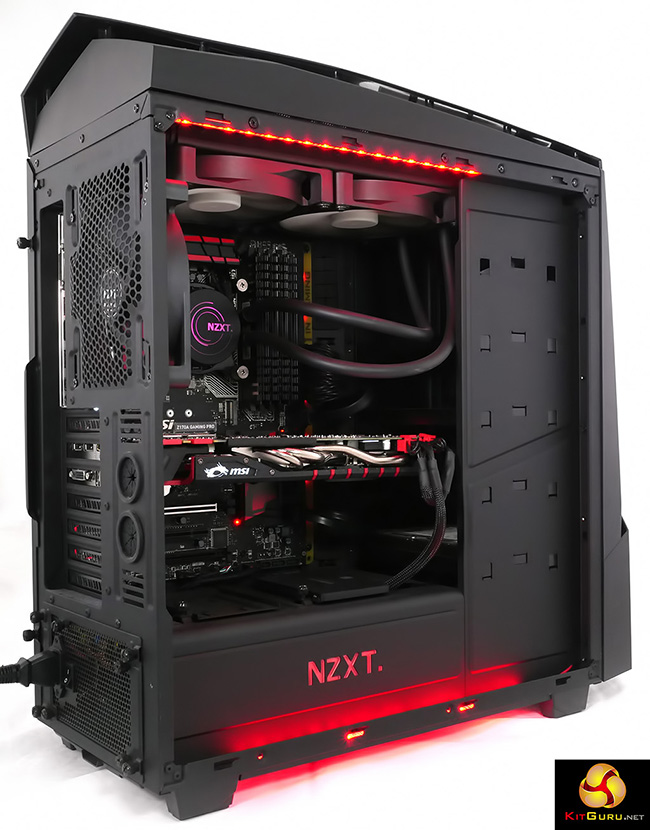 The business with AIDA64 causing flashing red lights came as a real surprise and pretty much put us back to square one. In the end we decided the root of the problem was that XMP had not been enabled in the BIOS and the memory speed had instead been set manually to DDR4-2800MHz. In addition there were a couple of voltage settings (CPU SA and CPU IO) in the BIOS that looked questionable and once that was adjusted the PC settled down and behaved correctly.
The snag here is that we are looking at a high end gaming PC that sells at a substantial price. We can overlook the odd problem in a new PC but this system simply didn't fill us with the level of confidence you can reasonably expect when you spend a fierce amount of money. This is deeply disappointing and leads us to the conclusion that it is a gaming PC that is best avoided.
Discuss on our Facebook page, over HERE.
Buy For £1800 from VIBOX, over HERE.
Pros:
Good gaming performance from the overclocked Core i7-6700K.
A fine selection of components.
The combination of NZXT Kraken X61 and Noctis 450 flows plenty of air.
Cons:
MSI Live Update and NZXT Cam utilities were not installed.
The drivers and BIOS were significantly out of date.
The graphics card was installed with the HDMI and DP blanks locked in place.
The DDR4 memory configuration failed AIDA 64 stress test.
Vibox is charging a premium and the system failed to deliver.
KitGuru says: Vibox built Rapture-Chaos MX2 from a list of stellar components however the end result is very disappointing.