Alienware's strange looking, triangular PC, which was shown off at trade shows earlier this year, is now available to buy. The Area 51 pre-built PC can sport up to three GTX 980s, paired up with an extreme edition Intel Core i7 5930k.
As you would expect, the base model is pretty weak. It costs $1699 and features an Intel Extreme Edition Core i7 5820K, 8GB of RAM, a 2TB hard drive, an 850W Power Supply and a disappointing AMD R9 270 graphics card. If you step up to the $2499 model you will get the same CPU and power supply but you'll be upgraded to 16GB of DDR4 RAM, you'll get a 128GB SSD to pair with the 2TB hard drive and you will get a much more capable GTX 980 graphics card.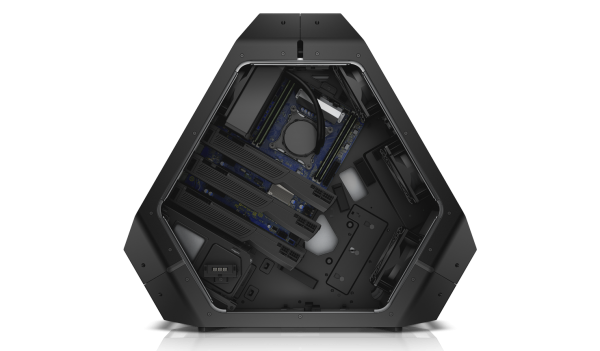 The $2599 model comes with an Intel Core i7 5930K CPU overclocked to 3.9 GHz, a 1500W power supply along with the same RAM and storage options as the previous model, although you will be getting a pair of 6GB GTX 780 GPUs in SLI.
The final option will set buyers back $4549, it comes with the same CPU, RAM and PSU as the previous model but you'll be getting a 256GB SSD paired up to the 2TB hard drive and you'll have three GTX 980 graphics cards for SLI.
Discuss on our Facebook page, HERE.
KitGuru Says: While I do like a few of Alienware's builds and products, I'm not a fan of the Area 51. The triangular case seems overly bulky and I don't think it looks all that great but that's just my own personal opinion. I also think that the overall value of the builds could be boosted, the base model would be much more attractive with an R9 280x, the R9 270 just seems overly weak for the CPU. That said, i'm interested to see what you guys think, does the Area 51 case design suit your tastes?