The Microsoft Surface Pro devices have historically offered a balance of portability and performance, with the devices becoming popular in the school and education space. For the past few iterations, the Surface Pro devices have been lacking in innovations – though this is finally changing.
Ahead of the Microsoft Surface event which is set to take place tomorrow on the 22nd of September, Twitter user 'Shadow_Leaker' showed off a screenshot of a retail advert for the alleged Surface Pro 8.
Alongside this image, which showed off a much more modern looking device – with drastically thinner bezels bringing the screen to 13 inches – the Surface Pro 8 will allegedly also feature a 120hz screen for smooth scrolling, faster screen responses and more.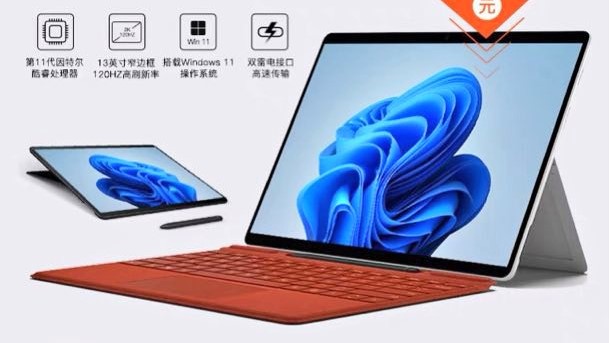 Furthermore, the device will use Intel's latest 11th generation processor, offer dual thunderbolt interfaces and surprisingly will come with a replaceable SSD slot. What isn't surprising however is the fact that the device will launch with Windows 11.
While all of this should be taken with a pinch of salt currently, we will find out in 24 hours whether this leak proves to be true. If it is indeed the Surface Pro 8, then this new device looks to be an attractive prospect indeed. The original Surface Pro was impressive at the time, but over the years Microsoft has iterated less and less, with the most recent release looking comparatively antiquated. It is therefore exciting to see Microsoft once again pushing what can be done with a portable Windows device.
Discuss on our Facebook page HERE.
KitGuru says: What do you think of the device? Does it look good to you? How much do you think it will cost? Let us know down below.