Today I will be looking at the Shuttle SZ270R8 Barebones. As a barebones it already includes components pre-installed such as a power supply, motherboard and a CPU cooler. The question is, does it justify the £350 asking price?
Watch via our VIMEO Channel (Below) or over on YouTube at 2160p HERE
Specifications 

Chassis: Black brushed aluminium chassis
Motherboard: Z270 proprietary form factor
CPU support: 1151 socket Skylake or Kaby Lake
Hard drives: 4 x 3.5 inch or 3 x 3.5 and 1 x 2.5
M.2 support:  2 x M.2 2280 or 1 x 2230 and 1 x 2280 Optane ready
Graphics card compatibility:  280mm x 120mm
CPU cooler: Integrated cooling engine 2 ( ICE 2 )
Power supply: shuttle form factor 500watt silver rated
For more details please go to link: http://www.shuttle.eu/products/mini-pc/sz270r8/specification/
The Shuttle chassis opts for a minimalist approach, no lights or tempered glass just plain black brushed aluminium. It is rather beautiful in its own way.
The only piece of plastic I could find was along the side of the front panel, but the overall build quality is excellent. Keeping the minimalist approach, the front inputs are concealed by a fold down door where you have the two 3.0 USB ports – alongside the audio jacks.
The only lights on the exterior of the case are the power and HDD indicators on the front.  On both sides of the case you have long dust filtered vents which should help with air flow. There's also one more vent hidden in a groove along the front panel – it is well hidden and I didn't even realise it was there until I opened the case.
Once the case is open there is a hard drive cage which you have to remove to get access to the processor and memory. This hard drive cage supports 4 x 3.5-inch hard drives or 3 x 3.5 and 1 x 2.5 drives. This hard drive cage does limit Ram height to about 42mm. Once removed you can see the 92mm intake fan at the front, so good to know there will be cool air entering this case.
Now the motherboard that comes included with this barebones is based on the Z270 chipset, which basically means you can put anything from a Skylake to a Kaby Lake in here.
The motherboard is packed with features such as two M.2 drives, 1Gbps Ethernet, support for DDR4 memory with support for Octane memory. Curiously the motherboard also has two PCI E connectors @ 1 x 16 x and 1 x 4x – keep in mind there are only two expansion slots so if you are planning on using a high end graphics card you will lose the 4x connection.
The motherboard is a proprietary design – imagine a ITX board but longer. The benefits ? It allows you to access everything quite easily because it utilizes the bottom of the case nicely which otherwise would have been wasted.
The down side is they could have made the case a little smaller if they had included a regular sized ITX board.  Another point to mention is the location of the CPU socket – it is not centred and is placed underneath the hard drive cage which will make installing your own cooler difficult and you will also be height restricted.
On the bright side the Shuttle does support a regular sized ITX board so you always have that option. Luckily you should not have to install another CPU cooler because this barebones incorporates one designed for the motherboard layout.
The included integrated cooling engine 2 (or ICE 2 for short) is an interesting design.  There are 4 heat pipes leading to a heatsink that is pressed against the rear vent of the case, then a separate shroud with a 92mm fan that you slide on top and secure with 4 thumbscrews from the rear.
Installation of the cooler is made easier by the push pins mounting that you get on Intel's stock coolers, which means you don't have to remove the motherboard.
The incorporated cooler design ensures that heat directly leaves the chassis, which is a good idea considering the chassis is quite small. The cooler has a sticker saying it has a limit of 95watts which in real world terms is anything from a Pentium to the i7 7700k. Overclocking should be avoided completely.
On the left side of the case we find the last inclusion of the system which is the power supply. Once again Shuttle has not opted for a traditional form factor (ATX/SFX) but more a server grade unit. The upside is that it remains hidden and out of the way for the most part. Technically sound, the power supply is rated for up to 500 watts with 80 Plus silver certification.
There are 4 x Sata, 2 x Molex and 2x PCI E power connections, 1x 8pin and 1x 6pin. Keeping within a 500 watt power limit is quite straightforward. The power supply cables are not sleeved, but once this system is built there are no windowed panels to admire the build anyway.
The major drawback of the power supply is the noise of the small cooling fan. It spins fast and the pitch is high making it unpleasant to deal with if the load gets high.
Building into this system was a breeze. All the components were easy to fit, including the graphics card. I used a Sapphire R9 285 ITX and there is plenty of space for a longer graphics card up to 280mm. Building into this system makes you realise that the unique selection of components has benefits.
Testing 
For testing I used Unigine heaven in combination with Aida 64  running a total of 10 minutes. I also used the thermal compound that comes included in the box. The system I used was the following  :
Processor: Intel Core I5 7400 ( stock speed, turbo boost, high performance power plan)
Motherboard: Shuttle with z270 chipset
CPU cooler: Shuttle ICE 2
Memory: 16GB Corsair Vengeance LPX DDR4-2666MHz
Graphics card: Sapphire ITX Compact R9 285 2GB
Power supply: Shuttle 500W Silver
Storage drives: Drevo 240GB SSD
OS: Windows 10
Temperatures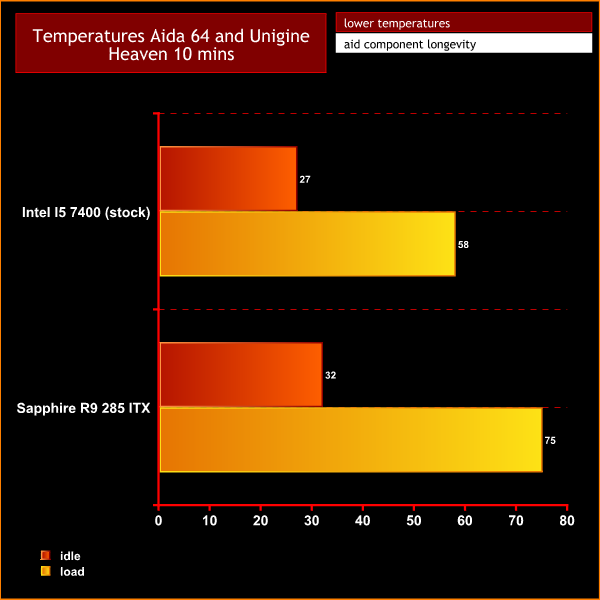 As you can see the temperature are not bad at all but I would definitely advise potential customers to stay away from overclocking their components.
The graphics card we used pumps a fair level of hot air into the case which means the processor cooler has to dissipate the heat for that as well. A blower style GPU cooler would make a lot of sense for this system. We noticed that when playing games for a while that the CPU cooler produced a fair amount of noise dealing with rising ambient temperatures.
Closing Thoughts
I like the look of the Shuttle SZ270R8 Barebones as build quality is high and its very understated and elegant.
I found building into this system was straightforward and you can create something very powerful as Shuttle incorporate a 500 watt power supply with a Z270 motherboard. The system works and performs as it should.
The SZ270R8 Barebones is obviously for someone who wants a small PC but if you are going to make proprietary components and use different form factors you should also perhaps take the opportunity to make a more portable design.
The Shuttle XPC Cube SZ270R8 Barebones is priced around £350 leaving you to buy ram, processor, graphics card and storage to get the system up and running. It could end up a rather expensive system if you opt for higher level components.
Cooling proficiency is actually quite good, as the i5 7400 we used remained cool at all times but if you are opting for something such as the i7 7700k then the cooler is going to be struggling at the limits of its proficiency. More ventilation at the front would help improve the situation as the fan struggles to suck enough cool air in.
If you want something unusual and like the idea of the barebones ethos then the Shuttle XPC Cube SZ270R8 bears some serious consideration. Its an attractive looking chassis that will appeal to the user base who are sick of RGB lighting and windowed panels.
Buy the barebones unit from iCubes in the UK for £320.72 inc vat HERE
Pros
Easy assembly.
Plenty of space for decent hardware.
Silver rated 500 watt power supply.
High build quality.
Packed with features.
Cons 
Components are not standard form factor.
Overclocking should be avoided.
It could have been made slightly smaller with some thought.
Can get loud under load.
Kitguru says: The Shuttle XPC Cube SZ270R8 Barebones is well built and will appeal to a niche enthusiast audience.