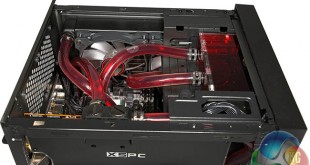 If you are in the market for a compact, yet powerful, watercooled system – but don't want to build it yourself, then today's review may just tickle the taste buds. The AWD Ignis Aqua 290X 250D Mini ITX PC is built around a Core i5 4670k processor – overclocked to 4ghz. Graphics are handled by the very capable AMD R9 290X, which is also supplied in a heavily overclocked state. The whole system is watercooled with XSPC kit … featuring 'blood red' fluid. Is it all worth the £1,499 asking price?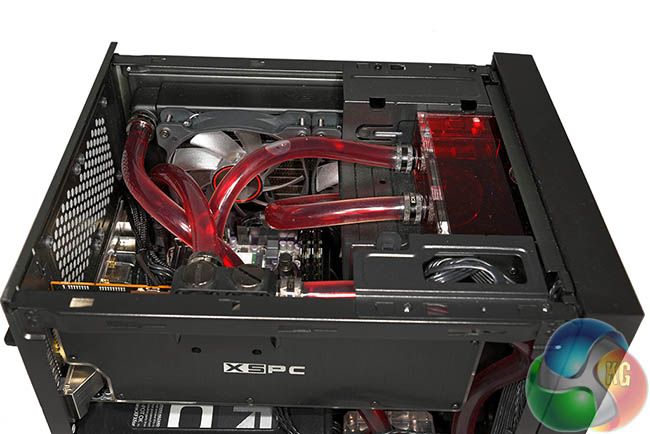 It is not often we get a prebuilt system which is completely watercooled. AWD-IT have decided to ditch the use of a simple 'All-In-One' liquid cooler and have opted to go with a custom XPSC watercooling kit handling both processor and graphics card. All of this has been installed inside the diminutive Corsair 250D Mini ITX chassis.
System Specification

Case: Corsair 250D Mini ITX
Power Supply: XFX XTR 650W Gold Certified Power Supply
CPU: Intel Core I5 4670K Overclocked @ 4.0Ghz (Liquid Cooled with XSPC Raystorm)
Motherboard: Gigabyte Z87N-Wifi Motherboard
RAM: 8GB DDR3 2400MHz Dual Channel Kit
Hard Drive: Seagate 1TB 7200RPM Hard Drive
SSD – Samsung 840 EVO 120GB Solid State Drive
Graphics Card: Radeon R9 290X (Liquid Cooled with R9 290x Block)
Sound: Realtek 7.1 High Definition Channel Sound (On-Board)
Optical Drive: N/A
Cooling: Custom XSPC Watercooling
Retail price: £1,499.99 inc vat.