Rumours about possible Xbox One with lowered price-tag emerged well before the launch of the game console itself. Now, less than three months after the console hit the market, they returned. According to unofficial information, Microsoft Corp. is working on a version of Xbox One that would match the price of Sony Corp.'s PlayStation 4.
Microsoft Xbox One costs $499/£429/€499, which is $100/£80/€100 more than Sony asks for its PlayStation 4. The main reason why Microsoft's console is more expensive is because it comes with Kinect version 2 motion sensor, whereas Sony's PlayStation Camera sensor has to be bought separately. Kinect is important for Microsoft as it adds a lot of consumer friendly features. However, higher price clearly limits popularity of the Xbox One.
Multiple media reports (1, 2, 3) and a leak in a forum suggest that the software giant is working hard on a version of the console that will be more affordable than the current one. It is unknown whether the company is redesigning the internals in a bid to cut manufacturing costs, or is developing a cut-down version of Xbox One.
One of the suggestions is that Microsoft may remove the Blu-ray disc drive from the Xbox One to reduce bill of materials. However, according to IHS iSuppli, that drive costs $32 to make. Another suggestion, which is an old one, is that the company may offer Xbox One without Kinect motion sensor (which costs $75 to make) at $399 price-point. Without a Blu-ray drive, the console will cease to be "the only system needed in the living room", whereas without Kinect it will lose its appeal to casual users.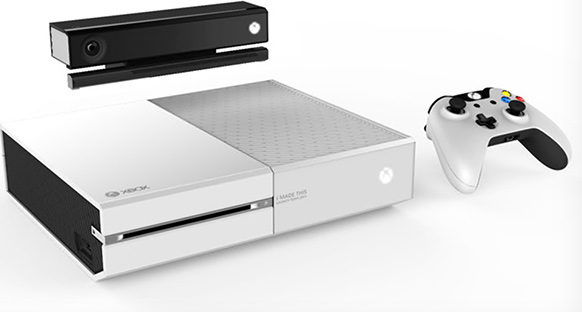 Internal designs of game consoles are often revised during their lifecycle. For example, so far Microsoft has developed eight major revisions of Xbox 360 mainboards. Throughout the lifecycle of a gaming platform, their developers produce processors using thinner technology to cut production costs and power consumption, simplify design or implement certain other improvements to boost stability and reliability.
Given the fact that the AMD Fusion system-on-chip that powers Xbox One is made using leading-edge 28nm process technology and the thinner 20nm manufacturing process is not yet mature, it is unlikely that Microsoft has plans to roll-out a new (cheaper to make) revision of the Xbox One this year.
All-in-all, it is completely unclear how Microsoft plans to lower the price of Xbox One without cutting down its functionality and without losing money itself.
Separately, it was reported today that Microsoft is about to release a special white edition of the Xbox One that will be given to employees of the company's entertainment group who have worked on the console.
KitGuru Says: A cut-down version of Xbox One looks like a dead-end idea since it ruins the concept of the Xbox One (total integration of virtually all kinds of entertainment into one box). While Microsoft may need to cut the price of the console, doing so in the first year is hardly a good idea since many breakthrough games are slated for 2015 and platforms do not sell without games. By next year it will be possible to lower the costs of virtually all components and the price reduction will not hurt Microsoft financially. In addition, the Xbox One will get a boost from exclusive titles.