Even though we've known its intentions for months, with rumours that the whole reason the Beats headphone brand was purchased was to pick up its fledgling streaming business, Apple has finally, officially, launched Apple Music. The new service will offer a combination of music streaming, downloads and internet radio and is designed to compete head to head with industry giants like Spotify.
Apple previously revolutionised the music industry with its iTunes download platform in the early '00s. Today however streaming is far more popular and digital downloads have been dropping off by huge margins in recent years. This slide is what Apple is hoping to halt with its new service, which will roll everything into one.
"Music is such an important part of our lives, and our culture," said Apple chief executive Tim Cook (via the Telegraph). "Apple Music will change the way you experience music forever."
Much like Jay-Z's recent launch of the already floundering Tidal service, Apple used celebrities to get its new product off of the ground, with Drake and Pharrell both being present for its unveiling. Similarly so, Jimmy Iovine, who co-founded Beats and has had an undisclosed position at Apple since its acquisition, was present to talk up the new technology.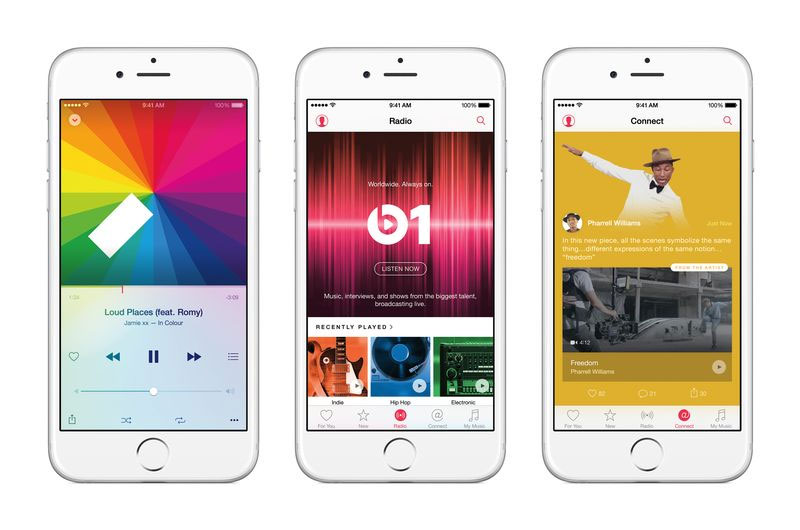 Along with its more traditional iTunes-like downloads and Spotify-like streaming, Apple's new $10 a month service will re-introduce some of its acquired talent to the world, via digital radio stations. Ex-BBC DJ Zane Lowe will take the lead on Beats 1, which will be broadcast from New York, Los Angeles and London, with the help of Ebro Darden, who previously headed up WQHT Hot 97.
Considering how other radio services like Sirius XM are fairing, it's an interesting choice, though presumably Apple hopes that with the introduction of its CarPlay infotainment system it can capture more of the drive time audiences.
Apple Music will launch for iOS users on 30th June.
Discuss on our Facebook page, HERE.
KitGuru Says: The simple fact that Apple's service cuts out every Android user puts it on the back foot compared to Spotify from the outset. Similarly so it's dangerous, as if Google ends up winning the war to get its Android Auto system into more cars, it will put Apple at a real disadvantage.