Even the best/worst case scenario for Niantic's launch of Pokémon Go traffic, was 10 times off in its estimation. The augmented reality developer ended up receiving 50 times the predicted traffic when it launched Pokémon Go earlier this year, which is why there were so many server issues and likely why the tracking feature had to go.
It all started within 15 minutes of the game's Australian and New Zealand launch. It became clear already that Niantic had a hit on its hands, as all expectations were smashed within that first quarter of an hour – so from there, Niantic had to talk to Google. Between them, they managed to bring more nodes online, streamline the server system and even look over Niantic's code base to see if it could reduce calls to the servers.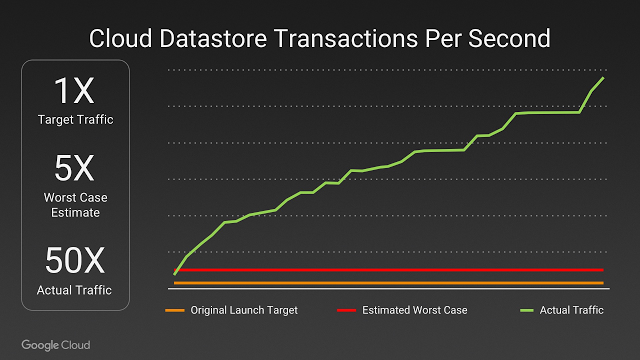 That's where dropping the tracking feature likely came in and it was a real necessity too, because as soon as new territories like the U.S. and Europe came online, the game just continued to explode in popularity. As you can see from Google's graph, actual traffic soared above the most extreme estimations, leaving everyone scrambling to try and keep the servers up for long enough for people to get a bit of gaming in.
It took Niantic and Google some time to get the load balancing right, to tweak the game to a more operational state, but when it eventually launched in Japan – where the game has three times as many users as the U.S. – the launch went off without a hitch.
Fun fact, part of that was only possible because Pokémon Go makes use of Google's private fibre network for much of its network traffic, making it fast and reliable. For more information on the deployment and continued development of Pokémon Go's networking capabilities, Google's blog post breaks it all down.
Discuss on our Facebook page, HERE.
KitGuru Says: Although Niantic still needs to work on its communication, you can perhaps forgive some of the earlier network gaffs because that traffic spike really is astronomical.