Cybersecurity bug-hunting firm Zerodium has announced that it's increased its payouts for bug bounties on iOS v 10, to $1.5 million (£1.16 million) from $1 million. The reason it's now put a higher price on those exploits' heads, is because iOS 10 is harder to crack than previous iterations, so it wanted to offer greater incentive for the effort required.
These are zero-day exploits it's after, though there are others that it will offer reduced bounties on. Similar Android bounties will net you $200,000, so hardly chump change, but the big money is hacking apart Apple devices. If you can do that, you're sitting pretty on a big payout.
Zerodium has previously paid out its $1 million bounty to an intrepid hacker, so it certainly is possible to earn these big cash bonuses, but it's not common. That big payout went out last November according to TheInquirer, so don't expect to saunter in to this latest version of iOS and find what everyone is looking for without considerable effort and time investment.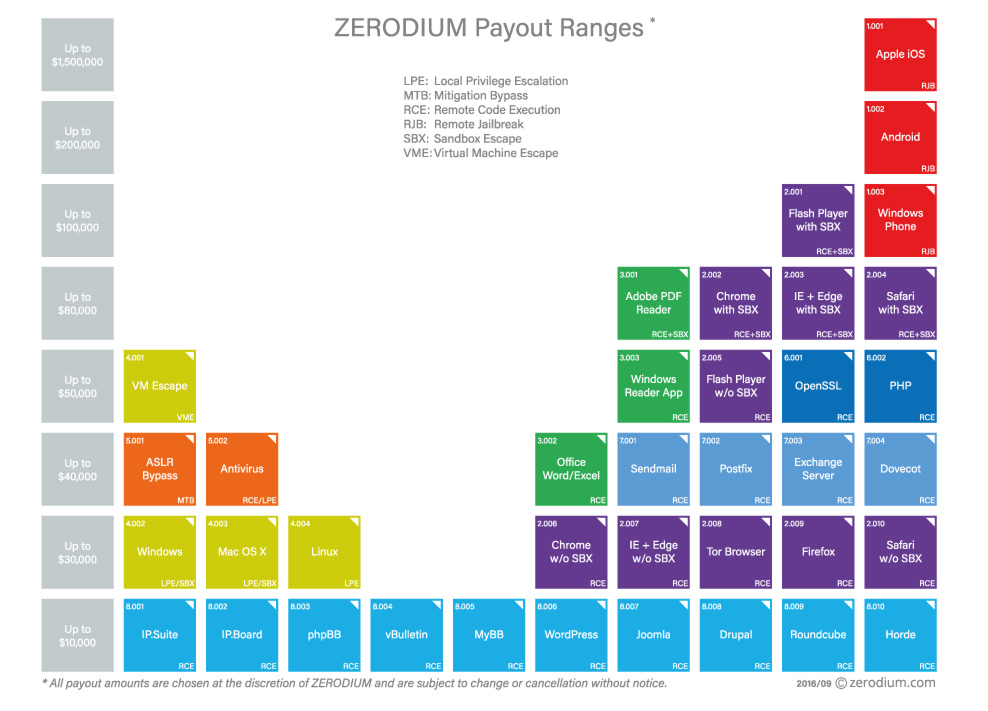 Zerodium pay scale
Indeed Zerodium now considers Apple's operating system to be the most secure out there. With additional security improvements and exploit mitigation from Apple, it's a very difficult nut to crack.
"But don't be fooled," said Zerodium in an update. "Secure does not mean unbreakable, it just means that iOS currently has the highest cost and complexity of vulnerability exploitation and here's where the million dollar iOS 9 bug bounty comes into play."
If you'd like to learn more about Zerodium's bounty system, check out its official bounty program page.
Discuss on our Facebook page, HERE.
KitGuru Says: Do we have any security experts in the KG reader midst? If so, have you ever collected a hefty bounty for a decent bug discovery?
Image source: Pascal Kurschildgen