I barely want to subject my significant other to my morning breath and craggy attitude first thing, let alone a stranger, but apparently that's just me, as a new startup firm called Wakie has just launched its app on iOS. The purpose of the application is to replace your alarm clock with a call from a random member of the community, who can politely let you know that it's time to throw the quilt off and get yourself out of bed.
The app has been available on Windows Phone and Android phones for some time now and has been relatively, well received, but the Apple community has only just been given a chance to join the social alarm clock community. The idea behind it is that it's more effective to be woken by a person than an alarm. Firstly, you can't hit snooze on a person – though you could not answer or just hang up – and secondly, your brain has to 'switch on' far more to communicate with a person, thereby making it easier to wake up.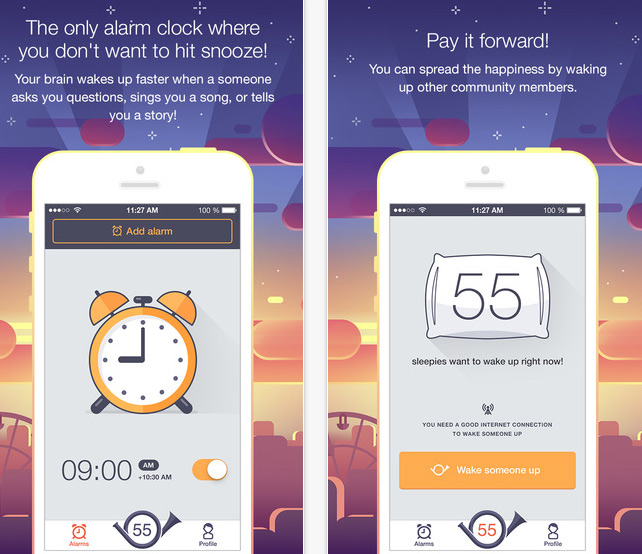 "Most people hate alarm clocks, billions of people feel unhappy every day with these classic ringers and ding-congers," Wakie co-founder and CEO Hrachik Adjamian said in a chat with TechCrunch. "We make people happy with the voice of friendly strangers from all over the world."
The application gives you a minute to chat with your new wake up friend before disconnecting you. While most people are happy with the anonymous interaction, some people have expressed an interest in extending the talk time, specifying certain aspects of the waker (like gender or age) and finding information on them after  the call, for potentially staying in touch. Wakie has said it will consider these as part of its paid for 'premium' version, which could give people up to five minutes of talk time and a profile view after a call is complete.
There's also been discussion of automated robotic wake up calls, as well as celebrity endorsed recordings.
Discuss on our Facebook page, HERE.
KitGuru Says: Would you guys like to be woken up by a stranger? What about by me doing my (not) pitch perfect Arnold impression? "Yarrgh, cumon, get up you idyut."