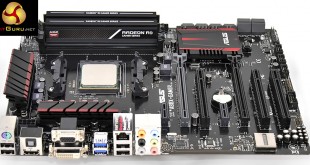 Sharp eyed readers will see a strong similarity between this Asus A88X-Gamer motherboard and the MSI A88X-G45 Gaming that we recently reviewed. Fair point. Both motherboards use an AMD A88X chipset to support Socket FM2+ and there is a distinct theme of red and black in the styling. Asus tells us the A88X-Gamer has a specification that is similar to a Z87-era entry-level ROG board, so you get SupremeFX audio with headphone amplifier, ELNA capacitors on audio and PCB shielding.
Other notable features include Intel Gigabit Ethernet, GameFirst traffic shaping and Asus DIGI+ power design with six CPU phases. That list might lead you to expect a price tag around £125 but thankfully Asus has kept a grip on reality and this model is on sale between £75 and £80, making it slightly cheaper than the MSI A88X-G45 Gaming.
Full specifications on the ASUS A88X-Gamer motherboard available HERE.
Watch on our VIMEO Channel (below) or over on YOUTUBE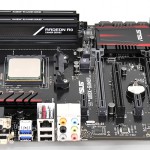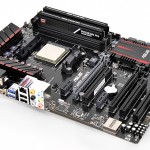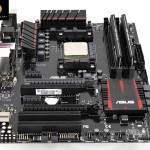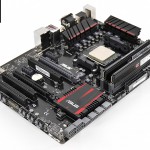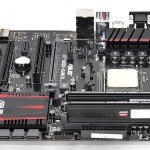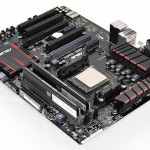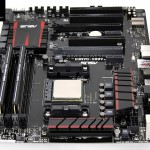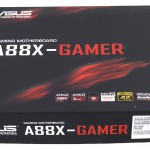 Performance
We tested the Asus A88X-Gamer with a quad core AMD A10-7850K that costs £140 (the alternative was a slightly slower A10-7700K at £110), along with 16GB of dual channel Radeon R9 DDR3-2400MHz memory, a Samsung 840 EVO SSD and 64-bit Windows 7 Pro.
Asus includes a PCI Express 3.0 graphics slot, as they are pretty much obliged to do with an ATX motherboard, however we tested without a graphics card as the graphics core in the Kaveri APU is probably its best feature.
The default speed for our DDR3-2400MHz memory was 1866MHz, however we used AI Overclock Tuner in the UEFI set-up screen to enable AMP and increase the speed to 2400MHz. After the first batch of tests we then used the Easy Tuning Wizard to automatically overclock the APU from 3.7GHz/4GHz to 4.3GHz.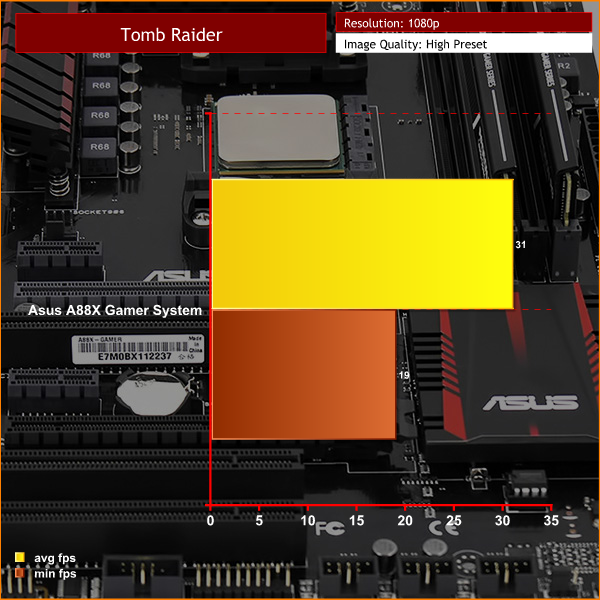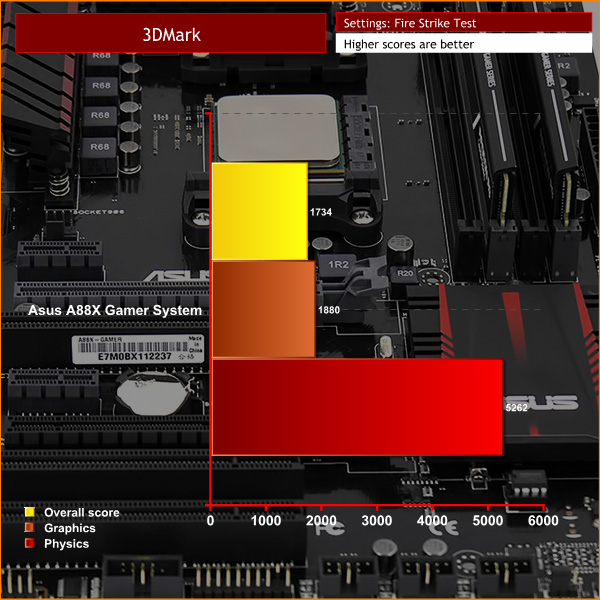 Performance of the Asus was very respectable, however it isn't possible to do a direct comparison with the MSI. The Asus was running on newer drivers and despite its slower clock speed of 4.3GHz, compared to the MSI OC Genie 2 Red which takes the APU to 4.55GHz, it performed at the same level in some tests and better in others.
It has to be said that the overclocked Asus was not entirely stable with the cooling set to Silent Mode but once we changed to Performance Mode everything was fine. Up to this point there has seemed little point in overclocking an AMD APU however the Asus A88X-gamer may well change this point of view as the performance gains are well worth having.
Power draw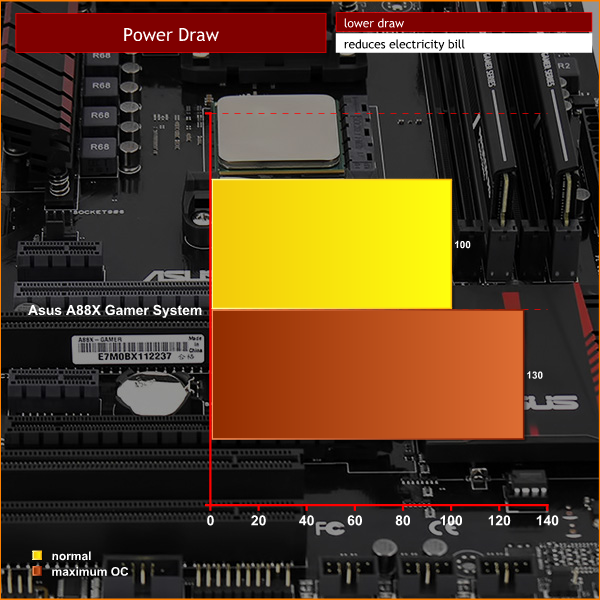 An AMD Kaveri requires relatively little power and at stock clocks the system draws 100W-105W at the mains plug. Ramp up the speed slightly and you'll need 115W, while the most we saw the Asus system use was 130W. The higher clocked MSI system used up to 160W, which suggests the Kaveri is rather inefficient when clocked over 4.3GHz.
It is impressive that you can run a basic gaming and everyday PC that draws less than 150W and clearly means you can use the smallest power supply that money can buy.
Summary
Excellent work from Asus. The Asus A88X-Gamer ticks every box, dots the i's and crosses the t's. It is hard to see how anyone is going to improve on the concept of a budget A88X chipset motherboard that supports FM2+. Despite that we doubt anyone is going to switch from their purchase of Core-i3 or Core-i5 in favour of AMD as PC builders either go down the Intel route or favour Intel and ne'er the twain shall meet.
Our only question about the Asus A88X-Gamer is the decision of using an ATX design as there seems little chance that any of those expansion slots are likely to be employed.
Buy from Amazon UK for £82.56 with free delivery.
Discuss on our Facebook page, over HERE.
Pros:
Low price.
High performance.
Fully featured.
Good layout.
Excellent UEFI.
SupremeFX audio with headphone amplifier.
Cons:
Not quite sure why Asus went with a full ATX design.
Plastic pop pin mounts on VRM heatsinks look grotty.
No matter how good an A88X motherboard might be, some people will only buy Intel.
KitGuru says: Asus has doubtless been helped by Catalyst driver updates but hurrah, Kaveri has come of age.