If you are a Halo fan, the iconic helmet of Master Chief is forever etched into your brain, even if you are not a Halo fan you have most likely seen the helmet clad super warrior somewhere. You may see him soon (or his helmet at least) cruising down the road on a motorbike thanks to a new detailed replica of Master Chief's headgear that is a DOT-approved modular motorcycle helmet.
The helmet itself is just a regular motorcycle helmet underneath and unfortunately it seems that it will not be able to protect you from plasma rifle rounds in this version. It is going to be limited edition though, according necaonline who will begin to sell the replica in July. The below images are not final, but the finished product should be close enough to these.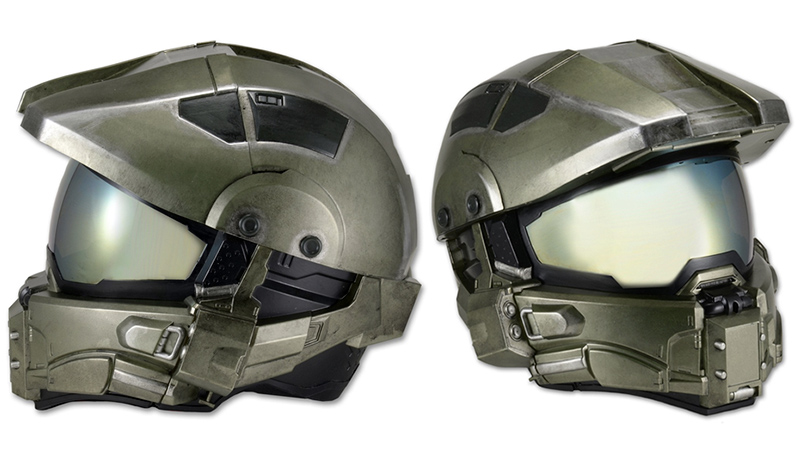 If you are not going to use this as crash protection, then you may be better off looking for a replica on E-bay or Amazon for the moment as there are a few, slightly more accurate helmets around that may be cheaper but that do not offer any actual crash safety. Then again I can imagine how awesome it would feel to pull up next to someone on a bike while wearing this, it would bring a smile to the faces of most Halo fans.
The helmet is not the only bit of Halo gear that we have seen recently, with dart firing Needler showing up a few days ago and last year we had an energy sword. The helmet is part of a deal that NECA announced back in November of 2013 with Halo developer 343 Industries to produce Halo-themed products so hopefully this won't be the last thing we see from them.
At the moment no pricing information has been released for the helmet, but we do know that it will come in a variety of four sizes to accommodate different heads and while it won't protect you from plasma, it does come with a UV filter which is close enough. It also features modular design, an ABS shell and front and rear air vents to keep you cool and fog free.
Discuss on our Facebook page, HERE.
KitGuru Says: This would be pretty awesome to own and who knows it might even get you out of a few speeding tickets. Now if only we had a warthog to go with this, then we would be in business. Any bikers here interested in this helmet?