When you think of the classic Atari game Asteroids, you might imagine that is about as far from any current MMO as one can go in a spectrum of PC games, but that's not what Atari think. Enter a new title bearing the original games name, Asteroids: Outpost, a PC exclusive, open-world, survival, MMO, where you are the asteroid miner trying to survive and prosper on a hunk of space rock.
"We're paying homage to the original Asteroids by incorporating classic features such as asteroid blasting capabilities, while introducing a completely new premise and gameplay," said Atari CEO Fred Chesnais. "Asteroids: Outpost will appeal to both fans of the classic Asteroids as well as enthusiasts of immersive survival games and expansive MMOs."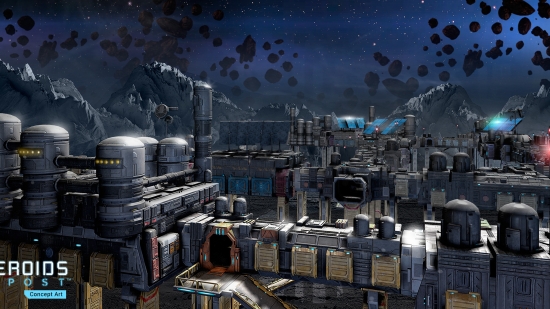 Quite how any correlation between original Asteroids fans and this new reboot (is it really a reboot?) can be drawn I'm not sure, but they seem pretty certain. Players will apparently be able to mine, build and defend their base and grow their fortune as they go 'from rocks to riches'. In many ways it sounds like a PC version of many mobile games such as Age of Empires: Castle Siege or Call of Duty: Heroes, it could equally end up being a FPS (I would have thought they might have mentioned that if it was), but at this time we don't know what the gameplay will be like.
Atari have also announced that they will soon be opening up early access to the game, but have not announced a date for this, so we will have to keep an eye on this to see when we can give it a go. It is currently in development by a new studio under the name of Salty Games who have some pretty experienced team members under their roof, but this is going to be the first game from the studio. Hopefully the game won't become another reason for Atari to open up a new landfill site in the desert.
Discuss on our Facebook page, HERE.
KitGuru Says: I guess we will have to wait for some game play footage until we really find out what Atari and Salty Games are up to, but expanding on this franchise seems to be grasping at straws a little, I'm sure that they could have launched this as a new IP. Are you looking forward to the return of "Asteroids" and did you play the original?

Source: Eurogamer