As part of his keynote address to the Goldman Sachs conference, Tim Cook has announced that Apple has purchased an $848m stake in a new solar plant, to be built in Monterey County, California by First Solar. For its stake in the new plant it will get 130 of the total 230 megawatts of renewable energy, under a 25-year contract, enough to power Apple's California offices, the 52 Apple retail stores in the state, and the firm's Newark, California data center.
Joe Kishkill, Chief Commercial Officer for Firstsolar said "Apple is leading the way in addressing climate change by showing how large companies can serve their operations with 100 percent clean, renewable energy, Apple's commitment was instrumental in making this project possible and will significantly increase the supply of solar power in California."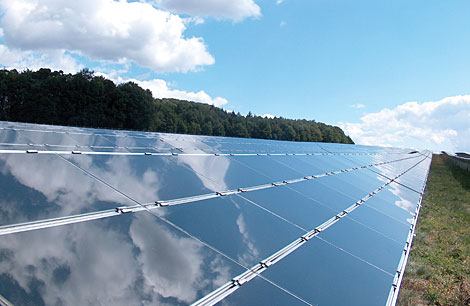 This should boost Apple up to 100 percent in the US EPA Green Power Ranking from its current 92 percent, bringing it up to the level of the two other US tech companies, Intel and Microsoft, who have achieved 100 percent sustainable power usage in this year's rankings. This leaves Google as one of the only big tech players who is nowhere near 100 percent sustainable, with only 32 percent of its energy coming from sustainable sources, but maybe the added pressure from Apple will help it change it's ways.
During Mr Cook's speech, the president of Goldman Sachs, Gary Cohn let the Apple CEO know that Apple had broken the $700bn market cap boundary and has become the first US firm ever to do so. This is a fantastic achievement and it sure makes the amount that it has spent on this solar plant look very, very small.
Discuss on our Facebook page, HERE.
KitGuru Says: Hopefully the three companies together, Apple, Intel and Microsoft can start to put pressure on Google to increase its measly 32% renewable energy use, as well as other companies who should really be doing better at using renewables.

Source: The Register