Discord started its journey as a versatile platform, specialising in voice, text and image before expanding into video chat late last year. Having completed its initial beta tests, Discord is now ready to expand into the video game market, launching its store worldwide.
The new feature was announced back in August, initially trialled in Canada with just 50,000 of its 150 million users participating. Discord Store, as it's unsurprisingly called, will rollout worldwide throughout the day, housing 22 indie titles with plans to increase its library throughout 2019.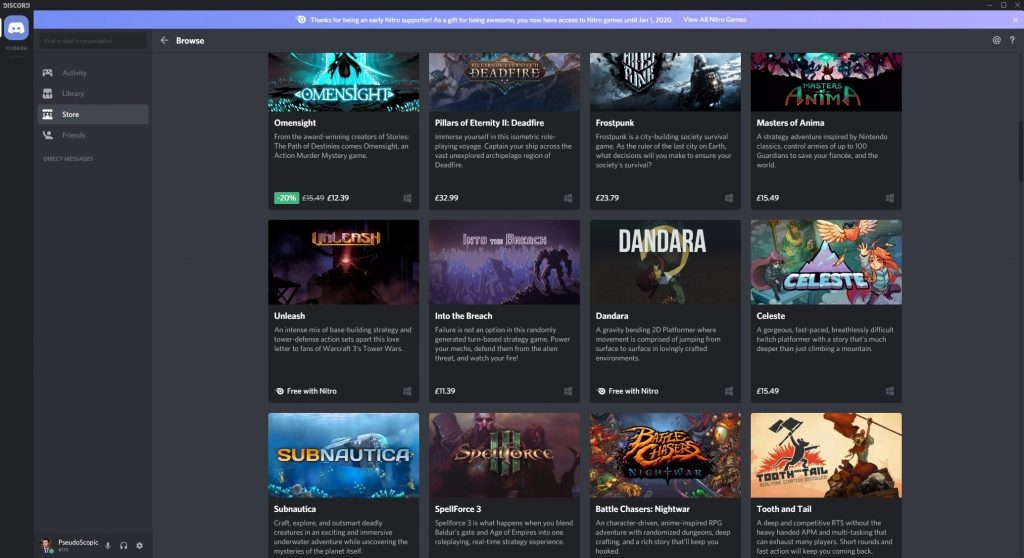 Five of these 22 titles will be launching alongside the new service, labelled "First on Discord." Led by King of the Hat, Sinner: Sacrifice for Redemption, Minion Masters, Bad North, and At Sundown, these games will be exclusive to Discord for a minimum of 90 days. The remaining list of launch games can be seen below:
Battle Chasers: Nightwar
Celeste
CrossCode
Dead Cells
Frostpunk
Hollowknight
Into the Breach
Masters of Anima
Moonlighter
Omensight
Red Faction Guerrilla
Spellforce 3
Starbound
Subnautica
The Banner Saga 3
This is the Police 2
Pillars of Eternity II: Deadfire
Despite pushing its own service, Discord is set to bring gamers together by introducing a new all-in-one universal library feature. This allows players to launch any game directly from the application, no matter where it was purchased from.
Finally, Discord is making some changes to its Nitro subscription service. It will now jump from $4.99 to $9.99 per month, but with it comes access to 80 games while the subscription remains active. This includes FTL: Faster Than Light, Metro: Last Light Redux and Brutal Legend. Previous perks, such as tags, avatars, crisper screen sharing and higher upload limits are all still rolled into the deal. As a reward for backing Discord Nitro early, continuing subscribers will get access to Nitro's new roster of games free of charge until January 1st, 2020.
KitGuru Says: Many are noticing Twitch and Steam overhauling chat systems to rival Discord's iron grip on the gaming market, however this seems like less of a direct response to both stores and more of a way to give exposure to indie developers. Do you plan to use the Discord Store?