Earlier this year, PlayerUnknown's Battlegrounds was blessed with an Event Mode to test out new game modes for a limited time on PC. Sadly, this has since fallen under its 'FIX PUBG' campaign, being temporarily removed due to a "critical error."
PUBG Help, publisher Bluehole's official Twitter support channel for the game, announced that Event Mode would be taking a momentary hiatus in order for the team to fix major bugs that have consistently been causing issues for players. This has caused a delay to the return of Platoon, PUBG's brand new 50 versus 50 mode comprised of 10-person squads, that will now "return at a later date."
PC Players: Unfortunately, this week's Event Mode has been cancelled due to a critical error.

We apologize for any frustration or disappointment this has caused. Event Mode: Platoon will not be returning next week, but will return at a later date.

— PUBG Help (@PUBG_help) October 19, 2018
This is just the latest bug to fall under PUBG Corp's FIX PUBG campaign, dedicated to quell the various problems continually breaking the game and improve its quality-of-life. It remains to be seen whether or not the developer can reach its goals in time for the campaign's end in October, or if it will instead be extended due to the overwhelming nature of each issue.
It seems that compensation in the form of free in-game currency and items can only take the company so far, as players are increasingly expressing their disappointment within Twitter replies and Reddit threads. 50 v 50 is "something Fortnite threw together as an experiment and kept iterating on. PUBG tries and falls on its face," says one user.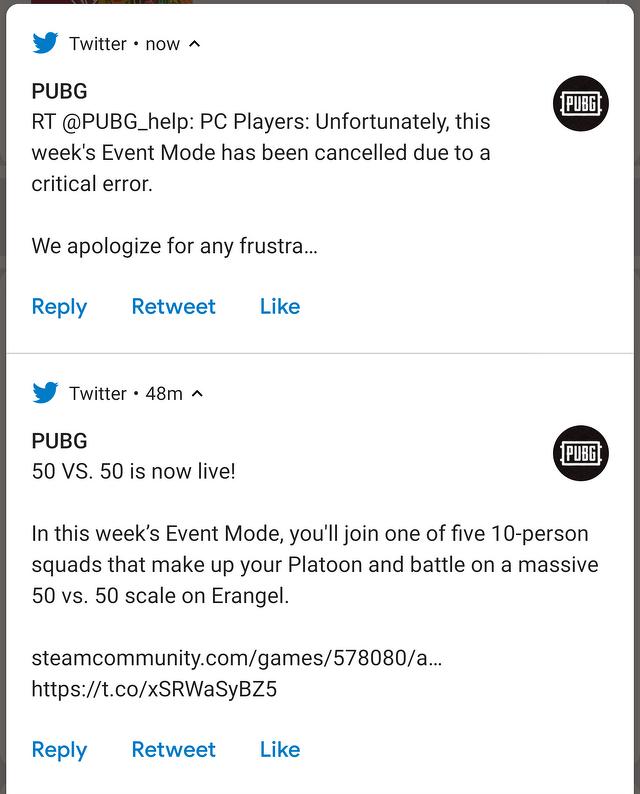 Other users pointed out how PUBG is panicking following Call of Duty IIII's entry into the battle royale space, introducing the incredibly popular Blackout mode. It seems that there's a difficult amount of competition to keep up with that could potentially see PUBG slip behind if the developers aren't careful.
KitGuru Says: Even if the bugs were ideally ironed out, there's plenty of people that seem to be increasingly displeased with the game in comparison to its rivals. Have you found yourself moving to another battle royale game over the past year?