Miramar released in December, marking the PC version's transition from Early Access to full release. The desert setting provided quite the departure from the grassy setting of the original map and it looks like the next map is to do the same once again, introducing a jungle environment in a much smaller arena.
PlayerUnknown himself, Brendan Greene took to a blog post to outline his plans for 2018, showing off concept art for PUBG's third map. Marked in the top left as a 4x4km concept, it is half the size of the previous two maps, seemingly without sacrificing the 100 player count, from what Greene says.
"It's a much smaller map and should give you all a much more intense and faster paced Battle Royale experience. It will offer a higher player density and shorter matches and we want to get it into your hands early this time around so we can use your input to make it a great experience for everyone," explains Greene.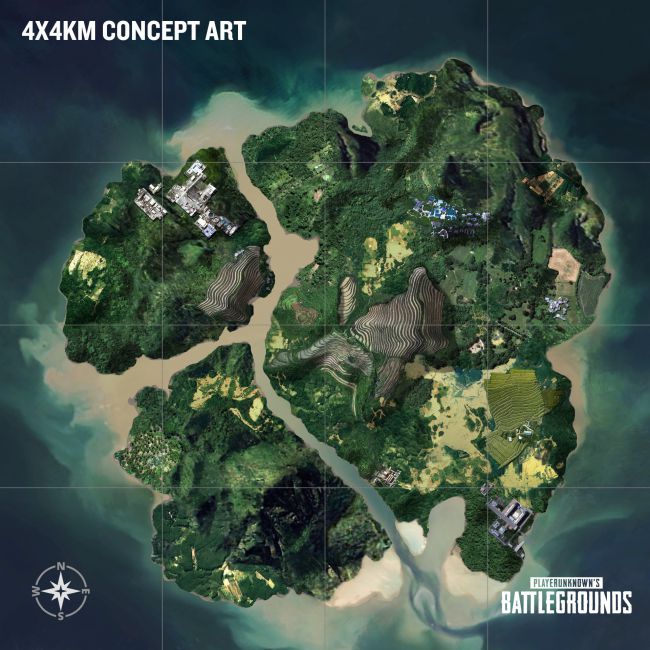 The artwork shows that the majority will be packed with dense vegetation, with some aquatic zones. It looks to return to the bumpy terrain more akin to original map, Erangel than the flat desert environment throughout Miramar, giving plenty of vantage spots.
Previously, loot has always spawned indoors, prompting conversation as to what is to happen with the system with just six complexes detailed on the map, and nothing accounted for near the centre. This could mark the first time that weapons and items have spawned outside, or it's entirely possible that smaller buildings simply aren't outlined in the concept art.
The artwork is entirely subject to change until final release, with Miramar's having changed a few times throughout development. The yet-unnamed tropical map is set to go live on PUBG's test server next month, however, giving a deeper look into what to expect.
KitGuru Says: Many favoured the idea of snow instead of jungle, but this is still different enough from the previous two to warrant player attention. It's an added bonus that the team over at PUBG Corp is playing about with player density and map sizing too, keeping players on their toes. Do you like the look of the new concept art?