Razer is attempting give Humble Bundle, GOG and Green Man Gaming a run for their money, introducing its own fully authorised games store. The Razer Store offers customers the choice of thousands of legitimate Steam and Uplay keys, backed by a variety of promotions, discounts and rewards.
There's no grey market shenanigans in Razer's latest foray, with the company adamant on partnering with publishers and developers to deliver customers keys which are fully licensed. This ensures that no customer will have their game suddenly stripped from their library and industry professionals will receive a cut that enables them to go on to make more of the same content.
Ubisoft has helped kick off the launch party, with customers able to save up to 75 percent on titles like Assassin's Creed Origins, "South Park: The Fractured but Whole, and Tom Clancy's Rainbow Six: Siege, while Razer itself is helping to slash costs with its 'Exclusives'.
Razer Exclusives will rotate four games each week, offering rewards that cannot be found elsewhere. This week's selection shaves off 12 percent for the brand new Far Cry 5 and 10 percent off Ni No Kuni II: Revenant Kingdom. Critically acclaimed past hits such as Assassin's Creed Origins receives a 44 percent reduction and customers can get 60 percent off Wolfenstein II: The New Colossus.
Purchase of any of these Razer Exclusives entitles the customer to a Razer Game Store Voucher worth £10 in the UK, double the zSilver earned per purchase and a Razerstore hardware voucher to chip £10 off peripherals in the UK.
Furthermore, games that enable Razer Chroma will sport at least 10 percent off. This currently includes Killing Floor 2, Kerbal Space Program and Shadow Warrior 2 among others, with more set to arrive in the coming months. Those that pay using Razer's premium currency, zGold, will also receive more zSilver as a reward rather than checking out with a bank card or PayPal.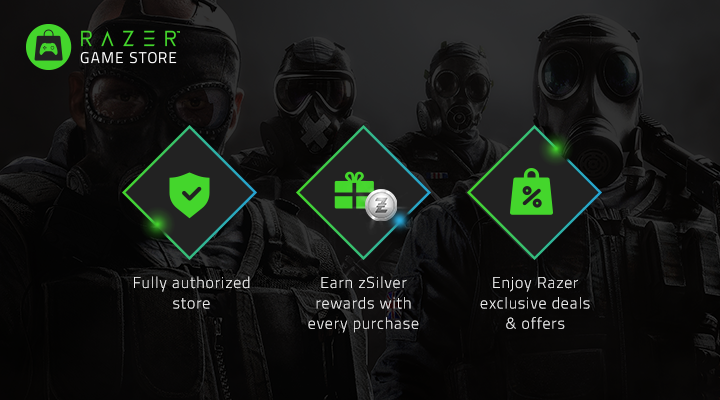 It seems that the Razer Store is just one way that the company has revised its zSilver currency. Previously, zSilver could be earned through Razer's Paid to Play scheme, allowing customers to play their favourite games for up to 5 hours per day. This has been temporarily removed due to negative feedback, leaving the zVault as the primary method of zSilver acquisition.
Those that are quick on the mark might be able to get their hands on a free key for Furi, an indie action shoot 'em up developed by The Game Bakers. There are only 10,000 keys that will be given away in a first-come-first-served fashion, so enthusiasts better hurry!
KitGuru Says: It's always good to have a bit of healthy competition, especially when it ensures that money is going into the right pockets. Currently, Humble Bundle is my go-to when looking for good deals on legitimate keys, but Razer's deals are pretty enticing. It might just dethrone Humble in the future. Would you buy games on the Razer Store?