Review bombing has grown in prominence over the years, giving players a much louder voice when issues arise. Unfortunately for developers, the complaints are not always relevant to the game itself, but controversies that breach outside of end product. Valve has taken these concerns into account and is now overhauling its Steam reviews section to allow for moderation.
For those not in the know, 'review bombing' is the term given to mass negative reviews flooding a platform over a specific topic. It was rather effective in the case of PlayerUnknown's Battlegrounds, as the complaints eventually led the developer to reflect on the state of the game and launch its "FIX PUBG" campaign. Other cases are not so relevant, as players review bombed Firewatch in response to developer Camp Santo's takedown notice against PewDiePie.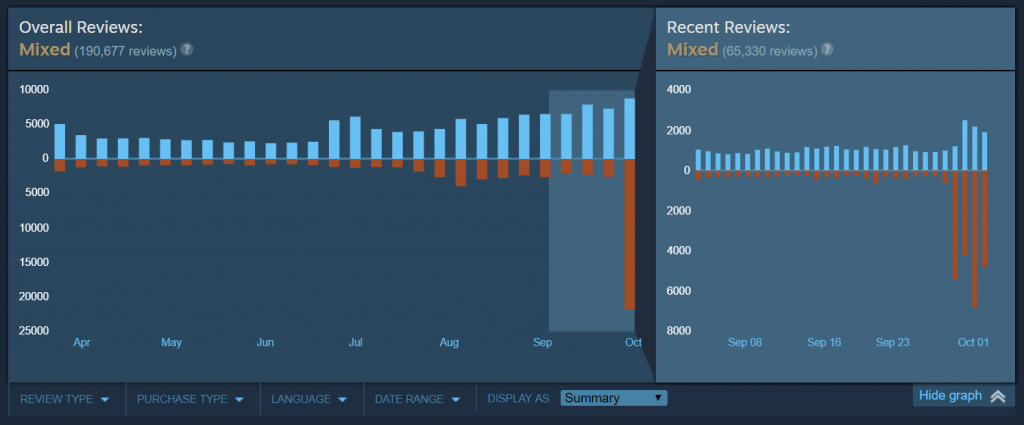 Valve understands that the on-going nature of games means that users need to be able to edit their reviews after they've been posted, so it wouldn't be effective to remove that ability. Instead, Valve has taken the uncharacteristic approach of hiring a new team that will investigate surges in reviews, subsequently categorising cases like the latter example above as off-topic.
"We define an off-topic review bomb as one where the focus of those reviews is on a topic that we consider unrelated to the likelihood that future purchasers will be happy if they buy the game," explains Valve. This is a broad enough definition of irrelevant reviews that it could include many things, but Valve has confirmed that it includes those complaining about digital rights management (DRM) like Denuvo.
Once the team determines that the reviews for that day or week are off-topic, all reviews including legitimate ones will no longer contribute to the overall score. Those with comments on the actual game should be aware of other reviews before deciding to post as a result.
KitGuru Says: Depending on how the team conducts their investigation, there could be a major flaw in the new system – what's stopping players from disguising their review bomb to make it look relevant when it's brought about by something off-topic? I guess we shall see moving forward.