While Far Cry 5 does not officially release until tomorrow, we managed to get our hands on the final retail game Saturday through official channels. That gave us enough time to thoroughly benchmark the game and bring you our performance figures – with ten graphics cards tested.
Far Cry 5 is built on the Dunia Engine, and as you can see above, there are a few graphics options to tinker with, but not as many as some other AAA games.
For benchmarking Far Cry 5, we used the in-built benchmark which proved to be very consistent and reliable – I would go as far as to say it is probably the best baked-in game benchmark I have ever used in terms of its consistency. After playing through the story mode for a couple of hours, I can also say that the benchmark figures closely resemble real-world in-game performance as well.
We ran the benchmark three times at each resolution (1080p, 1440p, 4K) and calculated the average figures to present here.
You can see the image quality settings we used in the screenshots above. Very simply, we set the graphics preset to 'Ultra' but disabled AA and motion blur. We tested all ten graphics cards at 1080p, 1440p and 4K (2160p) resolutions.
For Nvidia cards, we used the latest 391.24 driver, while AMD provided us with their Adrenalin 18.3.4 driver which is due to be publicly available as of this evening.
For testing we used the usual KitGuru GPU test bench, with the following components:
Core i7-7700K overclocked to 4.8GHz
16GB Geil Evo X 3200MHz DDR4
ASUS Z170 Pro Gaming
Sandisk SSD Plus 120GB system drive
Crucial M4 512GB games drive
Fractal Celsius S24 CPU liquid cooler
Seasonic Prime 1000W Platinum
We tested the following graphics cards:
PNY GTX 950 OC XLR8 2GB
Nvidia GTX 1060 Founders Edition 6GB
Nvidia GTX 1070 Founders Edition 8GB
Gigabyte GTX 1080 G1 Gaming 8GB
Nvidia GTX 1080 Ti Founders Edition 11GB
Sapphire R9 380X Nitro 4GB
ASUS ROG RX 570 Strix 4GB
Sapphire RX 580 Pulse 8GB
AMD Vega 56 Reference 8GB (Turbo profile)
AMD Vega 64 Reference 8GB (Turbo profile)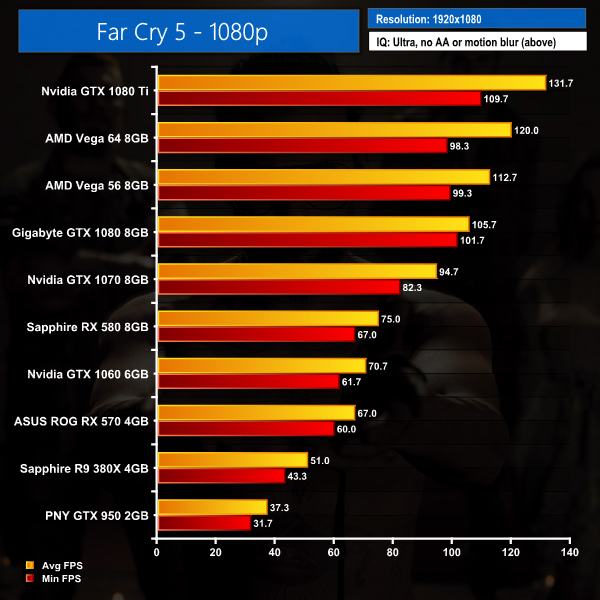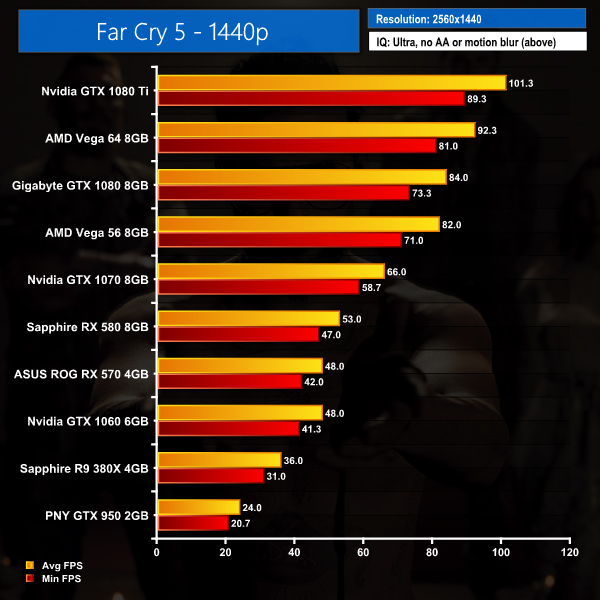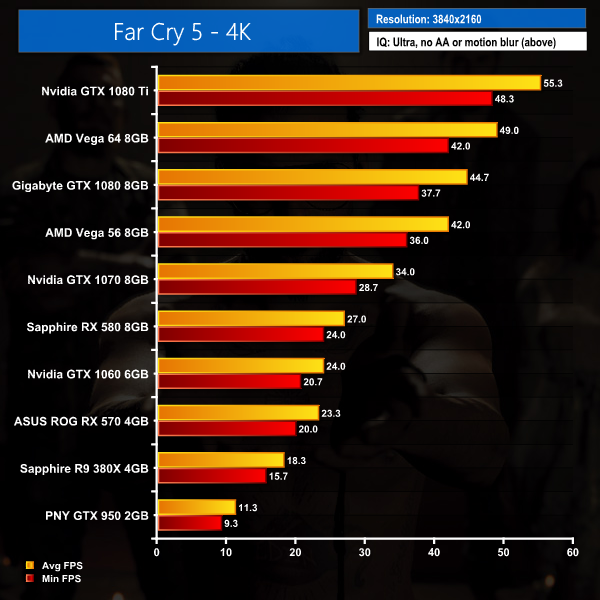 Far Cry 5 is certainly a demanding game, but it is actually very well optimised. You can see that the minimum figures – across all graphics cards – are very close to the average figures, and this results in a smooth overall experience without any sharp drops in frame output.
At 1080p, the RX 570 looks like the go-to card for consistent 60fps gameplay, but even the older GTX 950 stayed above 30fps at all times – and bear in mind this is with the Ultra preset, so I'd say that's a fairly decent result.
Jumping up to 1440p, a GTX 1070 will keep you at around 60fps when gaming at this resolution, while those with high refresh-rate monitors (myself included) will really want to be looking at AMD's Vega 64 or the Nvidia GTX 1080 Ti to get the highest fps possible.
Lastly, it is not surprising to see frame rates drop off as we move up to 4K. Here, not even the GTX 1080 Ti could hold above 60fps at all times, but a Vega 56 will do the job nicely for 4K 30fps gaming.
On that note, we can also see general AMD card performance is good – as we would expect given Ubisoft worked with AMD when developing the game. The RX 580, for instance, beats out the GTX 1060 across all three resolutions, while even the RX 570 nudges ahead of the GTX 1060 at 1440p. Usually we would expect an RX 570 to be trading blows with Nvidia's GTX 1050 Ti, so this is good news for AMD graphics card owners out there. Vega 56 is also faster than GTX 1070 across all resolutions, but it can't quite keep up with a GTX 1080 at 1440p and 4K.
On the whole, I think Far Cry 5 looks like a good game in terms of plot and gameplay, though bear in mind I've only played through about two hours of the story mode. Still, it seems very well optimised considering it's also a beautiful-looking game, and from our testing it seems even users with older graphics cards should be able to get some decent frame rates from the game.
Discuss on Facebook HERE.
KitGuru says: I've certainly enjoyed my first couple of hours playing Far Cry 5, so if any of our readers pick up the game, do let us know your thoughts on the story and general performance. if you have any questions about the benchmarking process too, feel free to let us know on Facebook.