Up until recently, I did all my gaming, photo editing and content consumption on a single 4K monitor – the ASUS PQ321QE. Now, don't get me wrong – it's a brilliant 32-in 4K 60Hz IGZO panel – but I'd been after something with a few more gaming features for a while now. After all, when I'm not reviewing products I'm often playing games, so I thought I could definitely do better than the PQ321QE.
So, I went out and bought an AOC AGON AG271QG – 1440p, 165Hz, IPS and G-Sync – making it just what I was looking for in-terms of gaming features. So, how have I found the switch, and what would my advice be to anyone thinking about a new monitor purchase?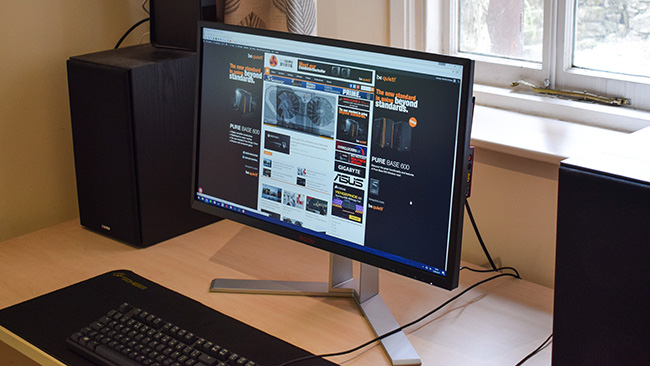 To answer those questions, I first need to break-down my usage of a desktop monitor. Essentially, I use my monitor for two main purposes: productivity and gaming. I'll talk about my experience in both of those areas below.
Productivity
Given I write a lot of reviews here at KitGuru, as part of that I spend a lot of time in Photoshop editing the photos I take myself. Because of that, having an IPS monitor has always been a 'must' for me, as I simply need the enhanced colour accuracy and viewing angles. In that regard, both monitors I've been using have been excellent, but it is definitely here that I miss the 4K monitor most. Not because of the colours – but because of the detail.
After all, 4K is 3840×2160 (a total of over 8 million pixels), while 1440p is 2560×1440 (3.6 million pixels). With my DSLR taking photos at 6000×4000 (24MP), dropping down to the 1440p monitor has meant I do lose out on quite a lot of detail from my photos. Part of that is negated by the fact that our review photos are not uploaded at native resolution (we downsize them to a more workable 2048px width) but even so, general photo viewing is noticeably better on a 4K monitor.
The same can be said for 4K video. When I watch some of my favourite YouTubers, for instance, a lot of them now upload videos in 4K – detail I can't fully take advantage of with my 1440p monitor.
Therefore, I present my first mini-conclusion: for those purely interested in content-creation, photography or photo editing, I would definitely recommend the increased pixel count of a 4K monitor. The extra sharpness is just vital for those tasks, and it is definitely something that I miss.
Gaming
However, productivity is only half the story, and when it comes to gaming there is a different outcome. My AGON AG271QG sports an overclockable refresh-rate of up to 165Hz which crushes the standard 60Hz of the older 4K ASUS panel.
When gaming, the difference really is night and day. Everything is just so much smoother at the higher refresh-rate, and G-Sync also keeps things nice and tear-free. I did notice tearing previously in the few instances where I managed over 60FPS at 4K, as I would never use V-sync due to the stuttering that occurs when the frame-rate drops below 60.
There are two points to mention about gaming, though, and the first does come back to loss of detail. I do notice the lessened detail at 1440p, compared against the 4K monitor, though I notice it far less while gaming than when photo editing. The picture is still nice and sharp, though, and I definitely prefer having slightly less detail but a much higher refresh-rate as the overall experience is simply more satisfying.
For those who are keen FPS gamers, the higher refresh-rate is far more important than the higher resolution, too, as it makes fast-paced aiming and firing much more manageable. The loss of detail won't hurt your gaming performance, whereas 165Hz vs 60Hz does bring tangible performance improvements.
Matthew Wilson, our Senior News Editor, concurs. He tells me that he previously gamed at 4K/60, but eventually dropped the cash on a 1440p/144Hz ASUS ROG Swift. In his words, 'it was a step forward for me. The picture isn't quite as finely detailed but the difference in how smooth everything is, is a game-changer'.
Now, the second thing to mention when gaming is what system you have. Personally, I am lucky enough to have an i7-5820K, 16GB DDR4 and a GTX 1080 Ti so I have been able to hit both 4K/60 and 1440p/144+ frame-rates. However, for those with older rigs, there is a good chance that both 4K/60 and 1440p/144+ will be out-of-reach, so bear that in-mind. Even then, though, the G-Sync feature of my new AGON helps keep things smooth even when the frame-rate does dip, so that is something to consider.
Conclusion
So, in a nutshell, the battle between the monitors looks like a draw – 4K is best for productivity, but high refresh-rate 1440p gaming is definitely superior to 4K/60FPS. It does come down to personal preference when deciding which to go for – but personally, I don't regret making the switch one bit. My AG271QG still has great colour accuracy for my work, while gaming at 1440p/144hz (144fps with G-Sync, too) is simply a fantastic experience. I do miss the extra detail that a 4K monitor provides, particularly when watching videos, but for me the improved gaming experience outweighs that by far.
That being said, the days of 4K being limited to just 60Hz are now over. Launching later this year, we will see two new monitors from ASUS and Acer which will be 4K/144Hz, and that would be a truly phenomenal gaming experience – I can only imagine how immersive it would be to game with the detail of 4K coupled with the smoothness of a high refresh-rate monitor.
However, that brings us back to hardware limitations – not only will users have to shell out around $2000 for those monitors, but you would need a monster of a gaming rig to push 4K games at 144 frames per second. For the latest AAA titles, users would probably want to be looking at 2X GTX 1080s – at least – and ideally 2x GTX 1080 Tis. Two of those graphics cards alone will set you back another £1400+, so if you want to have 4K/144Hz, you will need very deep pockets indeed.
But, to conclude this article, I have opted for a high refresh-rate 1440p display over the extra detail that 4K provides. The good news is that 4K/144Hz monitors, for the ultimate gaming and productivity experience, are very nearly here. It will take time for the prices to come down to reasonable levels, but eventually we will get there. Until then, I'll be very happy with my shiny new AGON AG271QG.
KitGuru says: Have any of you guys moved from 4K/60 to 1440p/144+ – or have you done the opposite? Let us know what you think in the comments, we would love to hear your thoughts.