Nvidia's popular Android-based TV streaming box looks like it is set for a refresh very soon. A new version will be launched featuring a faster processor and new remote, according to an Amazon listing slip up, which has since been removed.
Rumours that a new Nvidia Shield TV device is in the making have been swirling around for weeks. It seems those rumours had some weight behind them, after an Amazon listing revealing a new Nvidia Shield TV Pro turned up online. Amazon swiftly removed the listing from their store, however, 9TO5Google managed to grab the information from the page before it was taken down.
The Nvidia Shield TV Pro has not officially been confirmed by Nvidia just yet, although according to 9TO5Google it is due to be shipped on 28th October, so an official announcement could be imminent. If the Amazon listing is correct, the new device is set to have an unchanged appearance from the previous model but is bundled with a new, improved remote.
A new Nvidia Shield TV remote will be sporting a beefier triangular design, larger controls with dedicated Google Assistant and Netflix buttons for one-click launching of those apps, plus additional physical buttons for volume control, power and play/pause. It is also mentioned there is a "lost remote locator" function and will be powered by a button cell battery.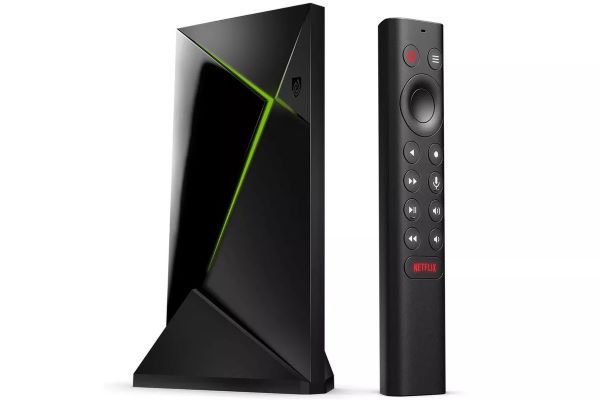 In terms of specification, the Nvidia Shield TV Pro will feature an updated Tegra X1+ processor and 3GB of RAM while retaining the usual 16GB storage, which can be upgraded with a USB flash drive. Nvidia claims the new processor will provide 25% more performance. The biggest update to come in the Nvidia Shield TV Pro is the addition of Dolby Vision support, featuring Dolby Atmos and Dolby Digital Plus.
Pricing for the Nvidia Shield TV Pro the on Amazon page was listed at $199, which is a slight increase over the previous model. A shipping date was stated as 28th October. However, this is all still to be confirmed by Nvidia.
KitGuru says: Fans of the Nvidia Shield will be happy to hear the new device will support Dolby vision, something which they have been appealing to Nvidia about for a while now. the upgraded processor should offer a more snappy feel to the OS and the remote will not be as easy to lose.