After the previous huge leak of maps, modes, and cosmetics, more information has been revealed about upcoming Call of Duty: Modern Warfare content. Redditor u/Senescallo has discovered details of a battle royale mode that is coming to the game, revealing additional information regarding the map and its locations, as well as new mechanics to be introduced in the game mode.
There's a lot of details regarding the upcoming battle royale mode in the Reddit post where this information was revealed. The new game mode will have customisable options, such as the player count (up to 200 players), the playlists, whether to play in solo, duo or squad, and other game mode-specific mechanics.
There's a respawn mechanic, where you can loot tokens and use these on a teammate. The tokens will be disabled for the respawned player after use. To respawn a player, you will have to drop him in an ambulance, and then he will be entered into a 1v1 at the Gulag Prison camp. The winner is respawned and to recover his/her loadout, he/she will need to find a Mobile Armory and activate it. There's also the chance for a Jail Break, releasing all the players at the Gulag Prison. The Prison will be closed at a specific time, preventing anymore respawns.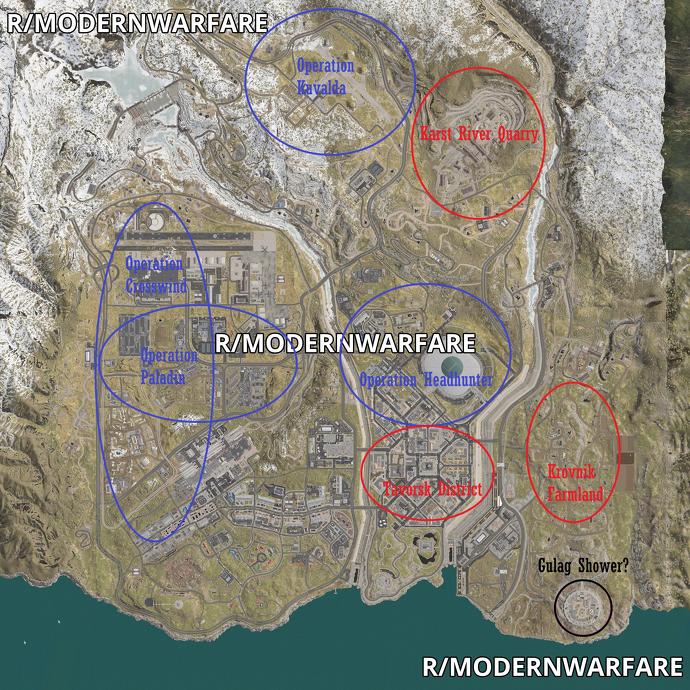 There will be a set of Missions for the players to do, which will reward you with Plunder. This can also be obtained by killing players and can be used for bets on the Gulag 1v1s. The missions are divided by types such as Assassination, for killing a specific player, Scavenger Hunt, to collect Scavenger crates, and Domination, to capture a given Domination point.
u/Senescallo also posted map details and images. The game will feature 15 map zones and 6 points of interest, some of those shared with the Spec Ops and Ground War maps. Furthermore, there are descriptions of the unique perks and killstreaks for the battle royale in the post as well.
The battle royale mode is reportedly being co-developed by Infinity Ward and Raven, an Activision studio.
Discuss on our Facebook page HERE.
KitGuru says: A battle royale mode seems inevitable at this point, but new content is always appreciated. The question that stands is, will you have to pay for the battle royale mode, or will it be free?