Ever since the introduction of AMD's 7nm based Radeon RX 5700 GPU series earlier this year, we have seen an abundance of custom cards using the new technology from various manufacturers and now Gigabyte has added another RX 5700 XT variant to its line up.
Gigabyte has officially announced the launch of the new Aorus Radeon RX 5700 XT 8G to further bolster its range of AMD Radeon graphics cards. The new Aorus Radeon RX 5700 XT 8G is built on AMD's 2nd generation 7nm processor technology, featuring RDNA architecture and equipped with a Windforce 3x cooling system including alternate spinning fans, 6 copper heat pipes and a BIOS switch for silent operating mode.
The new card also features RGB Fusion 2.0 compatibility with its RGB Led lighting, a protective metal backplate and is built using Gigabyte's Ultra-Durable certified materials. The new card supports connections with up to six displays simultaneously from its three DisplayPort connections and three HDMI outputs.
In addition to the features already mentioned, the Gigabyte Aorus Radeon RX 5700 XT 8G includes an all-around cooling system which is essential to maintain performance under prolonged gaming sessions. The Gigabyte Windforce cooling system is applied to critical areas of the graphics card, including the GPU core, VRAM and MOSFET to ensure efficient and stable performance.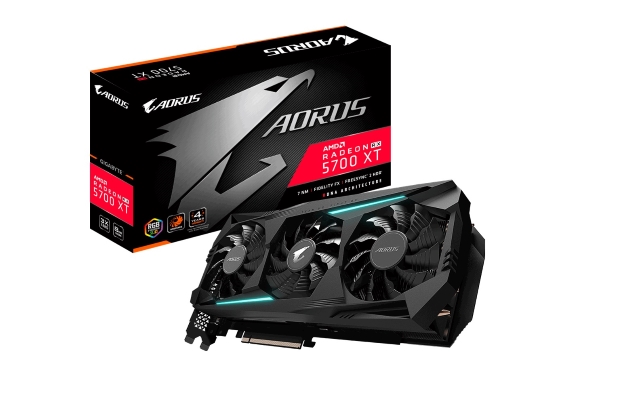 The built-in BIOS switch allows users to swap between a default OC mode, which unleashes the full performance of the card, or for users who are concerned with noise levels, a silent mode can be selected to keep acoustic levels low in a working state.
Gigabyte claims to have provided a more exquisite and detail-focused design with the Aorus Radeon RX 5700 XT 8G. Its minimalist lines with RGB lighting are embossed in the cover and the trace-like design perfectly matches the Aorus engraved backplate, which gives a stylish texture and impressive aesthetics.
RGB lighting integrated in the Aorus Radeon RX 5700 XT 8Gc an be controlled and configured by using Gigabyte's RGB Fusion 2 software, which allows users to fully customise and personalise their gaming atmosphere however they choose. Due to its Ultra-Durable design, the Aorus Radeon RX 5700 XT 8G is backed by a 4-year manufacturer warranty for user peace of mind.
Discuss on our Facebook page HERE.
KitGuru says: If you are considering buying a Radeon RX 5700 XT graphics card, be sure to check out the Gigabyte Aorus Radeon RX 5700 XT 8Gc. Its excellent cooling solution and Ultra-Durable design should offer impressive performance.