Available for a select list of MSI laptops and desktops, MSI Sound Tune is the company's AI-powered solution to reduce unwanted background noise. By reducing the background noise, communication becomes clearer and easier to understand, creating a better experience at both ends.
The AI-powered MSI Sound Tune reduces background noises by using a Deep Neural Network (DNN) "with more than 500 million Synthetic Noisy Speech Data", designed to simulate how the human brain works. Unlike other noise cancellation technologies, which use a "handmade algorithm", MSI claims Sound Tune can deal with the most complex noises, such as keyboard clicks, construction site noises, and whispers.
MSI Sound Tune can be activated on both your speakers/headset and microphone. When activated on the speakers, the user should be able to hear other people's voices more clearly. When activated for the microphone, any background noise in your environment should be reduced, improving the quality of sound for those listening to you.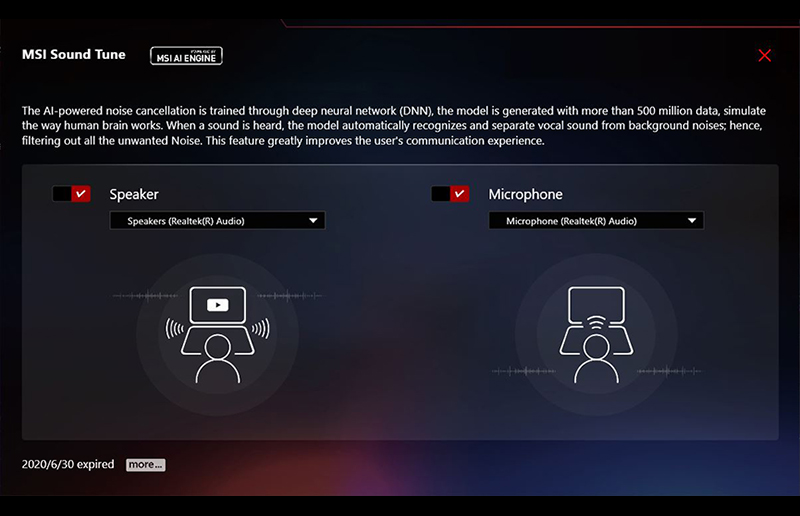 Harry Kao, Technical Director at MSI, stated that "MSI Sound Tune breaks the traditional boundaries on noise reduction by integrating deep learning AI technology to audio signal processing, allowing users who have to work from home amid the global pandemic to communicate clearly and stay productive with their tasks".
The list of compatible laptops includes:
Creator 17 A10SGS
Creator 17 A10SFS
Creator 17 A10SF
Creator 17 A10SE
Creator 15 A10SGS
Creator 15 A10SFS
Creator 15 A10SF
Creator 15 A10SFT
Creator 15 A10SE
Creator 15 A10SET
Creator 15 A10SDT
Creator 17M A10SE
Creator 15M A10SE
Creator 15M A10SD
Prestige 15 A10SC
Prestige 14 A10SC
Prestige 14 A10RAS
GT76 Titan DT 10SGS
GT76 Titan DT 10SFS
GT76 Titan 10SF
GT63 Titan 10SF
GT63 Titan 10SE
GS75 Stealth 10SGS
GS75 Stealth 10SFS
GS75 Stealth 10SF
GS75 Stealth 10SE
GS66 Stealth 10SGS
GS66 Stealth 10SF
GS66 Stealth 10SE
GS66 Stealth 10SD
GE75 Raider 10SGS
GE75 Raider 10SFS
GE75 Raider 10SF
GE66 Raider 10SGS
GE66 Raider 10SFS
GE66 Raider 10SF
And the list of desktops:
Trident Series
Infinite Series
P100X Series
Aegis T Series
MEG Trident X 10th
MEG Infinite X 10th
Creator P100X 10th
MSI Sound Tune is available now as a trial version that will expire on June 30th. You can learn more about the application and download it HERE. MSI has also produced a guide on how to set it up, over HERE.
Discuss on our Facebook page HERE.
KitGuru says: Have you already tried the MSI Sound Tune Trial version?