Nvidia has just launched the public beta of Canvas, an app that turns sketches into beautiful landscapes. Using the real-time painting tool GauGAN, Canvas allows anyone with an RTX-powered system to create photo-like images out of their doodles.
Through deep learning models and AI, Nvidia Canvas can turn basic strokes into artificial photos. When using Canvas, each stroke is processed in real-time so the user can see the output of each stroke as fast as possible.
Before creating a shape or drawing a line, users must first select the real-world material they want to use. There's a huge variety of materials to choose from, including water, snow, grass, rocks, clouds, trees, and much more. Once the material is selected, the user may start to create shapes or drawn lines. Immediately after completing it, the app processes it and displays the result.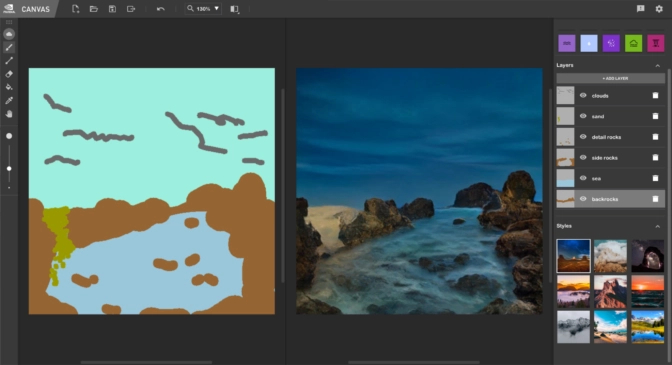 Besides allowing users to create these lifelike images, users may also turn to Canvas to apply filters, adapt an image to someone else's style. The result can then be saved as a PSD file and then imported to Adobe Photoshop for further enhancements.
If you want to try Nvidia Canvas out yourself, then you can download it  HERE.
KitGuru says: More interesting GAN tech from Nvidia. Will any of you be giving Canvas a go?