Chatbots of the future might be the customer support representatives we deal with the most, but we might be able to fight back with AI conversationalists of our own. The Do Not Pay bot, created by a British programmer has been used by more than 160,000 people to challenge parking tickets they do not feel that they deserved.
Challenging parking tickets, reclaiming PPI, demanding compensation for delayed or cancelled flights – all of these things can be time consuming and bothersome to sort out. The Do Not Pay bot is designed to make it easier. It isn't the smartest tool in the shed, but if you answer its questions it can create forms, make applications and ultimately save you time.
"I'm very surprised it has been so successful, but I am not surprised that so many people have pushed back against their parking tickets," said creator Joshua Browder in a chat with the BBC.
He went on to say that this was a great example of how chat bots could have a real use as a public service. Helping people with mundane or time consuming tasks is something that an AI like his chatbot should be perfect for.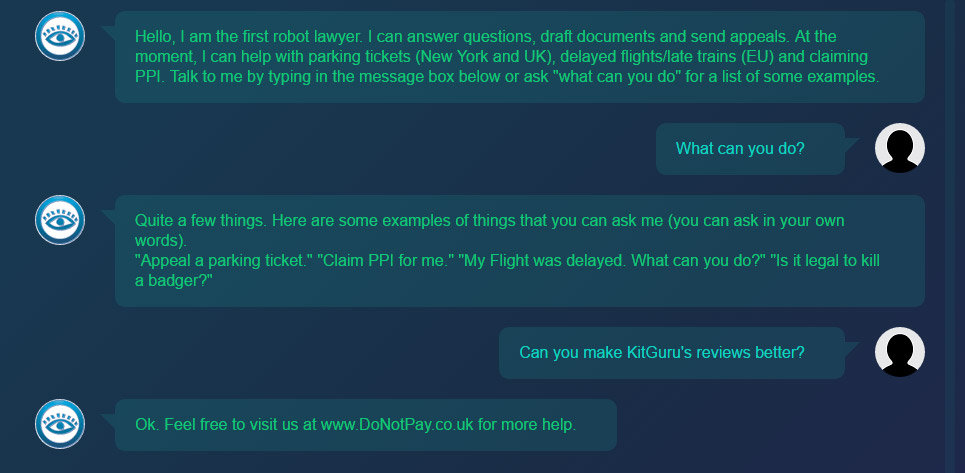 Admittedly it does only really work when you answer the questions correctly. If you talk to the bot and tell it your name is something ridiculous, the eventual form letter it spits out will come from 'Mr RidiculousName,' but the application is certainly there and can mean skipping over a lot of the research that might otherwise be needed.
Currently the service is applicable to New York and the UK when it comes to parking tickets, can cover UK wide PPI claims and can offer help with compensation for delayed flights which travelled within the EU and saw you waiting for at least three hours.
Looking to the future, Browder is planning more bots to help people, including one that he plans to use to aid Syrian refugees by producing English documents based on their Arabic inputs.
Discuss on our Facebook page, HERE.
KitGuru Says: This seems like a smart plan. Perhaps one day we won't have to receive customer support for anything – we can just have our own digital chatbot assistant do it for us.