The world's biggest videogame collection, featuring titles from the early 80s, with the Colecovision, through the NES era and beyond, right in to the modern day with the Xbox 360, has been sold, for just over $750,000 (£442,000).
Beginning the bidding on GameGavel at just one dollar, a few bids started the process off in early June, with some people perhaps hoping they would net the collection for a few thousand dollars. Once it broke through the $100,000 mark on 10th June though, all bets were off and two users, catch123 and peeps_10091970 began duking it out for the winning bid. Ultimately it was peeps that won it, beating out his rival by just $250.
Back when the collection was verified by Guinness in 2012, the owner, Mr Michael Thommason from Buffalo New York, was recorded as having 10,670 games on a number of different systems. Since then he's added to it with another 400 unverified games, taking the collection over 11,000. According to his listing, over 2,600 are still factory sealed and have never been opened.
[yframe url='http://www.youtube.com/watch?v=JWfx2ZX5BuM']
While that seems like a large number on its own, take into consideration that this collection comprises 100 per cent complete sets of every single game on (US versions of): 3D0, Atari 5200, Atari Jaguar, Game Boy Advance e-Reader, Virtual Boy, Sega CD, Dreamcast, Turbo Grafx-16 CD and many more.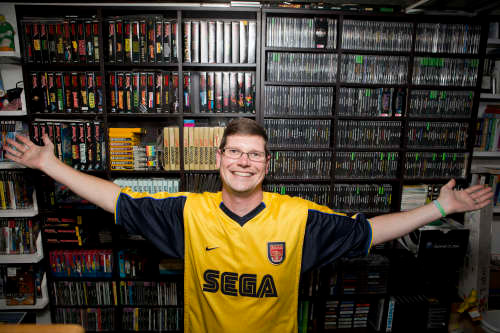 This isn't in a fraction of the total
As Kotaku points out, the sale price, while high, does 'only' represent around £40 per game, which of course is a little less than the going price of a lot of new console titles, but considering that there's a lot of games in this collection that are likely worth pennies at this point, it's still not a bad haul.
I don't think anyone would be that bothered if they managed to make three quarters of a million dollars from something they'd collected for 25+ years.
Discuss on our Facebook page, HERE.
KitGuru Says: Pretty impressive. Do any of your collections come close? I have a fair number of older systems, but I doubt my collection goes over 200.