Kingdom Death: Monster 1.5, the updated and expanded version of the 2012 Kickstarter success, could end up being the most funded board game ever on Kickstarter. Having raised over $6 million in just a few days, it currently sits just two and a half million behind Exploding Kittens, the biggest crowd funded board game on the site.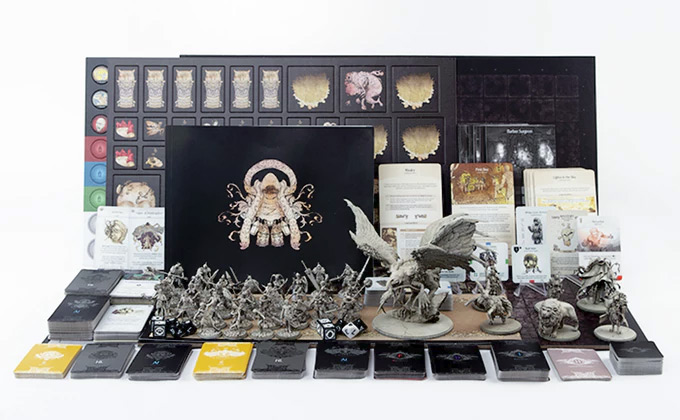 Kingdom Death: Monster was a Kickstarter success back in 2012, where more than five thousand people pledged over $2 million to bring the game to life. It blends Dark-Souls like cooperative battles, with highly customisable characters, a deep and difficult combat experience, settlement building and at the core of it all, high-quality miniatures to play with.
After several years of success and stock of the original game running dry, the creators have now returned to Kickstarter to create Kingdom Death: Monster 1.5, which offers new monsters to fight, new challenges to overcome and an expanded story.
What's doubly impressive about the success of the new Kingdom Death though, is that it is far from cheap. It already has near $13,000 backers and the cheapest option is an upgrade from the original base game, which costs $50. If you want to actually buy the base game it's at least $200, which at the current exchange rate means UK buyers would have to shell out £160 just to play the basic version of this game. If you pre-purchase all of the planned expansions, you'll be spending as much as $1,666, but you won't get them all until perhaps as late as 2020.
If you compare this to something like Exploding Kittens, you could grab a full game for $20. That's why some 220,000+ people kicked into it. In comparison, Kingdom Death is doing similar numbers, but with less than 15,000 people behind it.
Discuss on our Facebook page, HERE.
KitGuru Says: I would love to play a play of this game, but that is too rich for my blood right now. Have any of you have a go with it? If so, what did you think? Is it worth it?