ESPN has finally begun to take Esports seriously, launching a new website dedicated entirely to pro-gaming. It features coverage of many of the latest news stories for some of the more popular competitive games, as well as twinned social media accounts, strategy videos and profiles of the most iconic players in the world right now.
It's not mainstream TV coverage of course, but this is big news. While it seems unlikely to replace whatever hub they already use to keep up with their favourite games and teams, for the casual fan or traditional sports watcher who has no idea what Esports is about, this puts them in much closer proximity to pro-gaming.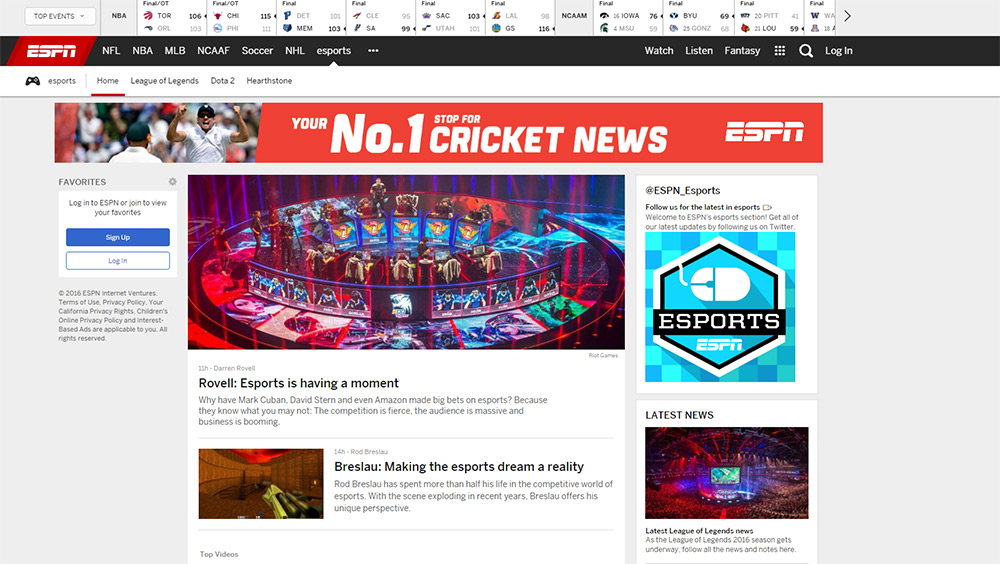 The cricket cross promotion is a weird one…
One minute they're looking at the latest Basketball scores and the next they're browsing through the results of a recent LoL tournament, or reading an article about Faker. This will absolutely draw in new fans to the ever growing world.
To help manage the new platform, ESPN has made a few new hires, including former managing editor at Esports firm Azubu, Darin Kwilinski; ex-editor at TheScore, Rob Breslau; and Tyler Erzberger, who also previously worked at TheScore (as per LATimes).
As well as filling the site with content, the writers will also be charged with appearing on camera on ESPN's flagship SportsCentre show, giving the latest news on League of Legends specifically, as well as other Esports in the future. At some point they may help host new live broadcasts of games in action, or help push new developments on streaming sites like Twitch.
Discuss on our Facebook page, HERE.
KitGuru Says: The only Esports I've watched as of late is Rocket League, if only to make myself sad that I'll never be able to hit aerials like they do. I have a sick wall-ride shot though.