Evolve was a game that I was pretty pumped about before release and despite some niggling bugs left over from the alpha and beta period, when launched it was a lot of fun – for a time. Looking at the Steam statistics for the game suggests that I'm not the only one that's stepped away from it recently though, so Turtle Rock is hoping to lure back players with another update, this one adding four new hunters and a brand new monster to take on: Behemoth.
The new tower monster comes with the ability to whip out its tongue and grab hunters, throw explosive rocks that scatter like a worms cluster grenade and set up a rock wall to block hunters and their respective armaments. It's also enormous, so can't jump, but it can roll.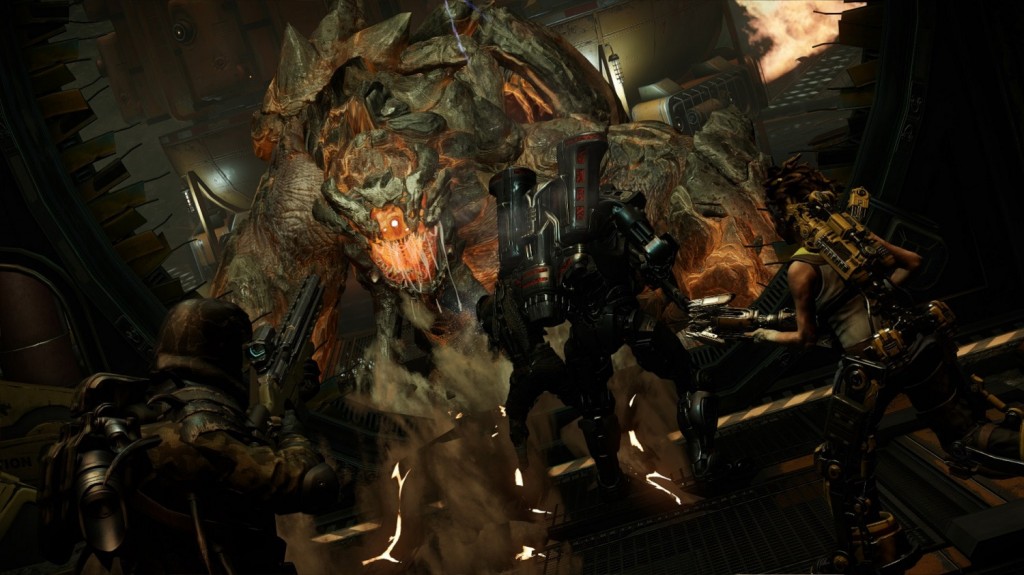 Behemoth is a monster that we've caught glimpses of before, with a teaser trailer and some test footage of its development, but the hunters are a crew that you will only be familiar with if you delved into the game's lore, posted on the official forums.
They're quite varied though, with Torvald the new assault coming with a full beard and a body full of bionic upgrades, with the ability to fire mortars, shrapnel grenades and shotgun blasts from his personal weapons cache.
Crow, the trapper, is equipped with a little bat friend which can be sent off to discover the monster's location, extending his line of sight massively. Utility wise he's packing a stasis gun, which when fired quickly slows the monster by small margins, but when charged up can make it much harder for the beast to move around. He also has a rifle which can also be rapid-fired, or charged for extra damage that actually punches through armour and damages the monster's health.
The new medic is called Slim and resembles Jeff Golblum's final transformation in The Fly, due to some DNA modification during a recent conflict. His healing power comes from the healing burst, which is charged up the more he uses his health-draining weapon. He also comes equipped with an automated drone which can dispense health all by itself.
Sunny is the last of the new crop, but she comes packing the biggest and baddest weapon in the game: the portable mini-nuke launcher. On top of that though, she also has a jetpack recharge booster which can help keep fellow hunters out of danger and remote shield drones which aid them staying alive just that bit longer.
The only real kicker with all of this new Evolve goodies is the pricing model. The Behemoth will come free to those that pre-ordered the game, but will cost £12 for those that didn't and the new hunters can be had for 'free' if you paid £20 for the season pass. Otherwise they'll cost £6.19 each. However, those that don't buy will still be able to play with and against the new hunters and monster.
The expansion will be adding two new maps and a spectator mode.
Discuss on our Facebook page, HERE.
KitGuru Says: As much as I enjoy Evolve, there's no way I'm paying £6.19 for individual hunters and £12 for a single monster.