Fabian Giesen is a programmer and he worked at Valve as a contractor through nine months in 2012 and a further three this year, helping it develop virtual reality technology. With a gig like that, you'd expect him to be champing at the bit to see VR hardware like the Oculus Rift hit the mainstream and for developers to really push the boundaries of what gaming can be. On the contrary though, he's really not impressed with the VR future we've envisioned and thinks it could actually be really bad for everyone involved.
He's not just bad mouthing the technology for the sake of it mind you, or because he doesn't know what he's talking about. Giesen has tried many VR prototypes and is excited about the programming aspects of working with such hardware, making demos that feel real and for the potential applications of being able to do things in a virtual world that then effect the real world. VR has huge possibilities, but it's the gaming side of it that Gieson believes is far too solitary.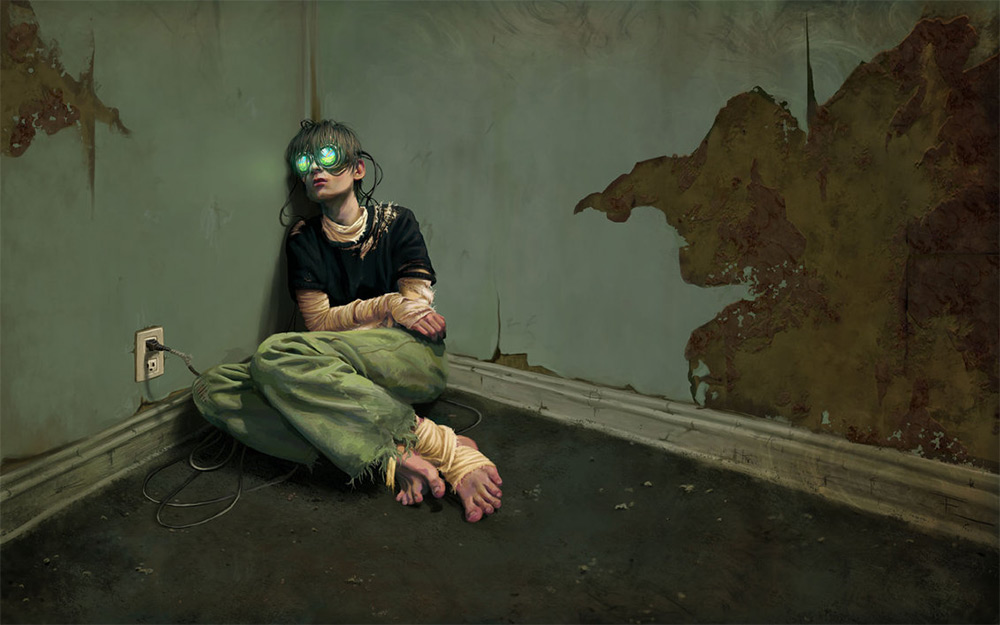 This image, created by Eran Folio, has become somewhat synonymous with the idea of VR making us hide from the real world
"The endpoint of VR […] seems to be fundamentally anti-social, completing the sad trajectory of entertainment moving further and further away from shared social experiences. (As I have mentioned multiple times, I find the limited, formalized, abstracted and ultimately alienated social interactions in most forms of online gaming to be immensely off-putting)," he said.
Giesen is worried that we're heading towards the all-encompassing MMO that Ernest Cline discussed in Ready Player One, a virtual universe that's enormous in scope, but so limited in interactivity, because it's all virtual. For Giesen, the best aspects of gaming are doing so in person with a friend. Even if that happens in VR, you won't be able to see each other. The real versions of yourself anyway.

On top of that, he sees the future aas one dominated by adverts. 
"Once you're selling ads, the ad-buyers are your customers; the people on your service are, depending on how cynical you're feeling today, either the product or your work force," he continued. "And having an immersive virtual environment that is set up to, ultimately, generate ad revenue (and hence prioritize the needs of the advertisers over the desires of its users) is just an inherently gross concept to me."He closes by suggesting a future, where Facebook adverts dominate an immersive, yet flawed virtual world where no-one interacts in meaningful ways: "That's a very cyberpunk future all right, but one I'd prefer not to live in."
Discuss on our Facebook page, HERE.
KitGuru Says: What do you think of Giesen's depressing take on the future of virtual reality? As much fun as I've had with the Rift, my favourite time with it has been holding parties to show lots of people one after the other and to see their reactions. I've yet to sit down and play it alone for more than an hour. Perhaps that says something about the longevity of enjoyment with such a thing, or simply that the games aren't there yet. 
[Thanks Eurogamer]