Adobe's Flash Player is continuing its steady demise with another major blow to its usage: Facebook has now killed off all flash videos on its site. With more than eight billion views a day, the switchover to HTML 5 will see the number of flash videos watched every day immediatly decline and signals another downturn in the platform's fortunes.
Although it hasn't seemed like Flash will ever make much of a comeback, whenever there is a big announcement of a large platform moving beyond its security faults and resource hogging ways, it's still a blow to the platform which once dominated high-functioning, internet media. Whether it was entire (irritating) websites, animations, games or banner adverts, Flash was once a staple of the web as we know it, but not any more.
Today while it still has some dedicated followings in flash-centric portions of the web, it's usage is dying off as more and more security problems crop up and major platforms ditch it for the much more powerful HTML5 (as per the Guardian).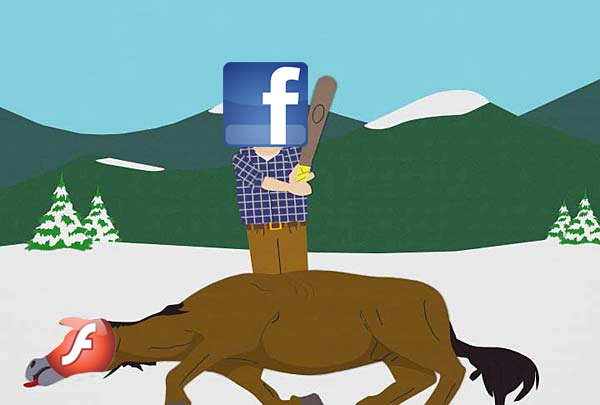 South Park, always good for a Photoshopped analogy
Facebook's decision to drop Flash was an expected one. It previously did the same with its smartphone focused applications – as most handsets don't support Flash. It should be a noticeable change for desktop and laptop Facebook users too, with videos loading faster, with less system resources required for the job.
The social network will however continue to support Flash based games like Farmville which while old, still attract large numbers of players on a regular basis.
Discuss on our Facebook page, HERE.
KitGuru Says: It's sad to see Flash finally dying its long, slow death, especially with the impact it had on animators and game makers in the early '00s, but it's about time. For the sake of the future, it needs to go.